Transgender Kids Can Count On These Resources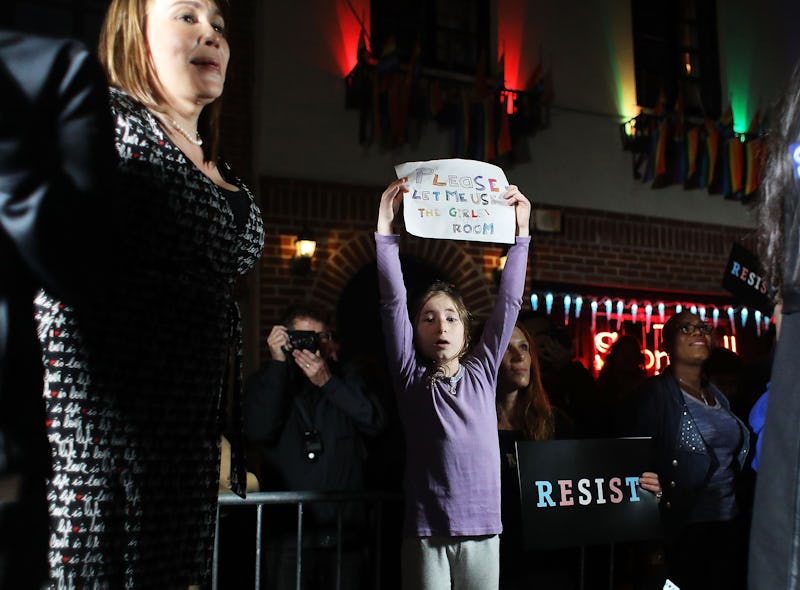 Spencer Platt/Getty Images News/Getty Images
It seems like there is one setback after another from President Donald Trump's administration when it comes to social justice issues. The latest blow comes in the form of the president's decision to roll back protections for transgender students by revoking students' rights to use the bathroom that correlates with their gender. Now it's up to states to decide whether to allow transgender students their bathroom choice. Thankfully, there are resources for transgender students who feel alienated during this time, especially as people around the nation are standing up to show trans Americans that they are not alone.
President Barack Obama signed legislation in May 2016 that told public schools to allow transgender students to use the bathroom that corresponds with their gender identity. Sadly, this decision from the administration to go back on a progressive policy will make life more difficult for transgender students.
According to The Atlantic, transgender people who are denied bathroom choice have an increased risk of attempting suicide. The outlet cites a study from Georgia State University that found that transgender people consider bathroom access one of their most pressing challenges. When they are required to use the opposite bathroom from their gender identity, it can cause more attention and ridicule, causing them stress.
Students should not be forced to face discrimination while receiving education. Although it may seem difficult now, there are resources that trans students can take advantage of as they continue to fight for their rights.
FIERCE
Based in New York, FIERCE is a membership program focused on creating leadership in LGBTQ youth of color. The group works to fight harassment and violence against LGBTQ members of the community while creating safe spaces for them.
Gender Justice League
A civil and human rights organization for the LGBTQ community in Washington state, GJL champions advocacy and activism. The group hosts a variety of programs for members, including Trans Pride Seattle.
Live Out Loud
New York-based Live Out Loud connects LGBTQ youth to role models in the community. The organization regularly introduces youth to LGBTQ members of companies and provides resources to achieve academic success, healthy relationships, rewarding careers, and a fulfilling life.
TransActive Gender Center
The organization provides education, services, and advocacy to empower transgender youth to live healthy lives. Medical professionals, educators, and communities can get information about how to create a healthy environment for transgender youth. Additionally, support groups provide a safe space for young transgender Americans.
TYEF
The Trans Youth Equality Foundation provides education, advocacy, and support to the transgender community in Maine. The website also offers a handy list of educational books for all ages.
National Center For Transgender Equality
NCTE works to change laws and policy for transgender equality in D.C. The website is also a great resource for education about transgender issues and provides information to help transgender people understand their rights.
Youth And Gender Media Project
The organization seeks to tell the stories of LGBTQ youth. Filmmaker Jonathan Skurnik creates short films and media to showcase young LGBTQ people in an honest and open way. The goal is to foster a world where people can celebrate who they are and be true to themselves.
GLSEN
The organization works to provide safe and non-discriminatory education for LGBTQ youth. They focus on conducting research used to create evidence-based solutions within schools, create resources for educators, and partner with those who make decisions to ensure that they are in the best interests of LGBTQ youth.
BreakOUT
The New Orleans-based organization hopes to build a safer community for transgender people affected by the criminal justice system.
Trans Lifeline
With so many rights being restricted by the current administration, it's easy to feel hopeless sometimes. For transgender people feeling depressed, talking to someone at Trans Lifeline may make a world of a difference. Volunteers are available to provide support to trans people in the community.
Lambda Legal
The nonprofit works to protect the rights of LGBTQ community members using litigation. Since Trump's decision to roll back trans bathroom protections, they have also vowed to sue any school district that discriminates against trans students.
Although the current political climate is certainly not looking great for minorities and members of the LGBTQ community, there are many people out there who want to help, and can provide resources for trans youth to receive support. It will take the effort of as many people as possible to fight back against the damaging legislation of Trump, but it's an essential fight for the next four years.