11 Seasonal Trader Joe's Items You HAVE To Stock Up On Before The Holidays Are Over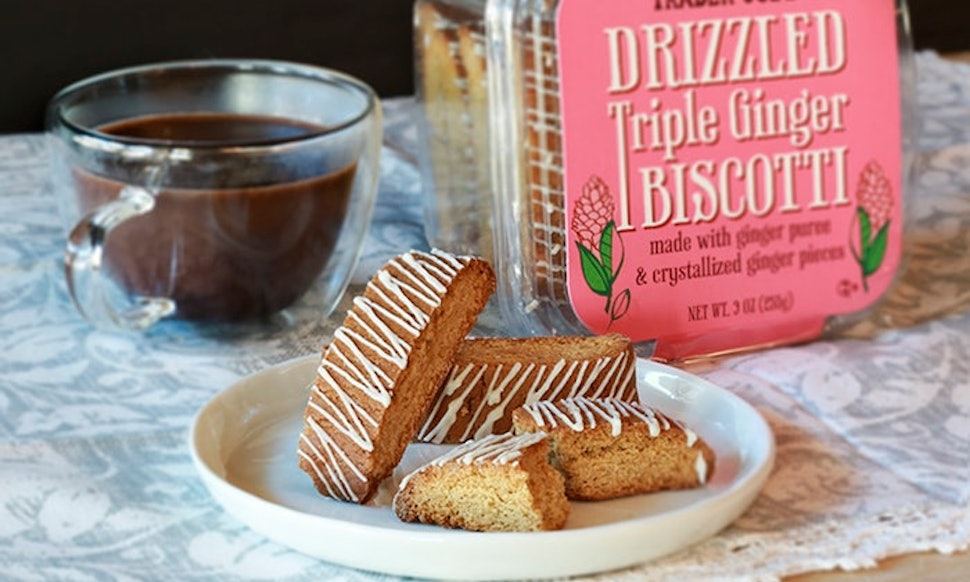 Trader Joe's
'Tis the season for Trader Joe's shopping! Fa la la — those are the lyrics, right? I know they say this is the season of giving; but I think what they really meant is this is the season of giving... all of your money to Trader Joe's; and there are a number of seasonal Trader Joe's items you need to get pronto, before the holidays are over and Valentine's Day decorations go up in all the stores. (Never mind the best part of Valentine's Day is when it's OVER and all the candy goes on sale. I'll save that discussion for another time.)
TJ's stole our hearts many years ago. With unbeatable prices, a huge selection of healthy items, and their roasted plantain chips (you can read about my not-so-secret love affair here), Joe never lets us down. Add in their dope return policy — not like you'll want to return anything, though — and all the happy employees in Hawaiian shirts, and we're in love. And not the kind of love where you shop there once a month like other people. I'm talking about the totally-obsessed, hitting-up-numerous-locations, staying-so-long-security-has-to-escort-you-out kind of love.
The obsession only gets worse with the holidays, too, when all the seasonal items are released.
If you're anything like me, you're already planning all the holidays foods you'll probably never end up making. Whatever you do, don't forget to pick up these tasty finds during your next Trader Joe's outing. They're the most delicious way to get into the holiday spirit. (Remember, they may vary by location.)
1

Panettone
2

Drizzled Triple Ginger Biscotti
The Gingerbread Man got a makeover — in the form of Joe's Drizzled Triple Ginger Biscotti. They pair beautifully with hot tea or a glass of wine, and nobody will judge you if you eat the whole container yourself.
3

Chocolate Advent Calendar
This year, grab one of four cool designs — or get all four and eat all the chocolate yourself. Who are we to tell you what to do? (They're only $0.99 each, so money is no excuse, people!) Joe's advent calendars depict cats sitting under the tree, the Clauses in their workshop with the elves, little kids playing in the snow, and a board game. Count down the days of December with chocolates made with cocoa butter.
4

Irish Whiskey Caramels
Joe's Irish Whiskey Caramels are one holiday treat you simply can't do without. TJ's partnered with an Irish candymaker, who infuses their delicious, slow-cooked caramel with Joe's single malt Irish whiskey. The mixture is then draped in dark chocolate, and you won't be able to resist. Buy a box for a friend, sure, but grab one for yourself, while you're at it.
5

Candy Cane Joe-Joe's
What do you get when you take the original Joe-Joe's and fill them with minty filling with chunks of crushed candy canes? Candy Cane Joe-Joe's, that's what. Traditional candy canes, you can step aside — you've officially been replaced.
6

Dark Chocolate Covered Peppermint Joe Joe's
7

Peppermint Pretzel Slims
It's a peppermint fiesta! If you didn't get your fill of this holiday staple yet, never fear: Peppermint Pretzel Slims are here. Joe suggests you crush them up and sprinkle them on your ice cream, which we approve of 100 percent. Carry on.
8

Decked Out Brittle
Forget what you know about peanut brittle; Trader Joe's Decked Out Brittle is on a whole other level. Plus, it's jam packed with almonds, cashews, cranberries, and seeds, which means it's healthy. #Fact
9

Dark Chocolate Sea Salt Caramels
If you've never experienced the magic that is chocolate sprinkled with salt, you haven't lived. Dark Chocolate Sea Salt Caramels are the perfect treat after a grueling day of holiday shopping in crowded stores.
10

Gingerbread House Kit
No fake colors. No artificial flavors. No preservatives. No chance you'll want to share these with your kids. TJ's Gingerbread House Kit is the perfect pastime for the holidays, and no crazy witch will come after you for eating her house. Bonus!
11

Stollen With Marzipan
You'll never make fun of fruit cake again. Joe's Stollen With Marzipan is punctuated with raisins, orange peel, cherries, and walnuts, with a soft, delicious marzipan center. Yes.