11 Small Victories For Sexual Assault Survivors In 2017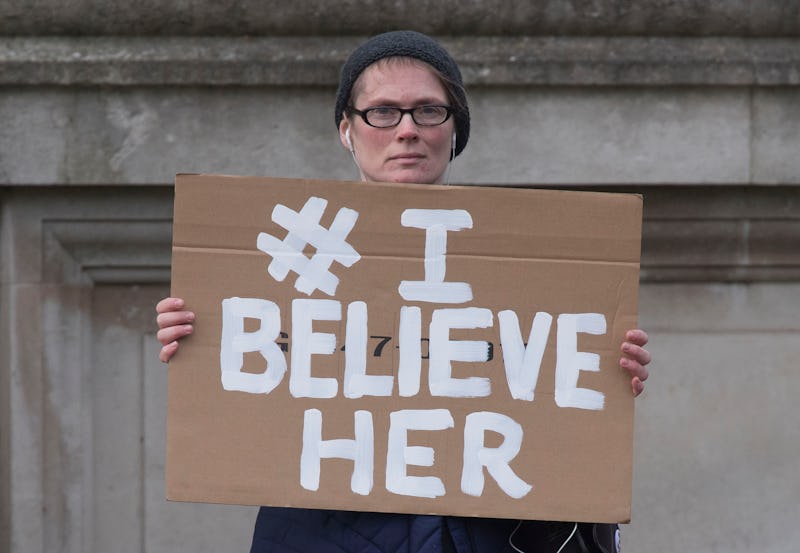 Matthew Horwood/Getty Images News/Getty Images
The road to justice for sexual assault and abuse survivors can sometimes seem like long and difficult, and oftentimes nearly impossible. But despite the obstacles and high-profile cases that reaffirm the challenges sexual assault survivors face, there have been small victories on that front this year.
If you read the news, it may not always seem like it. Ex-Stanford rapist Brock Turner had his sentence reduced. Americans saw and continue to see their neighbors defend President Trump's history of sexual assault allegations (allegations he has roundly denied). More recently, Bill Cosby's sexual assault retrial was set for November — because accusations from nearly 60 women spanning 50 years was not enough to convince the jury. (Cosby, too, denies all allegations.) International headlines don't seem to be much better at times: Last month, local authorities ordered a Pakistani teenage girl to be publicly raped in her village as punishment after her brother was accused of raping another girl.
Despite the bleak news, coupled with the tense and polarizing atmosphere the U.S. since last election year, there were also a few legal victories. In December, 2016 Americans saw former President Obama and Congress pass the Justice for All Reauthorization Act, a bipartisan effort to help prevent and respond to sexual assault. First signed in 2004, the law was enacted to protect crime victims' rights, eliminate the backlog of untested rape kits, and expand forensic technology in local, state and federal crime laboratories.
More than halfway through 2017 and sexual assault survivors have already collected some wins in everywhere from college campuses to Silicon Valley. Here are a few reminders to not lose hope: