11 Things You'll Want To Buy Immediately From Amazon's New Plant Store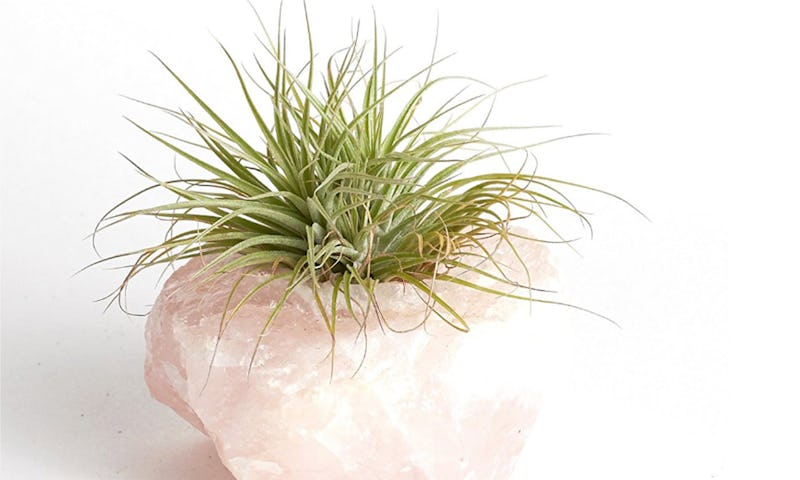 Amazon
When millennials take a liking to something, the internet is abuzz with analyses, think-pieces, and investigative features seeking to answer why this? The generation's buying habits are inarguably influential. In fact, in spite of a perceived addiction to new technology, the population all but singlehandedly revitalized the vinyl record industry, according to Fortune. With another, comparatively archaic product growing (heh) more and more popular among twentysomethings, there may be something to be said for popularity based in being worthy of the ~gram~. With that said, keep your eyes peeled on your Instagram feed for these 11 most Instagrammable plants from Amazon's new store, which officially launched this week.
Plants have long been a popular home decor choice, but if it seems like more and more have been popping up in your friends' homes (and photos,) you are probably on to something. There are multiple explanations for the growing popularity of plants, but one major influence is (surprise!) social media. Instagram accounts like Urban Jungle Blog and The Jungalow boast 500,000, and almost one million followers, respectively, with their flora-focused accounts. The plant obsession recently inspired a Washington Post article that made the rounds, titled, "Millennials are filling their homes — and the voids in their hearts — with houseplants." It's safe to say that if you've succumbed to the succulents, you are far from alone — and the recent reveal of Amazon's plant department is sure to only add to the amount of green on your 'gram.
Here are just a few of the incredibly vast selection of plants available for Prime from the new Amazon store:
1. Satsuki Azalea Bonsai
Satsuki Azalea Bonsai $30, Amazon
This spectacular bonsai is sure to bring visions of spring to your desk. Plus, the billowing pink blossoms overflowing from the tree's thin base make it a bonafide aerodynamic wonder.
2. Aloe Vera Plant
Four Inch Aloe Vera Plant, $15, Amazon
Aloe Vera is particularly cool as it is not only a robust natural decoration, but its gel can be used for a variety of medicinal and beauty needs.
3. Assorted Cacti
Four Pack of Assorted 2.5-inch Cacti, $25, Amazon
Do you live in an East Coast city or in the snowy midwest, but crave the mystical arid desert? Perhaps a pack of little desktop cacti will soothe your sandy sorrow. the assortment can also be purchased in packs of eight, 12, and 20 for maximum prickliness.
4. Elegant Twist Bamboo
Elegant Twist Bamboo, $30, Amazon
Ask any gardener: when bamboo pops up in your garden, it is a pain. It grows SO FAST, and can easily take over someone's backyard. But, when contained, twisted, and housed in a little pot, panda food is delightful.
5. Japanese Red Quince Bonsai
Japanese Red Quince Bonsai, $32, Amazon
Almost everything about this plant is unique: from its double-layered petals to its complete lack of thorns. If you were looking too add some fire to your furnishings but couldn't commit to red walls, a red-budded bonsai may be the solution.
6. Ficus Pandurata Fiddle-Leaf Fig
Ficus Pandurata Fiddle-Leaf Fig, $30, Amazon
If you have a bit of free floor space, consider this fiddle leaf fig for a dramatic statement piece. Simply place it in a planter and position next to your sofa and you've got a living room any city slicker (or Instagrammer) would love. Plus when people ask about it you get to impress them with its tongue-twisting name.
7. Indoor Forsythia Bonsai
Indoor Forsythia Bonsai - Medium, $28, Amazon
Typically when you picture forsythia, you think of huge unwieldy bushes overflowing with golden buds. This beautiful little plant offers much of the same, but in a planter you can place on your desk.
8. Light Blue Teal Money Tree Plant
Light Blue Teal Money Tree Plant, $30, Amazon
What says "I have my life together" more than owning (and taking pictures of) a plant that is used by feng shui practitioners to attract wealth? Show your followers your commitment to the green — both kinds.
9. Assorted Succulent Collection
Four Inch Assorted Succulent Collection, $26, Amazon
If you've never owned a succulent, this sampler is a good option to introduce you into the world of plant parenthood. The package includes a random assortment of four succulents, and comes complete with a comprehensive plant care guide. If you're thinking bigger, the assortment can also be purchased in packs of twelve, twenty, and forty.
10. Orchid Tin Mini
Orchid Tin Mini, $25, Amazon
Looking for a pop of color in your indoor arboretum? The Phalaenopsis orchid blooms rich purple blossoms that remain for up to two months. Plus, the upkeep for this baby is easy; requiring one ice cube be placed in its planter per week. At the time of writing, this version is on sale for 50 percent off.
11. Rose Quartz With Air Plant
Rose Quartz with Air Plant, $42, Amazon
This rose quartz air plant just may be THE MOST perfect flora for the gram. The air plant (a variation of the ever-popular succulent) is nestled within a planter made of quartz, which bares a natural luminescent shade of *drumroll* millennial pink. Placed against a minimalistic white background like that shown above will make for a photo worthy of an apartment blog. Plus, the plant require pretty minimal maintenance, so you'll have a focus for snapshots for years to come.