11 Times You Wished Aunt Hilda From 'Sabrina' Was Related To You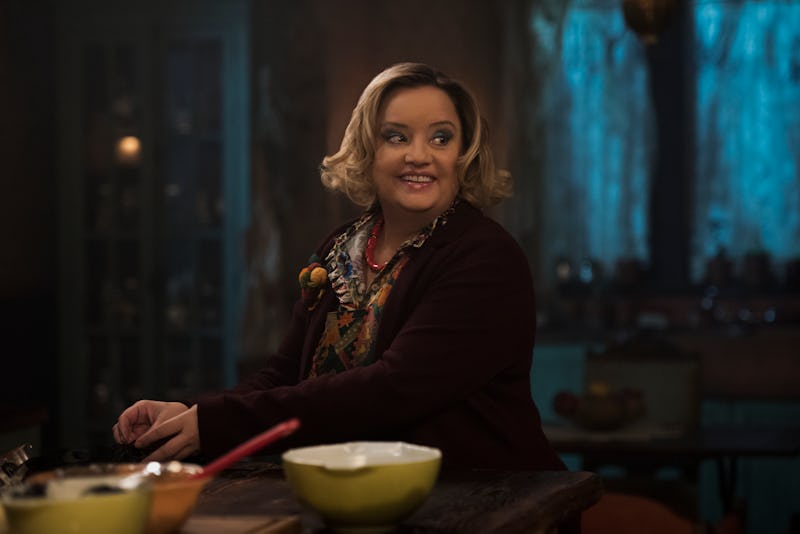 Dean Buscher/Netflix
In the new Netflix show, Chilling Adventures of Sabrina, or CAOS, everyone's favorite teenage witch gets a dark twist that's vastly different from the show starring Melissa Joan Hart as Sabrina Spellman. In this new version, Mad Men's Kiernan Shipka plays Sabrina, and as much fun as the 16 year-old's coming-of-age as a witch story is, her Aunt Hilda is often the best part in Chilling Adventures of Sabrina. Lucy Davis plays Hilda, whose counterpart, Aunt Zelda is played by Miranda Otto, and the two aunts that adopted Sabrina also opened their home to her cousin, Ambrose (Chance Perdomo).
All together, the Spellman family, which runs a mortuary from their own home, hosts a colorful cast of characters, but you can always depend on Aunt Hilda to keep things real. While Aunt Zelda usually tries to stick by the rules of the Church of Night, Aunt Hilda doesn't have as strong a resolve to uphold tradition, and it results in some pretty awesome moments.
Over the course of the first season of CAOS, which premiered on Oct. 26, you slowly watch Aunt Hilda become less and less devoted to her assigned coven, at least during the times when Sabrina wishes to contradict the group of witches. Aunt Hilda puts Sabrina before anything else, and she's also hilarious while doing so. These are some of her best moments.