11 TRAP Laws That Prevent Abortion Across America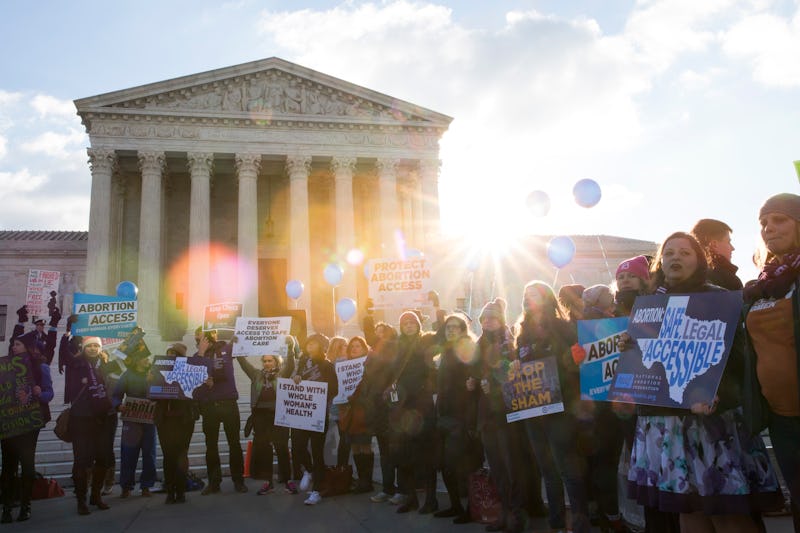 Drew Angerer/Getty Images News/Getty Images
Women are consistently reminded that a woman's right to an abortion in the United States is something that is perpetually under fire. Whether it's the March for Life or the hundreds of bills that threaten the right to choose, for many women, the attacks can feel constant. And even though though a woman's right to an abortion was guaranteed under Roe v. Wade exactly 45 years ago, Targeted Regulation of Abortion Providers (TRAP) laws prevent women's abortion access across the entire country today.
According to the Center for Reproductive Rights, TRAP laws are those which "... single out the medical practices of doctors who provide abortions and impose on them requirements that are different and more burdensome than those imposed on other medical practices." This increases the likelihood that a clinic will close and diminishes the number of doctors who are able to serve as abortion providers. TRAP laws are designed to make abortion nearly impossible to access, even though it is a constitutionally protected right.
As the Guttmacher Institute reported earlier this year, there are now TRAP laws in 27 states. Many of these laws require abortion facilities to have medically unnecessary admitting privileges at local hospitals and/or require them to meet the licensing requirements for ambulatory surgical centers. A variety of states even go so far as to specify the sizes of the procedure rooms and hallways in the facilities in which abortions can take place.
The following are detailed examples from several states that illustrate these types of TRAP law restrictions, epitomizing why these laws have made abortion access so challenging for so many women in America.