12 "All American" Immigrant-Created Things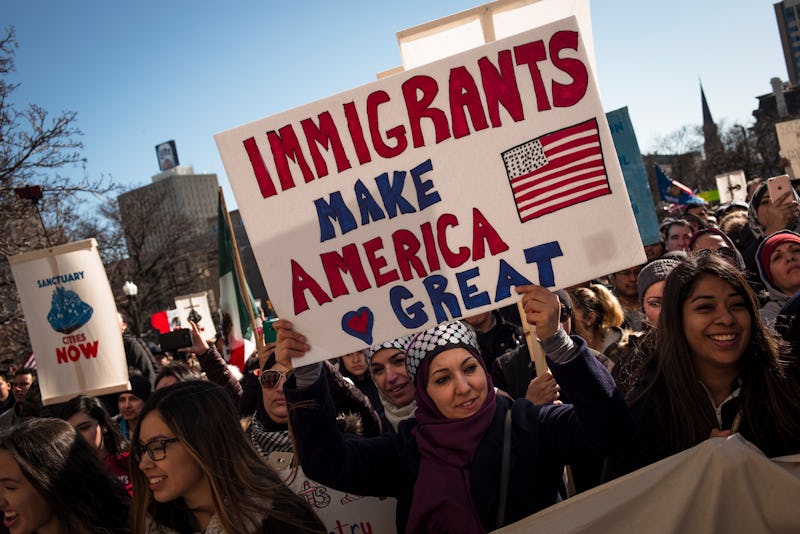 Darren Hauck/Getty Images News/Getty Images
On Thursday, immigrant communities across the country took part in the Day Without Immigrants, a protest and boycott intended to raise awareness of the effects of Donald Trump's immigration policies. The policies being protested include the travel ban that covers seven Muslim-majority countries, which has been criticized as Islamophobic, and his promises to deport millions. According to the New York Times, dozens of restaurants in Washington, D.C. will be closed Thursday, including three owned by famous chef José Andrés.
"There are pivotal moments when standing by the sidelines is not an option. This is one of those moments," business owner Andy Shallal, who is himself an immigrant, told CNBC. Shallal is the owner of Busboys and Poets, a bookstore and restaurant chain whose locations will be closed Thursday.
Thursday's efforts are just the most recent major protest against Trump's immigration policies. When the travel ban was announced in January, protests exploded in major cities and at airports across the country, often accompanied by chants like, "No hate! No fear! Immigrants are welcome here!" and the like.
Anti-immigrant rhetoric is troubling for many reasons, including the but it also attacks the defining qualities of America. Since its founding, the United States has been a nation of immigrants, and no picture of this country is complete without an understanding of the many significant contributions of immigrants. In fact, many major aspects of American culture wouldn't exist without immigrants.
Take a look and consider these examples. They are just a small handful of all that America owes to immigrants.