12 All-Natural Skincare Brands That Actually Work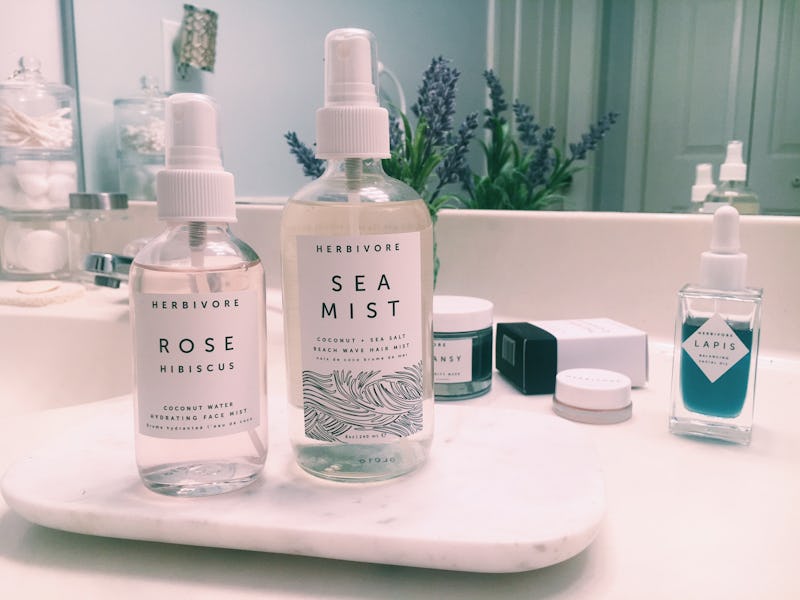 Kali Borovic
Switching to an all-natural skincare routine can be overwhelming. Not only is it hard to find products that work with your skin, but it can be pretty pricey. Thankfully, I've done all the hard work to make your switch incredibly easy. From toners and oils to face washes and masks, I've found 12 all-natural brands that actually work.
Before I start rattling off brands, you should know that I'm super picky when it comes to skincare. I love using natural ingredients — but only if they work. So when I started out on my au naturale journey, I decided to get some help from a professional. My first question was a simple one: Where do I start?
According to Leilah Mundt, the founder and CEO of Creme Collective, it's easiest to swap one product at a time, but there is one specific product that you should start with.
"Start with skin. Our skin absorbs everything we put on it, and all the ingredients make it right into our bloodstream," Mundt said via email. "So switch out a conventional (likely petroleum based) body lotion for a gorgeous body oil."
I took this advice and it really did work. Body oils are the perfect start, because most of them work with all skin types. It's also easier to know what's in an oil than what's in a cream. After getting comfy with a body oil, move on to swapping out your other skincare staples.
"Switch out facial cleansers and moisturizers for natural ones," Mundt says. "This can have a huge impact, usually calming irritated skin and getting rid of breakouts. It is so important to use natural products on your face to keep inflammation at bay."
Now, on to the stars of the show — the natural products.
1. Josie Maran
Pure Argan Oil, $48, Josie Maran
What I love about Josie Maran products is how simple they are. Everything the brand makes is made with one ingredient — argan oil. Not only is it great as a moisturizer, but it can even help sooth skin ailments like eczema and rosacea, according to the website.
2. 100% Pure
Cucumber Juice Cleanser, $30, 100% Pure | Coffee Bean Eye Cream, $28, 100% Pure
Mundt wasn't lying when she said that a great cleanser will change your skin. After I switched my typical face wash out for this 100% Pure one, I saw a huge improvement in the texture of my skin. I've also been loving their Coffee Bean Caffeine Eye Cream.
3. Herbivore Botanicals
I've never met a Herbivore Botanicals product that I didn't like. Everything from their oils and masks to lip conditioner and charcoal soap is absolutely incredible. If you're looking for a place to start your all-natural skincare journey, this is it.
4. Lumion Life
There might be only two products in this skincare range, but they are great ones. With ingredients that you can count on one hand, Lumion Life's serum and oxygen mist are great for illuminating and hydrating the skin.
5. St. Ives
Not all natural skincare brands cost a fortune. St. Ive's 100 percent natural exfoliants, moisturizers, and extracts. That makes it a great starting point, if you're looking to make the switch for less.
6. Blink Brow Bar
If you're in the market for a great all-natural makeup remover, this is the one for you. The smell amazing and the texture perfect for moisturizing. The tool that the product comes with makes it hygienic, too.
7. Bottega Organica
If you love face mists, you will love the Ageless Mist from Bottega Organica. I can't exactly say that this works since it's made for cell rejuvenation. But I can say that it's refreshing and one of my favorite parts of my beauty routine.
8. Frank Body
When I started using these Frank Body products, I could actually see the texture and breakouts on my skin go away in just a week. Their products are natural enough not to harm skin, but tough enough to really work. Not to mention they smell like coffee.
9. InstaNatural
This brand's products are about as pure as you can get. My personal favorite is the Rose Water Toner, but they have an amazing moisturizing mask as well. The best part is that you can fully understand their ingredients list.
10. Ogee Organic
This brand might be small, but they are mighty. Everything from their all-natural makeup wipes to their lip oil are made with jojoba oil, and you can see the results almost instantly. Trust me, your face will thank me for this recommendation.
11. Manuka Doctor
Drops of Crystal Biphase Oil, $40, Manuka Doctor | Replemishing Facial Oil, $42, Manuka Doctor
You probably already know of this brand from Kourtney Kardashian's Instagram, but it actually works. The real standouts for me are the face oils. Just a few drops before bed and you can see your skin plump almost overnight.
12. Reserveage
Collagen Replenish Powder, $39.99, Reserveage | Collagen Booster, $41.99 , Reserveage
Sometimes the best skincare items are internal. With every tiny capsule or scoop of Reserveage products, you'll be on your way to better skin, hair, and nails.