12 Wild Details From The New 'Born Trump' Book That'll Make Your Head Spin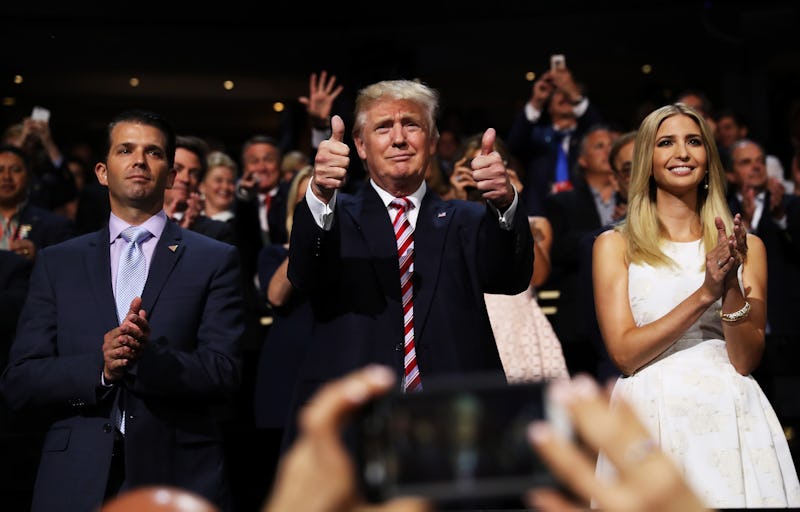 Joe Raedle/Getty Images News/Getty Images
On Tuesday, another Trump tell-all was released. As was the case with Fire and Fury, Born Trump included some wild claims about the Trump family, though the book focuses largely on the Trump children and how their parents raised them. It was written by Emily Jane Fox, a senior reporter for Vanity Fair.
The book zeroes in on the nitty gritty of the Trumps' upbringing, discussing everything from the wild teenage antics of the Trump children to adjusting to life in the White House. In her book, Fox focuses on the individual characters that comprise the first family, and less so on the larger political machine.
Per an interview with the TODAY show on Monday, Fox has been reporting closely on the Trump children for several years, beginning during the Trump 2016 presidential campaign. Speaking with NBC's Savanna Guthrie, Fox described the Trump childhood as "incredibly privileged," noting that they attended prestigious schools and grew up with two full-time nannies.
But at the same time, she said, the elder Trump children — Ivanka, Donald Jr., and Eric — were also dragged through a high-profile divorce. That, of course, would be when Trump left their mother, Ivana Trump, eventually re-marrying Marla Maples, mother of Tiffany Trump.
Still, the book is veritably a deep-dive into the Trump family psychology, and many previously unknown details about the Trumps and their affiliates reveal fresh nuances into how they function.