12 Organizations To Donate To If You Can't Stand Trump's Family Separation Policy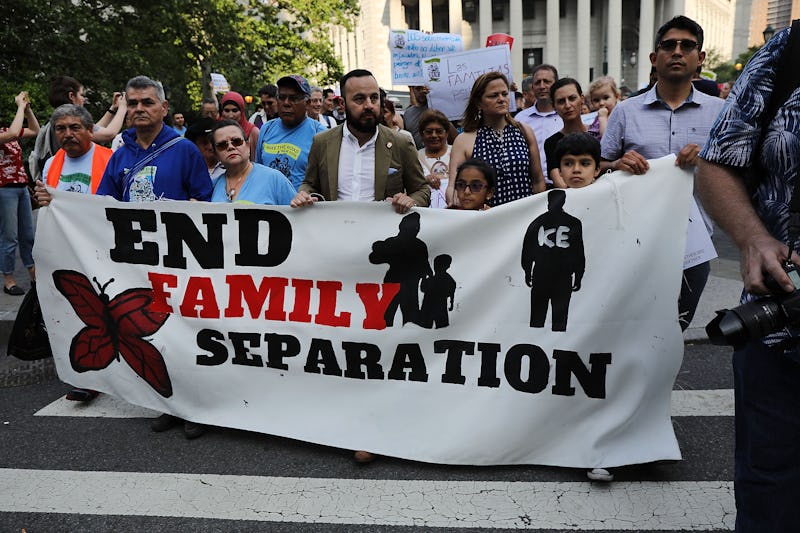 Spencer Platt/Getty Images News/Getty Images
If you live far away from the U.S.-Mexico border, one of the fastest ways to combat Trump's family separation policy is to donate to immigrant advocacy organizations. If Trump continues to tout the zero-tolerance policy, which separates parents from their children at the border, it's possible that thousands more immigrants will continue to be affected by the policy until the midterms actually arrive. But by supporting organizations that directly combat the policy, you could be helping migrant families stay together.
According to CNN, over 2,000 children have been separated from their parents at the U.S.-Mexico border, between April 19 and May 31, 2018. This number is the direct result of a policy implemented at the end of April that required immigrants be charged with federal crimes, instead of referring families directly to immigration courts, as previous administrations have allowed.
Trump's family separation policy has inspired outrage from people of all political backgrounds, according to The Washington Post, which notes that support for the policy has increasingly waned among Republicans as the 2018 midterms get closer. If you feel overwhelmed or frustrated by the severity of the situation, you can consider donating to one of the many organizations that are working to support and represent immigrant families affected by the family separation policy.
Here are 12 organizations to consider donating to if you're against the Trump administration's policy: