12 Last-Minute Ways To Celebrate Galentine's Day With Your BFFs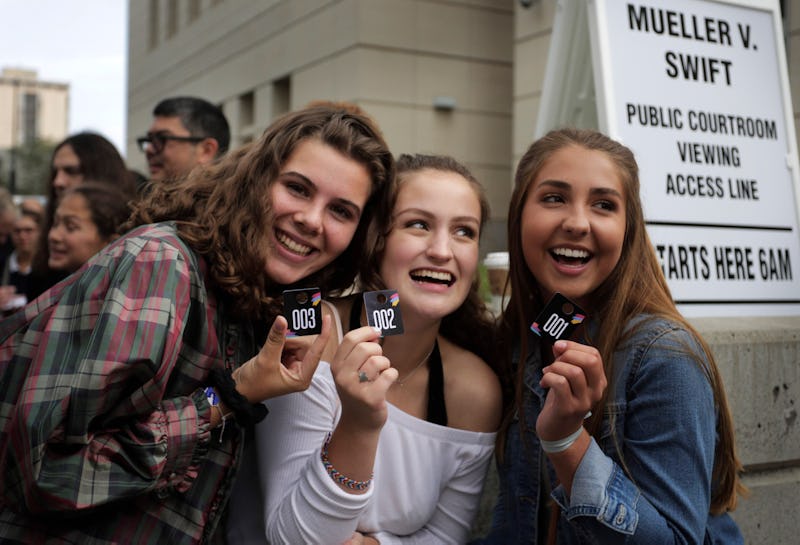 Joe Mahoney/Getty Images Entertainment/Getty Images
The best part of Valentine's Day isn't about cupid or chocolate hearts or significant others at all. As it turns out, the best part about Valentine's Day is the day before all that noise. It's a day that mythical creature and lady warrior Leslie Knope bestowed upon the world and it is known as Galentine's Day. If you're looking forward to honoring your most empowering and positive female friendships, but are a very hard working busy woman, we have last-minute Galentine's Day ideas that will let you get all your work done while keeping the spirit of the day alive.
The event on your calendar that's most looked forward to in February is probably Galentine's Day, right? February is typically a frigid month and Valentine's Day is hyped up to seem exclusive to couples. But everyone should celebrate love. And the friendship you share with your best friends is just as a significant relationship as the one you have with your ~significant other~. Galentine's Day is a time to celebrate the beauty, perfection, wit and badass character of your closest friends.
If you have plans to hang with your besties on Feb. 13 but don't have the actual ~plans~, we have a few ideas that might inspire the best last minute celebration ever.
Candy Potluck
Maybe you don't have enough time for an actual potluck. That kind of stuff takes planning. Not even the most efficient and organized friend in your squad could throw it together this fast. BUT, everyone can get to their local convenience store and pick up some candy. Grab a family size bag — best friends are fam, fam — and gather at someone's abode to dig into the sugared feast.
Sleepover Party
The ultimate last minute idea that never fails is to schedule a sleepover party. Who needs movies and entertainment when you have each other? Turn your cell phones off. Instagram notifications will have to wait until the morning. Enjoy time just talking — and indulging in copious amounts of buttered popcorn — with the girls who mean the most to you.
Unofficial Wine Tasting
You don't need to schedule an actual wine tasting at actual wineries. Get down with DIY and pick a wine bar for your friends to gather at. Order a few glasses of wine and a few extra glasses. Pass the glass around and be all ~sophisticated~ pointing out the hints of oak.
Friendship Bracelet Workshop
If the crew is getting together with nothing to do, stop by a craft store and pick up some embroidery floss. Then throw it back like it's summer camp and celebrate being best friends forever with colorfully patterned bracelets that won't wear off for years. And years ... and years.
Cake Baking Party
Baking is fun. Even if you swear you're bad at it, decorating a cake is fun. Whip up a layer cake from scratch or buy a box and let the hysterics ensue.
Sweatpants And Chill
The best part of best friends is the undeniable acceptance and comfort to lounge in pajamas all day together. Whip out the drawstrings and get cozy, just talking, all night.
Diner Dinner
You don't have to get super fancy with Galentine's Day dinner. There's zero expectation to dress up, unless you want to. It can be as casual as diner waffles, because who doesn't love to order a waffle with a pickle on the side? Your best friends celebrate these unique orders that make you who you are. Meet at a diner and order dishes typically served for breakfast and lunch, all at once, judgement free, for dinner.
Clothing Swap
Let's be real, best friends are like sisters which means they have access to your closest everyday, every week, all year. You might show up to party only to find that that's where your favorite shirt went all those years ago. Make it ~official~ and create a last minute clothing swap in which your squad gathers to exchange clothes you know they'd love.
Meet Up For Massages
If you have the means to set up a last minute spa appointment, by all ~means~, you totally should. But if everything is booked and you're looking to spend no more than $20 each, head to your favorite manicure salon and sign up for a 10 minute pampering session. It's all about ~wellness~.
Cook Dinner Together
Have recipes pinned to your "I SWEAR I'LL COOK THIS SOMEDAY" board? Meet at the grocery store with the recipe, gather your ingredients and tackle the dish, together, hand in hand, fork in fork, one and for all.
Catch A Movie
It might not seem like a big deal, but the most fun a girl can have with her gals is laughing side by side at something only your crew would find funny or utterly ridiculous.
Dance Party
Create the ultimate girl power playlist full of SZA, Cardi B, Beyoncé, Taylor Swift and Cyndi Lauper tunes to send to your best friends. Playlists are the modern mixtape and it'll be a solid starting point to kick off the dance party in your living room later that evening.