12 Of Meghan Markle's Best Gift Recommendations To Get Your BFF This Year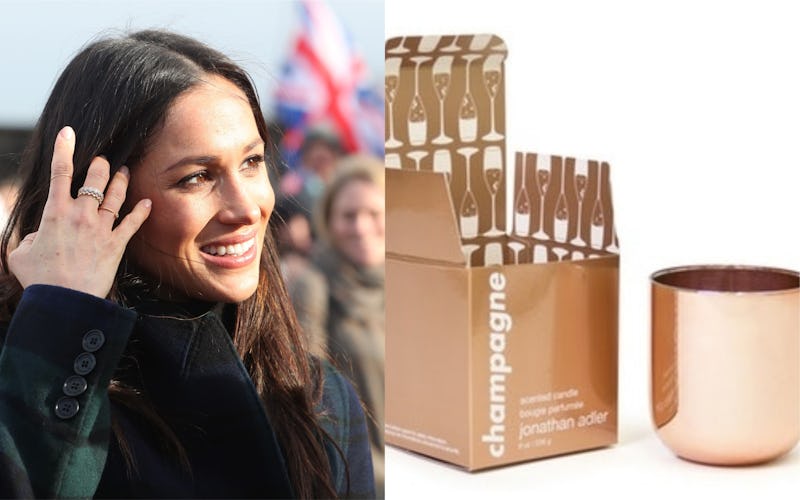 WPA Pool/Getty Images Entertainment/Getty Images; Jonathan Adler
If you're in need of a gift for a friend or family member for Christmas, Hanukkah, their birthday, a wedding shower, or pretty much anything else, it could help to start by narrowing things down to one of their interests. And if they're interested in new royal family member Meghan Markle, one of the gifts below will likely speak to your BFF/significant other/cousin/next door neighbor/whoever.
As all Markle fans know, before things got serious with Prince Harry, the now Duchess of Sussex had a lifestyle blog called The Tig. On her blog (parts of which are still available via the Wayback Machine), Markle shared recipes, beauty suggestions, book recommendations, shopping guides, and just about everything else you might expect from a lifestyle blog. Because of this, there's a lot of pre-Duchess information out there about Markle's personal tastes. Add that to the fact that she's much more a tastemaker now and the fact that she was previously an actor who gave interviews about herself, and there's a lot to read about what Markle likes and what someone who likes her might want as a gift.
From her style and beauty choices to her taste in food and drink to projects she's been involved with, here are 12 things Meghan Markle herself would probably suggest you give as gifts.
A Cookbook That's Close To Her Heart
Her Favorite Flats
Her Nude Lipstick
A Fancy Candle
Cute Notebooks
Blush
Her Stylish Sneakers
Red Wine
A "Badass" Book
This All-Purpose Balm
One Of Her Favorite Perfumes
A Tan Tote
Whether the person you're shopping for is a Markle fan or not, there are plenty of great options inspired by the Duchess. And there's surely more to come in the future as she keeps on making headlines with pretty much everything she does.