12 Game-Changing Types Of Sheet Masks You've Probably Never Tried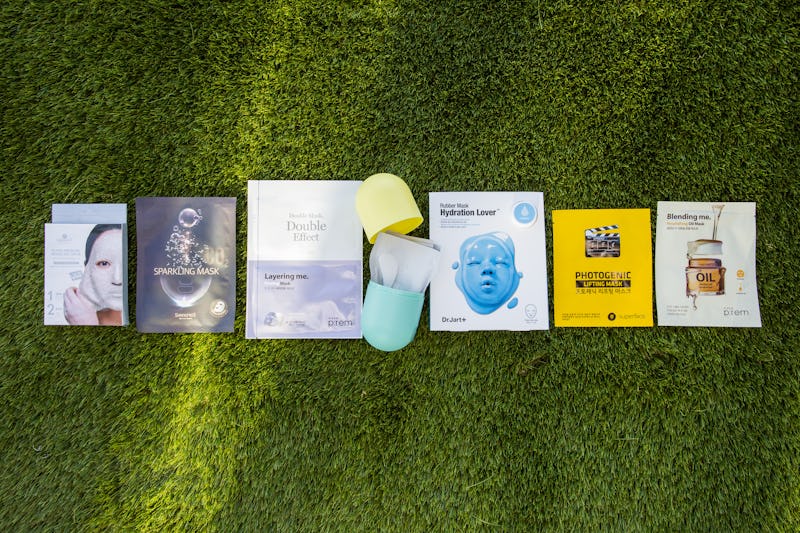 Alec Kugler/Coveteur
Bustle and Coveteur are working together to bring you the best mix of the season's fashion and beauty releases, shopping tips, and service stories in ways that are both inspirational, and attainable. Check The Fall Style Edit channel weekly to see what we're up to.
When Korean beauty became a global mega-trend a few years ago, one of the star products was the sheet mask: A layer of cloth, paper, or film soaked in a super-potent serum, that you lay over your face and peel off for a one-use kick of serious skin care. Using a sheet mask also inevitably conjures jokes about Silence of the Lambs from your roommate, significant other, or airplane seatmate until they finally get used to the sight and let you beautify in peace. (Another way to get them to shush: give them one to use and they'll be hooked.)
Sheet masks have become so popular that skin care brands across the world, and especially in Korea, are taking them to the next level. "In Seoul, there are stores that are dedicated to just sheet masks and home shopping networks will shell sheet masks in packs of 100 — it's a part of your daily life," says Alicia Yoon, an aesthetician and founder of Asian beauty web site Peach and Lily, who has also helped create Korean beauty pop up shops within Barneys, Bloomingdale's, Sephora, Target, and CVS. "Now customers are asking for sheet masks that not only hydrate, but also deliver extreme brightening effects or cling in such an intensive way that even if you're working out there is no drip at all." Brands outside of Asia have taken the cue, too. Scroll through to see 12 clever new twists on the Korean sheet mask.