12 Hilarious Puns To Post On Instagram This National Mojito Day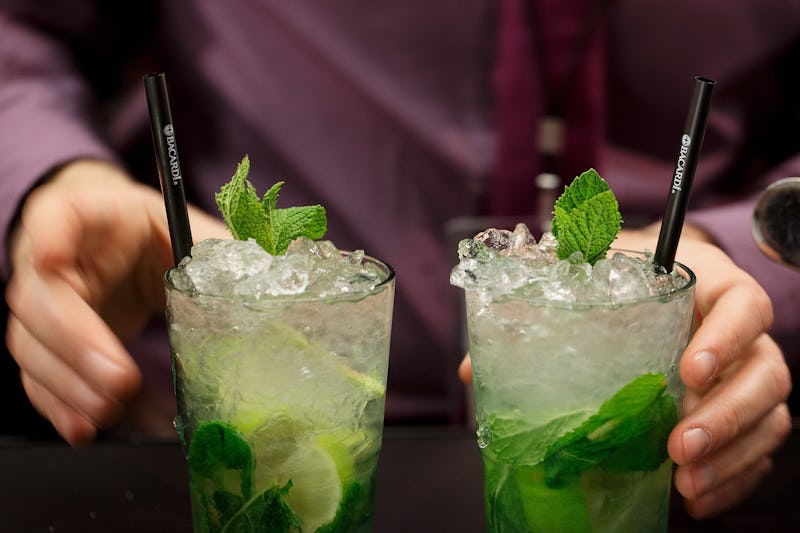 Pablo Blazquez Dominguez/Getty Images News/Getty Images
When you think of the perfect summer cocktail, you probably think about something light, refreshing, tasty, and, of course, ice cold. The last thing you want on a humid day full of sunshine is something that's going to make you warmer than you already are, or a drink that's going to leave you feeling bloated and uncomfortable while you're hanging out by the pool or at the beach. That's exactly why mojitos make an ideal warm weather cocktail. The combination of fresh mint, lime juice, white rum, sugar, and soda water is crisp, delicious, and extremely refreshing. So if you're going to have a whole summer day dedicated to a cocktail, then a mojito is not a bad choice! On July 11, we'll be doing exactly that: it's National Mojito Day, and it's the perfect opportunity to drink all of the drinks.
The best way to celebrate National Mojito Day is obviously to go out and have someone make you a killer mojito - or just make one yourself at home, if you're up for it. And if you're going to do that, you definitely need to document the moment on social media. Luckily, mojitos happen to be a very aesthetically pleasing drink that can make for a great photo. We also rounded up a whole bunch of punny Instagram caption ideas to use for National Mojito Day so that you can get as many likes as possible.
Before you post your gorgeous picture with your hilarious caption, you might want to know a little bit more about the drink you're showing off. Mojitos have been around forever, and have roots in Cuba. Cuban farmers would make super strong rum taste better by mixing it with sugar-cane juice, mint, and lime. During the Prohibition, the mojito made its way to the U.S., where it was mixed with carbonated water and lots of ice.
Now that you're basically a mojito expert, it's time to post some photos. A pun is always a good idea when it comes to Instagram captions, so we've got a few below that you - and your followers - will love.