12 #StableGenius Memes That Brutally Mock Trump For Saying He's "Like, Really Smart"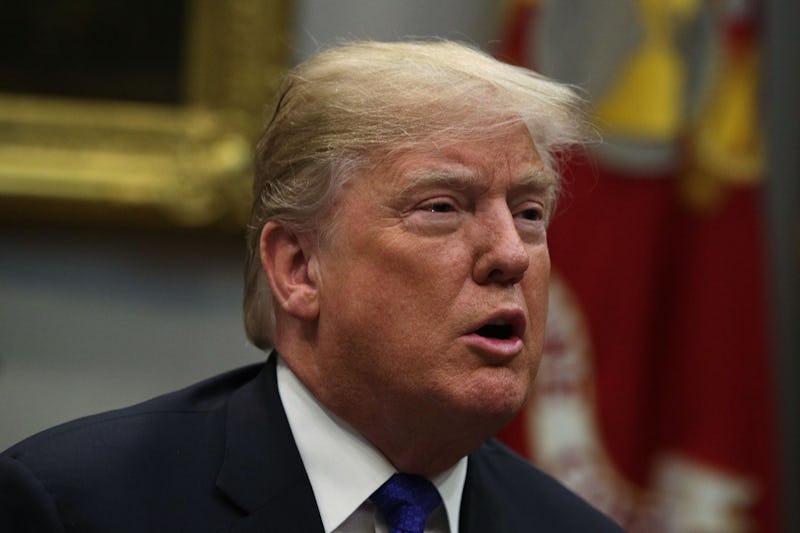 Alex Wong/Getty Images News/Getty Images
Since Michael Wolff released his explosive tell-all book about President Trump on Friday, there has been renewed scrutiny on POTUS' mental stability. On Saturday morning, Trump appeared to defend his mental health, writing in a series of tweets that he was "like, really smart" and referred to himself as a "very stable genius." Naturally, social media exploded with plenty of memes about Trump and the #StableGenius hashtag quickly became a trending topic on Twitter.
After some excerpts from Fire and Fury: Inside the Trump White House were published before its release date, Trump's lawyers threatened to sue if Wolff's publisher didn't stop its release. Press Secretary Sarah Huckabee Sanders said that the White House believes it's full of "false and misleading accounts" and "trashy tabloid fiction." Trump's lawyers then released a cease and desist order letter to Wolff's publisher, saying the book includes false information that could be libelous.
Although Trump's mental health has been a topic for political pundits for some time now, Wolff's book paints a portrait of the president as both uninformed and erratic. Soon after Trump's Saturday morning tweets, Twitter erupted with memes, with many comparing the president to Wile E. Coyote, the Looney Tunes cartoon character.
Here are some of the greatest, funniest, and most ridiculous #StableGenius memes.
The Original Stable Genius
Many of the memes poked fun at the wordplay in Trump's tweets, comparing the president to a horse stable and the talking horse in the Mister Ed television series.
Wile E. Coyote
Many drew comparisons between Trump and Wile E. Coyote, the clumsy antagonist in Looney Tunes. The cartoon has portrayed Coyote as claiming he's a "genius" — he even presents a business card declaring so in one of the episodes.
That's All Folks
Others simply compared the president to Looney Tunes, implying that Trump himself was "looney."
No, This Is A Stable Genius
Many of the tweets poked fun at Trump's word choice, with Twitter users reacting with funny GIFs of horses: "Stable," get it?
Not Your First Try
In his tweets on Saturday, Trump said that he won the presidency on his first try. Some pointed out that 2016 wasn't the first time Trump ran for president. In 2000, Trump ran for the Reform Party nominee but eventually withdrew, saying that the party was unlikely capable of allowing him to win in the general election.
Yep, He's A Genius
Many people responded with GIFs and photos of Trump, citing examples for why the president wasn't a "stable genius." In a viral photo, Trump looked directly at the sun, despite all of the warnings not to, during the solar eclipse in August 2017.
What A Stable Genius Looks Like
One Twitter user responded with a photoshopped image of Trump on a "Tweeties" box, parodying the president's apparent preoccupation with the social media platform and his penchant for tweeting.
Lil' Sebastian's The Real Stable Genius
Vanity Fair journalist Maya Kosoff joked that the beloved mini-horse in the Parks and Recreation show was her stable genius.
He That Falls In Love With Himself...
One Twitter user responded with the Ben Franklin quote, "He that falls in love with himself will have no rivals" and a cartoon of Trump staring into a reflection pool with the Twitter symbol.
A List Of People Who Never Called Themselves Geniuses
Others on social media began responding with lists of geniuses throughout history, including Einstein, Marie Curie, and Leonardo Da Vinci. Twitter user Billy H pointed out that none of those actual geniuses ever called themselves geniuses.
Do We Need To Go On?
One person simply pointed out that Trump wasn't the first to win the presidency "on his first try"; Presidents Obama, Clinton and Bush Jr. all managed to, too. Twitter user Janet Shan also wrote that Hillary Clinton actually won the popular vote, followed by a viral gif of Trump mocking a disabled reporter during his campaign trail.
I'm Like, Really Smart Now
Actress and writer Mindy Kaling even joined in, tweeting out an image of her ditzy, yet obnoxious character Kelly Kapoor from The Office. In photo, Kelly was quoted saying, "You guys, I'm like really smart now, you don't even know."
Based on the reactions to his tweets, Trump wasn't very successful in defending his mental stability and convincing people he was a "stable genius." At least we can thank him for the memes.