These 12 Stackable Necklaces Will Never, Ever Tangle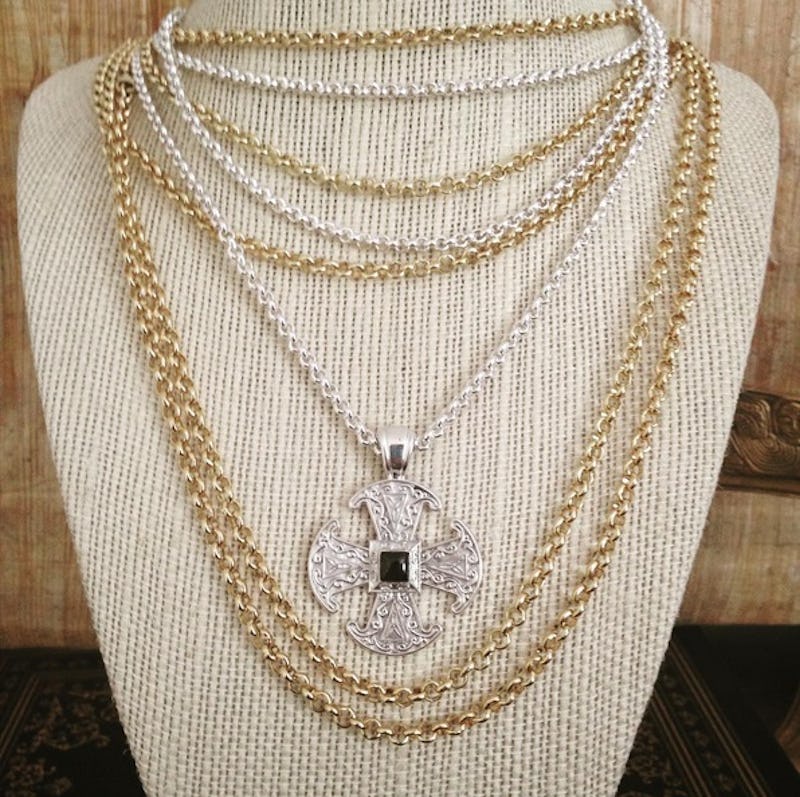 Courtesy of Gallery Byzantium
Layered jewelry is an enduring trend you can rock during any season. You can load bracelets on your wrists or pile several rings on each finger no matter the weather. Stacking accessories for a killer look is usually pretty effortless. That is unless you're stacking necklaces.
Pairing multiple strands of mixed materials (leather, gold, or velvet), lengths (chokers or strands), and widths (cuffs or braids) is super sexy and eye-catching, which is why layering necklaces is such a fashion "do." But it's also difficult to pull off. Strands can and will tangle, so tips, tricks, and techniques that effectively #StopTheTangle are more than necessary.
If dealing with twisted, knotted necklaces deters you from trying the layered trend, there is a super simple solution to this fashion frustration.
"Most trendy stores carry necklaces that are already layered" says Philadelphia-based stylist Susan Padron. "They take the guess work out of it."
There are plenty of pre-made layered necklaces that have multiple strands to help you pull off the look. You can put them on and go without much concern about #TheTangle.
These are the best stackable necklace options that won't tangle you up. Get ready to slay the necklace trend.
1. Sexy Solitaires
Druzy Solitaire Long, $68, Elusive Muse Jewelry
Stylist Naima Turner Fleming recommends Elusive Muse since the brand offers "an eclectic mix of pieces that can be mixed with other pieces within their collection." The Elusive Muse pieces look expensive, but really aren't.
Fleming suggests the dainty solitaires, which can be paired with one of their gorgeous gemstone lariats.
2. Lariat Layering
Druzy Lariat, Gold, $78, Elusive Muse Jewelry
What a combo! This lariat is exactly what Fleming ordered when it comes to layering.
"The magic of the layered jewelry look happens when the lariat is shortened, lengthened, or worn as a choker," she says.
3. Elegant Yet Edgy
Vide Three Layered Necklace, $195, Via Saviene
This elegant and edgy tri-toned necklace does all the work for you. It's layered, it's comprised of mixed colors, and it boasts charms. Layering at its most simple.
4. Leather And Metal
Black Leather Choker With Silver Bar + Chain Drop, $42, Sterling Forever
This leather and silver choker executes the same concept. The piece has a totally edgy aesthetic, but a simple concept.
This necklace mixes materials and lengths, all the while looking like two necklaces. But it's actually one. How's that for simplicity and ease?
5. Dual Choker
Double Strands Leather Choker, $28, Arthlin Jewelry
Maine-based Arthlin Jewelry specializes in chokers that curb the tangle.
"When we realized that tangling stacked necklaces was a common issue, we created these two chokers that are kept separated by metal bars at the back," owner Lincey V. Pepin tells Bustle. "They keep the strands from interacting at the front of the neck and women can just forget that they're wearing it."
6. Pre-Layered Leather
Ultimate Strands Leather Choker, $65, Arthlin Jewelry
These pre-layered pieces certainly remove any potential high-maintenance elements of the stacked look.
"There's no need to re-adjust all day," Pepin said.
Pepin also reminds says that "sufficient length differences" in layered necklaces are crucial to keeping things tangle-free. Take notes.
7. Golden Feathers
Layered Feather Necklace Gold, $64, Nissa Jewelry
Nissa Jewelry offers plenty of affordable, pre-layered necklaces. For necklaces that are not pre-stacked, Nissa Jewelry creator Nissa Wegienek recommends clasping one necklace to the other first before you put them on.
"Clasping around your neck keeps them from getting tangled in the back, which then prevents tangling in the front," Wegienek says.
8. Charming Leather Cords
Leaf, Black Disc, Star Charm Leather Cord Set, $42, Sterling Forever
Necklaces that have two to three varied layers fastened to one clasp are truly the best option for intense stacking. These leather cord sizes are the same, and that makes for superior stacking.
"If one chain is significantly thicker than the rest, all the thinner ones will loop around it creating a necklace mess," Maressa Tosto Merwarth of Mari Tome Jewelry says.
Sterling Forever offers tons of necklaces with differing lengths and materials so that you can serve up layers sans the tangle.
9. Goth-Inspired Choker
Black Widow Onyx Choker, $440, Yvonne Rose Jewelry
Designer and stylist Yvonne Rosemier handcrafts necklaces made for dramatic layering. They are definitely investment pieces, but you can rock them for years to come. This rosary-like, goth-inspired choker is a meant to be worn with...
10. Black Beaded Beauty
Silver Rose Black Onyx Strand, $360, Yvonne Rose
... this beauty! The end result is a chunky and complex layered look that will bring out your darker side.
You can see the final look here. Now that's a statement, stacked necklace!
11. Perfect Gold Stacking Collar
Classic Collar, $58, Nisolo
Stacked necklaces don't always need to be attached. This choker collar will sit high and tight on the neck, so you can drape, longer pieces without much intermingling.
12. Golden Chain
Sol Necklace, $58, Nisolo
This long, handmade chain with a pendant is stylistically different than the collar, yet pairs wonderfully. Even better, Nashville-based Nisolo is a sustainable and ethically-minded brand that focuses on exceptional design along with affordability and global flair. The pieces are made in ethical factories and by independent artisans in Peru, Mexico, and Kenya.
These pre-layered necklaces and layering tips will #StopTheTangle so you can #StackWithStyle.