Here Are The Clues & Hints You May Have Missed In Taylor Swift's "...Ready For It?"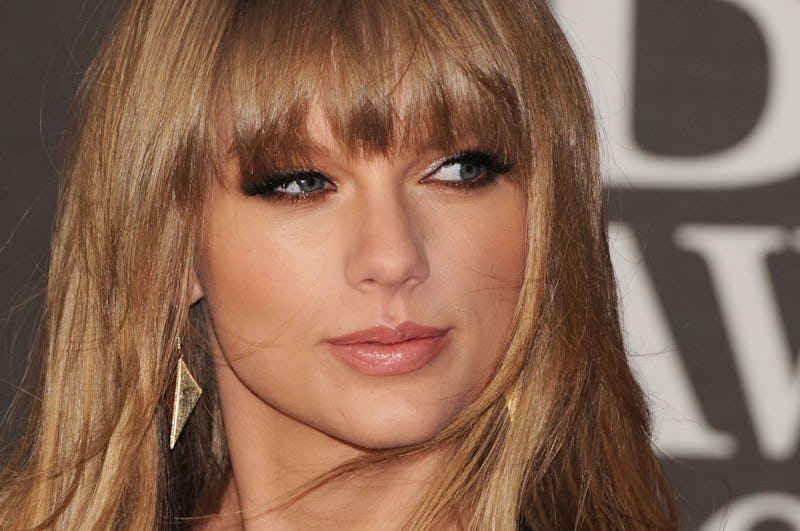 Eamonn McCormack/Getty Images Entertainment/Getty Images
On Sunday morning, Taylor Swift dropped "...Ready For It?" a glimmering new single that fans are eager to unpack. True to Swiftian form, she veered away from naming names, places, dates, or times — but some receipts can't be unread. Swift put many clues and hints into "...Ready For It?" a single that more resembles the star fans have come to know. The pop singer premiered part of the single during a college football broadcast on Saturday night and released the full song on the morning of Sunday, Sept. 3.
It seems to be a track filled references to old loves and a new love, but there are also many lines to read between here. Is the seemingly adult-themed track about exes in general, or one infamous ex in particular? What is she trying to reveal about a relationship — and just who is Taylor fantasizing about in the middle of the night? Ready or not, the star is all grown up and doesn't give a damn about her reputation. Potentially enough to write a whole album about it.
Here are 13 clues and hints that Taylor Swift drops in the "...Ready For It?" lyrics that you should definitely listen for as you're playing the song on repeat.
1. The Song Title
Swift's newest single, "...Ready For It?" issues the ultimate challenge. Is the media ready for edgier, angrier Taylor? Is the press prepared for what she has to say? Are the haters ready for Swift to hit back? Are former boyfriends steadied for what she has to say, and is Joe Alwyn ready to publicly be dating Taylor Swift? Are her fans ready for any of this? Is anyone?
2. The 'Burton To This Taylor' Line
Richard Burton and Elizabeth Taylor's tumultuous relationship is an unexpected cultural reference from Swift. The 27-year-old's fanbase is predominantly younger women, many of whom might not immediately pick up on this unique clue. Burton and Taylor famously married, divorced, remarried, and divorced for good between 1964 and 1976. Swift views the subject of "...Ready For it?" as the great romantic story of her life. Aww.
3. 'Welcome To This Taylor'
Leave it to Taylor Swift to drop hints about her last single in her new one. That's no accident. The "Welcome to this Taylor" lyric obviously echoes the "old Taylor" verse from "Look What You Made Me Do." Swift isn't just trying to reboot her image — she wants a brand-new narrative, with the slate of her previous and ill-fated Taylors wiped clean. The singer seems to be literally introducing audiences to the latest version of the Taylor Swift Machine — whether fans are ready for it or not.
4. 'Younger Than My Exes...'
There are a million and one theories floating around as to what this line could mean. After all, the list of famous Swift boyfriends is quite long. It's safe to narrow it down to actor Joe Alwyn and 6-foot-6-inch British guy Calvin Harris, though.
5. The Prime Time Football Debut
Yes, okay, the cross-promotion of "...Ready For It?" with ESPN's College Football night was likely a clever attempt at reaching the widest possible audience. But might it also have been a reference to the Iraq War-slash-football film Billy Lynn's Long Halftime Walk, starring Swift paramour Joe Alwyn?
6. 'Island Breeze/Lights Down Low'
Perhaps this one is a stretch as well, but Swift and Joe Alwyn reportedly took a "secret vacation" in June, prior to her assault trial. However, eagle-eyed Swift fans might recall that Swift previously celebrated her one-year anniversary with Calvin Harris on an Instagram-worthy beach vacation. It might be both!
7. 'Touch Me And You'll Never Be Alone'
Swift has had a gift for wordplay since her teens, and it's only intensified as she's grown up. The phrase "touch me and you'll never be alone" is in part a commentary on how any person within Swift's orbit is branded that way for life. Harry Styles, John Mayer, Calvin Harris — whoever you are, it's nearly impossible for press to separate you from the Taylor Swift of it all. Perhaps it's a warning to new beau Joe. Or, maybe, she's just a really loyal girlfriend? Maybe.
8. Theme Of Love As A Game
Reputation seems like an album where Taylor reclaims her time. She's playing into the media's portrayal of her, but also pushing back. It's a loaded message, and "...Ready For It?" is the perfect encapsulation of that.
9. 'No One Has To Know'
Over time, Swift has endeared herself to fans by being relentlessly open and honest about her life. In the last year or so, this has cooled; Swift has cleared her social media accounts and retreated from the public eye. She's been a media fixture for more than a decade. Swift has earned the right to protect herself — and her boyfriend.
10. This Sick Beat
Swift has gone full bass-heavy dance-pop, and it's honestly kind of working. It's a surprise, no doubt, but it's working. Is there a chance that the heavily-produced "...Ready For It?" is a nod to former collaborations with ex Calvin Harris? Could it even be a dig? Jack Antonoff can only influence so much.
11. Extended Heist Metaphor
She's been leaning heavily into the "heist" theme since the action-packed "Bad Blood" video. In video for single "Look What You Made Me Do," Swift and a cat-masked gang rob a mostly empty bank vault. Now, in "...Ready For It?" Swift suggests that one dude is worth going full Bonnie and Clyde with. Any Swifties know her true Ride or Die?
12. Ghosts & Phantoms
Some fans are theorizing that this could be a reference to Harry Styles' song "Two Ghosts," which is reportedly about Taylor.
13. Romance As Jail
As mentioned above, Swift daydreams about running away to a tropical island with an unnamed boo. But in the same breath, she refers to him as her "jailer." This might be a reference to an oppressive boyfriend, but, just as easily, she may feel imprisoned by media that once romanticized her beyond belief. Either way, she's got stars in her eyes; Richard Burton and Elizabeth Taylor were a romance for the ages — albeit a turbulent one.
Swift dropped too many clues and hints into the lyrics for "...Ready For It?' Fans may never be able to count them all. Will her next single clear things up? Will she continue her enigmatic approach to social media? Only time will tell.