Reddit Users Say These 13 Books Are The Ones To Read If You're Feeling Down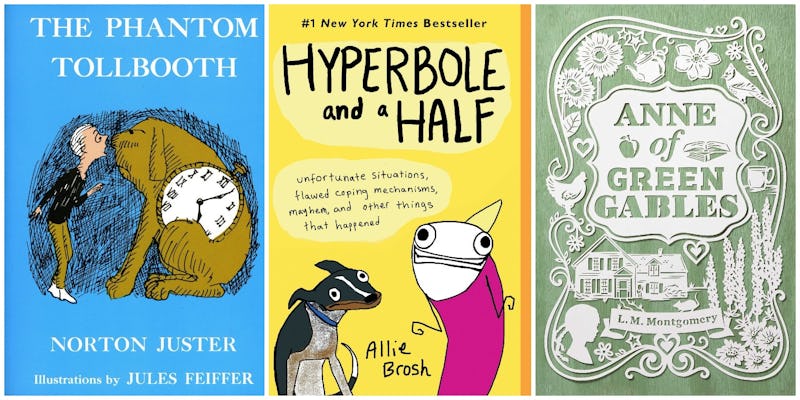 We're all familiar with comfort foods — snacks that bring back a memory, that taste good, that lift our moods no matter how awful a day we've had. But for lit nerds, there is also the small, deeply loved collection of "comfort reads" — the books we've read too many times to count, whose opening lines we can recite from memory. What are the books you turn to for comfort?
It's a question that, when discussed among friends (or just strangers on the internet), reveals layers to our personalities that may not often see the light of day. A person on the street wouldn't know that I used to read the descriptions of the attic storage room in Laura Ingalls Wilder's Little House in the Big Woods during thunderstorms, or that my tradition each Christmas was to re-read The Westie Winter by Coleen Hubbard. But those elements are there, and they still dictate, in little ways, how I see the world.
So when user QueasyDemoDeezy asked, "Was just wondering what people read when they were sad, distraught, went through a breakup, had a fight with a friend etc." to the Reddit book message boards yesterday, I was immediately hooked. They went on to explain that they had recently read Fangirl by Rainbow Rowell, a 2013 YA romance that dives deep into online fandom culture. It wasn't a typical choice, but, noted QueasyDemoDeezy, "It made me feel really happy for some reason because I got to feel the happiness of the characters in a way that made me feel OK about some of the more painful aspects of my life at the time."
In 24 hours, over 300 redditors from across the world jumped onto the thread, sharing not only their favorite, most cherished book titles, but the stories behind their love. And no one argued, or yelled, or called one another names. Instead they bonded over shared words and memories.