'Stranger Things' Halloween Costume Ideas That Are Ridiculously Easy To Put Together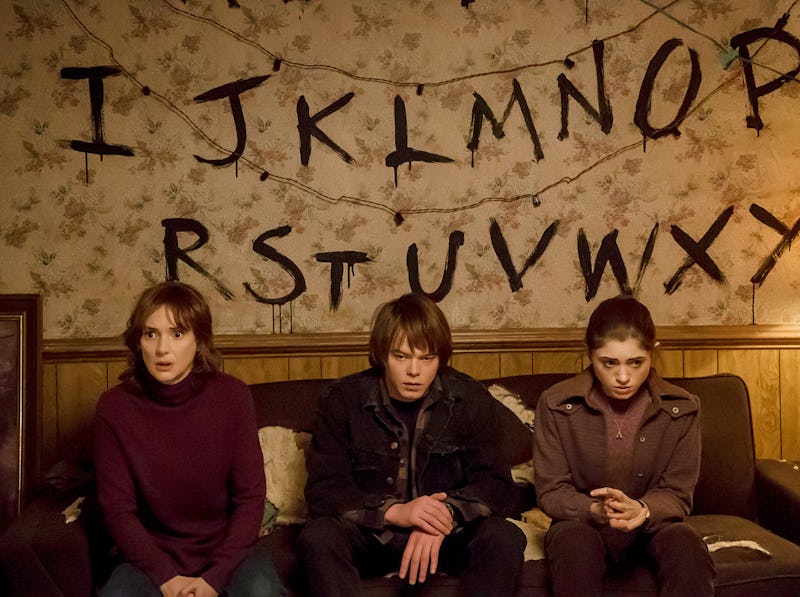 Netflix
Picking an easy Halloween costume doesn't have to be as difficult as people sometimes make it out to be — if you want to keep things relatively simple, just base your costume off one of your most beloved fictional characters. A fan favorite for Halloween 2017 is definitely going to be the cast of Stranger Things, especially considering the second season is debuting on Netflix right around Halloween, on Oct. 27, to be exact. The creepy, other worldly vibe of the show and its cast gives the perfect inspiration for some slightly spooky, yet still creative Stranger Things Halloween costume ideas.
Plus, dressing like these characters isn't super difficult. Not only do they wear pretty basic clothing (meaning you probably already own some of the pieces or know someone you can borrow them from), but stores like Hot Topic and Spirit Halloween have put out costume and cosplay lines dedicated to Stranger Things. If you want more obscure add-ons, like accessories and shirts that mimic exactly what the characters wear, Etsy is full of spot-on options. The disadvantage of the popularity, of course, is that you might run into several other Elevens and a few Barbs. But don't worry! There are still some more clever Stranger Things costumes you can create that won't be as trendy, but you know what? Even if you are one of several wearing Christmas lights around your neck, you'll still have a great night (better than you would if you were actually in the Stranger Things world, at least!).
Check out these DIY Stranger Things costumes, and start getting creative:
Check out the entire 'What's Up, Boo?' series and other videos on Facebook and the Bustle app across Apple TV, Roku, and Amazon Fire TV.
1. Classic Eleven
The most popular Stranger Things costume, without a doubt, is what I'll call "classic" Eleven — pink dress, blue jacket, knee socks, and of course, Eggo waffles. It's still cute, though, and honestly? You get an excuse to eat waffles all night, which is pretty awesome.
What you'll need:
Eleven Blush Dress, $50, Hot Topic | Denim jacket in Newton wash, $98, J.Crew | Skater socks, $11, Amazon | Converse sneakers, $61, All Sole | Eggo Enamel Pin, $10, Etsy | Eggo Waffles, Target
2. The Wall
Another popular option from the show is dressing as the wall where the demogorgon terrorized Joyce and her family from. You have two options: you could buy a t-shirt already printed to look like the wall, or you could get a little bit more creative and make your costume. You just need a floral blouse of some sort, fabric markers to write letters all over it, and then Christmas lights to wrap around yourself. I personally think the DIY version is more fun, but hey — if you're looking for something no frills, the wall shirt is great!
What you'll need:
Floral Blouse, $38, Flannels | Right Here t-shirt, $20, Teepublic | Stranger Things Run Necklace, $14, BoxLunch | Fabric pens, $9, Amazon | Multicolor string lights, $21, Walmart
3. Dustin
Out of all of the young guys, Dustin probably stands out the most, and his look is pretty easy to copy. You can snag the same shirt he wears on Etsy, and chances are good you already have a plaid shirt and denim jacket. His trucker hat is sold at both Hot Topic and Spirit Halloween, too, which makes things pretty simple.
What you'll need:
Howels plaid shirt, $31, Amazon | Over-sized denim jacket, $49, Sans Souci | Low-rise chino pants, $15, Hollister | Dustin trucker hat, $15, Hot Topic | Waupaca Shirt, $10, Etsy
4. Mike
Dustin might be a more colorful character, but Mike is super important to the show — and since his look is so basic, a lot of people probably won't dress as him. A blue striped shirt, jeans, some Puma sneakers, and a utility jacket are all you really need... but that cute Eggo pin doesn't hurt!
What you'll need:
Slim boot jeans, $22, Melissa McCarthy | Fenty Puma by Rihanna, $150, Saks Fifth Avenue | Ranch shearling jacket, $80, BackCountry.com | Striped polo shirt, $90, Brooks Brothers | Eggo Enamel Pin, $10, Etsy
5. Lucas
I see a lot of DIY Dustin and Mike costumes, but not as many for Lucas — and he deserves some love too! A yellow striped shirt, gray pants, Puma sneakers, and a corduroy jacket are all easy to come by. Make sure you walk around with a striped backpack like Lucas to stand out a little bit more. And fun group costume idea: you and two besties can dress as Dustin, Mike, and Lucas!
What you'll need:
Madewell Cotton t-shirt, $40, Net-A-Porter | Tan fleece collar cord jacket, $110, River Island | Cargo toothpick pant, $98, J.Crew | Fenty Puma by Rihanna, $150, Saks Fifth Avenue | Striped canvas backpack, $15, SheIn
6. Casual Eleven
Remember when Eleven first made her way into Mike's house and walked around in a giant, oversized t-shirt all day? This is what I'll call "casual" Eleven. It's definitely a costume you won't see as often, but it's super, super simple. You can find almost the exact same shirt Eleven wore on Etsy — order it in a big size so that it's practically a dress. Add sneakers, and you're good to go.
What you'll need:
Eleven burgers shirt, $23, Etsy | Converse sneakers, $61, All Sole | Skater socks, $11, Amazon
7. Nancy
Nancy might be one of the more annoying characters on Stranger Things, but she still makes for a good — and cozy — costume. Nancy has more of a preppy vibe to her look, so go for a sweater, a plaid shirt layered underneath, and a red jacket. Make sure to snag the fingerless gloves she wears, and you can also carry around a fake axe if you want.
What you'll need:
Teal sweater, $99, Current Boutique | Oversized flannel shirt, $40, Hollister | Marc Jacobs corduroy jacket, $595 | Slim fit stretch cotton denim jeans, $110, Lacoste | Hiker boots, $59, Dorothy Perkins | Fingerless gloves, $10, Accessorize
8. Steve
Do we like Steve or do we hate Steve? Unclear, but that doesn't mean he doesn't make for a good and easy Halloween costume. A striped shirt, gray jeans, and retro Nike sneakers work. Add some fake blood on your face like Steve sported in the show, and be sure to walk around with a wooden bat to fit off monsters. A cute couples costume idea would be Nancy and Steve!
What you'll need:
L'etoile Sport shirt, $90, TheOutnet | Skinny regular jeans, $50, H&M | Nike Cortez basic leather sneakers, $100, Net-A-Porter | Fake blood, $32, Pop Map | Wooden baseball bat, $20, Amazon
9. Jonathan
If you feel like being moody and brooding this Halloween, dress as Jonathan. His look is also very simple: plain tee, jeans, a plaid shirt, a black denim jacket. It's just not complete without a retro camera hanging around your neck — find a fake one at a costume store so that you don't ruin anything valuable.
What you'll need:
New vintage cotton t-shirt, $33, J.Crew | Flannel shirt, $30, Uniqlo | Black distressed denim jacket, $90, River Island | Wooden baseball bat, $20, Amazon
10. Joyce
Joyce is a popular character option, but a fun one to dress as if you're also going to embody her neurotic personality. You'll need a red striped shirt, brown pants, and a utility jacket. I think it's fun to either wrap Christmas lights around yourself, or to hang an old school telephone wire around your neck like a scarf. Definitely make sure you carry around a fake axe! Oh, and if you ship Nancy and Jonathan, those two would make for an adorable couples costume.
What you'll need:
T-shirt, $13, H&M | Slim leg cord trousers, $31, M&Co | Fake Axe, $30, Amazon | The Cord Jacket, $80, Billabong | Christmas Lights, $60, JCPenny
11. Jim
It's pretty easy to dress as Jim — lots of costume stores sell khaki colored fake police officer uniforms. If you want to make the set yourself, just get khaki pants and a tan shirt, and add some work boots. This cute Hawkins police mug from Etsy is a perfect accessory. Another cute couples costume idea: Joyce and Jim!
What you'll need:
Sadie skinny chino pant, $85, Moosejaw | Park Ridge casual boots, $139, L.L. Bean | Fake police badge, $8, Amazon | Military shirt jacket, $48, Hollister | Hawkins police department mug, $10, Etsy
12. Barb
Barb is definitely the most popular costume choice after Eleven — maybe even more popular than Eleven! With her super retro look, it's fun to dress as Barb, and it's also pretty simple. Spirit Halloween sells a ruffle shirt that looks exactly like the one Barb wears in the show, but any ruffled blouse will do. Add high-waisted jeans, Dr. Martins, and big round glasses. You can get a wig from Spirit too, if you want.
What you'll need:
Ruffle Barb shirt, $35, Amazon | Barb wig, $17, Spirit Halloween | High waist straight jeans, $31, Zaful | Dr. Martins, $135, Zappos | Justice for Barb pin, $3, Etsy | Barb glasses, $8, Spirit Halloween
13. Eleven As A Patient
Here's one more unique Eleven costume for you: Eleven as a patient of... whatever it is that place calls itself. Spirit, again, sells a hospital gown that's perfect for the look, and all you really need to add is white knee socks, and some fake blood coming from your nose.
What you'll need:
Eleven hospital gown, $35, Spirit Halloween | Sheer thigh-high, $8, Kohl's | Fake blood, $32, Pop Map