13 Cute Pairs Of Rain Boots Under $50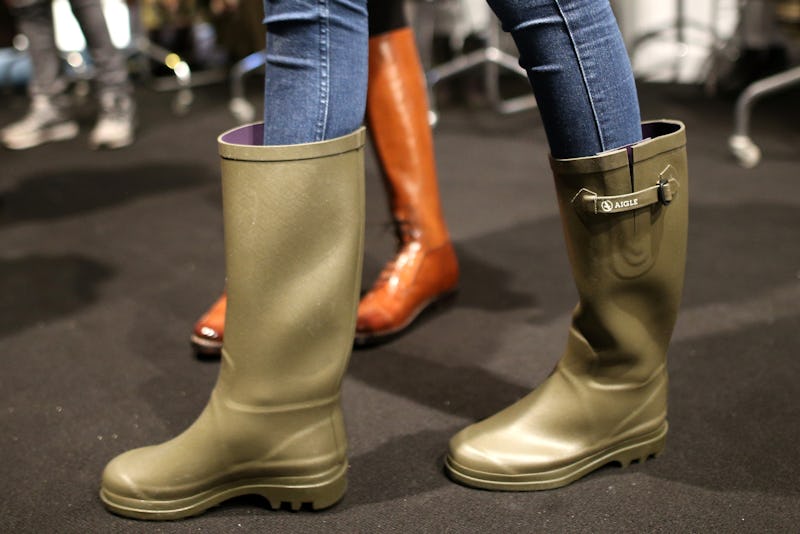 Joern Pollex/Getty Images Entertainment/Getty Images
It might only be February, but it feels like spring is approaching quicker than ever (global warming, anyone?), so while you might normally be thinking about how much longer you'll be forced to put up with snow, your main concern these days might be finding cute rain boots under $50, because I predict there is a lot more rain in our future.
When it comes to rain boots, there are so many styles to choose from. You can get your classic rain boots, like the wellies Kate Moss made famous back in 2005 when she wore them with cutoff shorts to the Glastonbury music festival. There are chelsea rain boots that are so subtle in design that you might not even realize they're rain boots. And then there are really bright patterned rain boots that make gloomy rainy days a little more fun. And the best part is that they all keep you dry.
The nice thing about rain boots is that you can pretty much wear them anywhere if there's a little water on the ground. I usually change out of my rain boots when I get to work, but if you don't have a strict dress code, you could possibly even get away with them at the office. No one likes having wet feet, after all.
So without further ado, here are 13 pairs of rain boots under $50 that you'll totally want in your closet this spring.
London Fog Thames Rain Boot, $30, Amazon
Channel your inner Kate Moss with these simple rain boots and a pair of cutoffs. It looks cooler than it sounds.
Western Chief Women's Whale Print Rain Boots, $40, Target
Channel your inner child with these fun boots.
Women's Pack-able Rain Boots, $25, Target
These fun red boots can fold up so you can more easily fit them in your suitcase or work bag.
West Blvd Shoes Mid Calf Rain Boot, $30, Amazon
Remember that scene in Gilmore Girls where Lorelai gets Luke to order her boots because she'll look like the Morton salt girl? These are those boots.
Women's Alex Chelsea Rain Boots, $18, Amazon
I love these because you would never even know they're rain boots. Meaning you can wear them on sunny days too — more bang for your buck.
Women's Navy Rubber Rain Boots, $38, Amazon
How cute and whimsical are these polka dot boots?
Women's Kalista Tall Rain Boots, $30, Target
It's like the embroidery trend, but for rain boots.
Western Chief Classic Women's Tall Waterproof Rain Boots, $23, Amazon
The fabric lining will keep your feet warm and dry.
Dirty Laundry Roadie Butterfly Rainboot, $20, Amazon
Combat rain boots with a cool pattern? Don't mind if I do.
London Fog Rider Rain Boot, $50, dsw
No one will even know these are rain boots with they're classic riding boot styling.
Joules Welly Print Rain Boots, $59, Amazon
So pretty and springy.
Women's Short Ankle Rubber Rain Boots, $32, Amazon
How cute would these be with a leather jacket?
Women's Classic Knee High Rain Boots, $38, Amazon
You'll be able to wear these all the time.