13 Easy Christmas 2017 Ham Recipes That Are Anything But Intimidating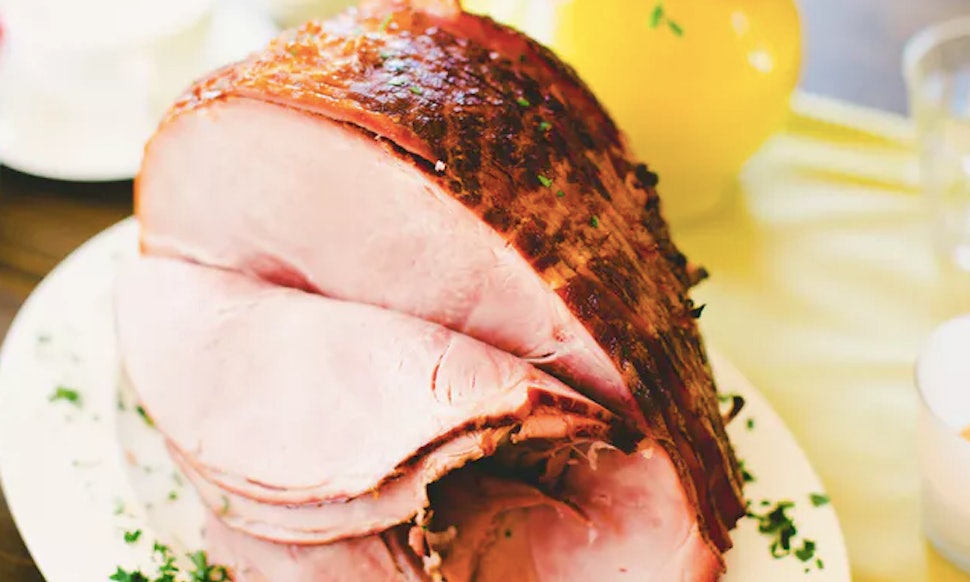 Faith Durand/The Kitchn
One of the easiest ways to host a giant holiday dinner party is to make one giant ham for everyone to enjoy. I know cooking a whole ham sounds intimidating, but trust me — it shouldn't be. To prove it, here are some easy Christmas ham recipes that are sure to impress even the pickiest of aunties. Who knows, they might even ask to take a few slices home. That's when you know you've made it.
As is true with most holiday traditions, the Christmas ham is an evolution of a significantly earlier tradition. In Tudor, England, the grander homes would center their Christmas meals around a boar's head, according to The Spruce. The edible centerpiece was a holdover from the Germanic celebration of the Norse figurehead Freyr, aka the god of agriculture and fertility, who was often pictured with a boar. A blood sacrifice was believed necessary in order to ensure a good harvest the following fall; killing a boar became tradition. Today, the Christmas or "Yule" ham has taken the place of the boar's head.
One of the best reasons to serve a Christmas ham is that leftovers often abound. Host a ham meal and you'll be eating well for at least a week. (If you're feeling like you're swimming in ham — my apologies for that image — this list also includes a host of ideas for post-Christmas brunch, weekday lunches, and what to do with that giant ham bone.)
Maple And Bourbon Gingersnap Crusted Ham
Smoked And Cured Picnic Ham
Not only does this recipe for a Smoked and Cured "Picnic" Ham serve up a traditional, moist main dish, it also leaves you with cracklings, a ham bone and ham broth. It'll keep you healing soups all winter long.
Slow-Cooker Honey-Glazed Ham
Brown Sugar, Soy And Garlic-Glazed Ham
Most hams come pre-baked, so the majority of your job revolves around glazing that bad boy until he's moist and extra flavorful. This Brown Sugar, Soy and Garlic-Glazed Ham packs a punch and only requires three ingredients (four if you include ~the ham~).
Baked Honey Ham
Brown Sugar And Dijon Mustard-Glazed Ham
The name of this Brown Sugar and Dijon Mustard-Glazed Ham includes literally all the necessary ingredients: brown sugar, whisked with dijon mustard. And ham, duh. Also you need an oven. But seriously, that's it.
Ham And Cheese Croissants
As mentioned earlier, arguably the best part about hosting a ham dinner is that you'll be feasting for at least a week on high-quality leftovers. First up on your menu? These post-Christmas Ham and Cheese Croissants.
Ham And Egg Breakfast Quesadilla
Black Forest Ham And Cheese Breakfast Casserole
Ham Welsh Rarebit Sandwich
You may have feasted on some ham-centric brunch dishes, but there's a good chance your leftovers still abound. Try this twist on a classic: Ham Welsh Rarebit Sandwich.
Monte Cristo
Or this Monte Cristo sandwich, which is essentially a grilled cheese with ham and maple syrup. Sweet and savory and incredibly warming.
Slow-cooker Hambone Soup
And now onto the ham bone, which lends itself to highly flavorful soups and stews. This Slow-Cooker Ham Bone Soup goes perfect with a loaf of crusty bread (and because of its restorative base of bone broth, is sure to help with even the nastiest of colds).
Ham Bone, Greens, And Bean Soup
Ever read the children's book Stone Soup? This Ham Bone, Greens and Bean Soup is sort of like a real-life version. Toss in a bone, whatever beans and greens you can scrounge up from the bottom of your post-holiday fridge, fry up a little leftover bacon and ta-da! An incredibly flavorful soup.