Easy Dessert Ideas To Save Your Holiday Party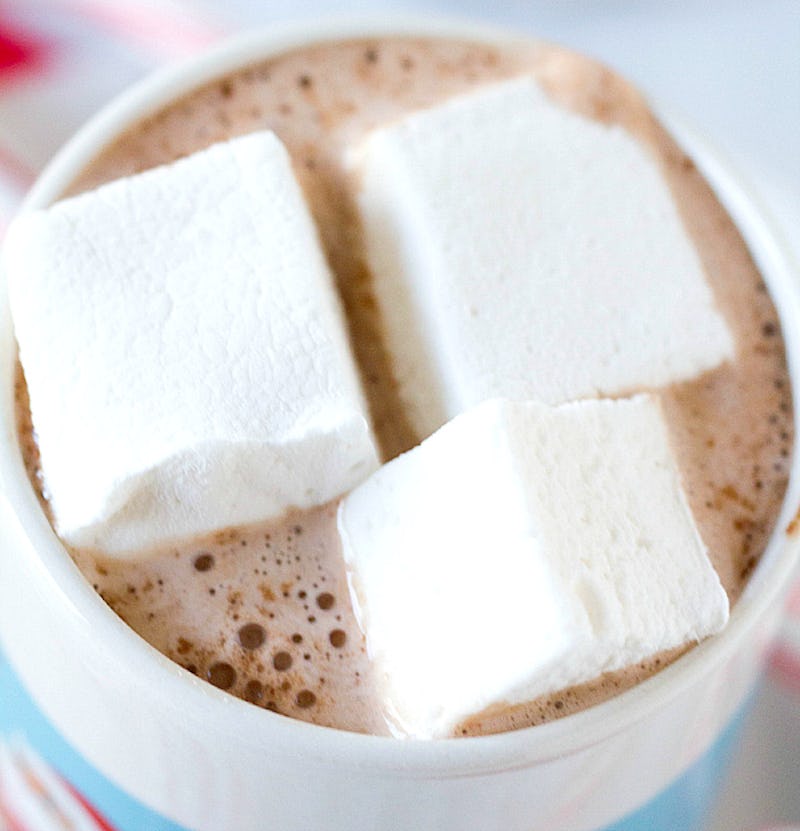 We all secretly want to be the holiday dessert hero. You know, that person who shows up with a stack of tins in her arms, each brimming with fresh sugary goodness that's so enticing, party guests can't resist sneaking in some dessert before dinner. Every year, we make these grandiose plans with ourselves to find the time to bake those festive goodies. And also every year, we wait till the last minute and end up buying old cookies from the bodega because we didn't plan properly. It's a cycle. But hey, can you blame any of us? When you're pinched for time, baking dessert for other people sounds really overwhelming. Baking for yourself is one thing — you're always kinda low-key waiting to get salmonella and you're OK with it — but baking for others is another. It's not just about making food that's tasty, it's about making food thats properly cooked and safe to eat. #Stress. Easy holiday recipes, especially ones for desserts, seem non-existent.
But this can be the year that all changes. With only a few days before the holidays, you're probably starting to realize that you seriously underestimated your schedule. Between the travel plans, the holiday party hangovers, the last-minute shopping and the end-of-year non-existent attention span you have, you did not leave a lot of time for baking. But it's not too late — before you get totally discouraged, know that there are tons of easy recipes that you do have time for. Here are a few of my favorite holiday dessert ideas:
Talenti Old World Eggnog Gelato Milkshake
This seasonal Talenti gelato flavor is already out of this world and a perfect dessert on its own (it's so delicious no one will notice you literally just plucked it out of the freezer), but if you want to get funky this holiday season, try using it as a base for a festive monster milkshake. Drop a few scoops into a blender, add some milk and some crumbled holiday cookies and get creative.
Christmas Bark
Chocolate bark is a staple dessert. It's so easy to make, and you can get as creative with it as you want. Follow this recipe from Averie Cooks and add your own twist.
Ice Box Cake
This no-bake ice box cake recipe from Brown Eyed Baker is seriously foolproof. It's peanut buttery, it's chocolatey and it's incredibly creamy. You got this!
Pumpkin Dump Cake
Still have a ton of pumpkin puree left over from Thanksgiving? Get rid of it with this simple recipe from Brown Eyed Baker.
Raspberry Pizza
OK, it's not really pizza, but it sure looks like it. You're going to want to master this raspberry cobbler recipe by Deliciously Yum because you can use it all year long and it's always a crowd-pleaser.
Gingerbread Pie
Want to seriously impress your family? This recipe is easy to master if you follow the steps on A Cozy Kitchen. Can you get any more festive than a gingerbread pie? I mean, really.
Cinnamon Roll Pie
Everyone loves cinnamon rolls, why not just make a whole cake out of them. This giant gooey roll is super easy to make when you follow the instructions on Baked By Rachel.
Christmas Pinwheels
These jolly holly festive treats are the perfect host gift or stocking stuffer. Make sure you set aside some time to follow this recipe on Baked By Rachel.
Peppermint Marshmallows
Taking the initiative to make your own marshmallows will seriously impress your family. Follow these simple steps on Brown Eyed Baker and bring some hot chocolate too.
Homemade Thin Mints
Everyone loves Girl Scout cookies, and this homemade recipe from A Cozy Kitchen will get the nostalgia going. Serve them with ice cream or whipped cream to make a whole dessert out of it.
Oatmeal Peppermint Cookies
These are not your average oatmeal cookies — they're Christmafied! Check out the basic recipe on Baked By Rachel.
Pumpkin Bars With Cream Cheese Frosting
Still got some pumpkin puree left? This is the perfect recipe to use it on. These pumpkin bites are sweet, but not too sweet. You could even eat them for breakfast if you want. Check out the recipe on Deliciously Yum.
Old Fashion Sugar Cookies
When in doubt, go with a classic. It's always good to master the OG cookie recipes, try out this one on Brave Tart and go ham on decorations.