13 Funny Scary Movies To Stream Now If Straight Horror Is Just Too Much For You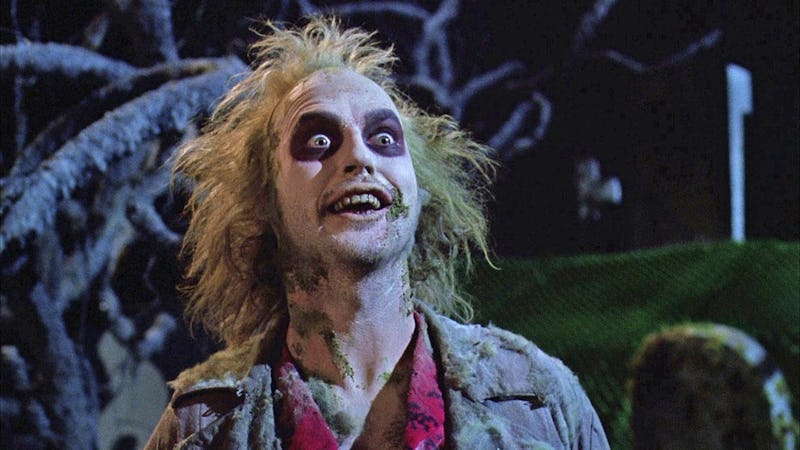 Warner Bros.
I absolutely love Halloween. It's one of my favorite holidays of the year, and I never pass up a chance to watch a good funny Halloween movie, hit up a costume party, or bake a sweet treat decorated with the night's signature orange and black colors. But, confession time, I'm a giant chicken. I can't do scary movies. I have been able to power through for movies like The Witch and The Forest, but it's super hard. And while movie fans with more of a penchant for stories that will have them freaked out long after the credits roll are out there praising films like The Nun, Hereditary, or Suspiria, I'm home watching Hocus Pocus and The Nightmare Before Christmas for the hundredth time.
So naturally, when it comes to scary movies, I need a little bit of humor to help soften the blow. It helps when a scary movie is also hilarious, because that way, I can sit and watch without covering my eyes for 90 percent of the time, knowing that a jump scare is just around the corner.
So if you're like me and you need a bit of comedy to buffer your fright fest, here are some scary movies streaming right now that have that comedy kick.
1. Scream
This '90s classic offered a change of pace from the previous couple of decades, which wore out the slasher-attacking-teenagers genre. By commenting on horror film tropes, subverting sexism in scary movies, and killing off its biggest star (Drew Barrymore) in the first 10 minutes, Scream marked the dawn of a new horror comedy era.
Streaming on Hulu, Amazon, Starz, iTunes, and Vudu.
2. Beetlejuice
Beetlejuice celebrated its 30th anniversary earlier this year, and while the roots of this movie, which brings us a young Michael Keaton, Geena Davis, and Alec Baldwin, are pretty comedic, it's also pretty grim. The land of the dead and the Maitlands' curse are all the stuff of nightmares.
Streaming on Amazon, Vudu, and iTunes.
3. Shaun of the Dead
Let's face it, we'd all pretend to be zombies when trying to blend into a zombie horde. Simon Pegg stars as the titular Shaun in Shaun of the Dead, which expertly uses dry English humor as a method of coping with a zombie apocalypse.
Streaming on Hulu, Amazon, Vudu, iTunes.
4. What We Do in the Shadows
If you're wondering where Thor: Ragnarok director Taika Waititi earned his comedy chops, look no further than What We Do in the Shadows. The 2014 horror mockumentary, which he co-directed with Jemaine Clement, follows a gang of New Zealand vampires as they try to navigate 21st-century life.
Streaming on Amazon, iTunes, and Vudu.
5. Tusk
This one is truly wacky. Written and directed by Kevin Smith, Tusk tells the story of a podcast host whose pursuit of a story lands him in the hands of a madman. The less you know, the better, but this movie is alternately silly and gross.
Streaming on Netflix.
6. Tremors
The comedy in Tremors stems from the fact that the whole thing is kind of ridiculous. Kevin Bacon stars as a repairman whose town is inundated with giant, disgusting, underground worms. Just go with it and have fun.
Streaming on Starz, Amazon, Vudu, and iTunes.
7. Zombieland
For some reason, comedy just lends itself well to the zombie genre. This 2009 telling stars Woody Harrelson, Jesse Eisenberg, Emma Stone, and Abigail Breslin as survivors of a zombie apocalypse. Its bit of Southern twang feels like a counter to Shaun of the Dead's British propriety.
Streaming on Starz, iTunes, Amazon, and Vudu.
8. Gremlins
Equally cute as it is funny and terrifying, this '80s classic spawned just as many nightmares as it did requests for fuzzy pets. But remember the rules. Don't get them wet. Don't expose them to bright light. Don't feed them after midnight.
Streaming on Amazon, Vudu, and iTunes.
9. Jennifer's Body
Screenwriter Diablo Cody brings her signature sarcasm to the horror genre. Megan Fox stars alongside Amanda Seyfried as a high schooler who becomes possessed by the Devil in a botched cult sacrifice. Jennifer uses her newfound role as a succubus to enact revenge on teen boys in this darkly feminist comedy.
Streaming on HBO, Hulu, Amazon, Vudu, and iTunes.
10. Life After Beth
Aubrey Plaza stars as Beth, a young woman who has died, only she doesn't know it. When Beth reappears after her own burial, her boyfriend (Dane DeHaan) starts to notice that she's turning into a zombie. If your loved one came back from the grave, would you be elated or terrified?
Streaming on Netflix
11. The Frighteners
Everyone's sweetheart Michael J. Fox stars in the ghostly comedy from director Peter Jackson and producer Robert Zemeckis. Fox plays Frank Bannister, a man who can see ghosts and uses their presence to his advantage. That is, until, a truly frightening one comes along.
Streaming on Amazon, Vudu, and iTunes.
12. Teeth
Jess Weixler stars as a young woman who discovers that her vagina is lined with razor sharp teeth. What starts out as a terrifying prospect quickly turns into a hilarious tale of revenge.
Streaming on Netflix.
13. Ghostbusters
While the original is just as funny and frightening, the 2016 all-female remake is a win in our book. By utilizing some of SNL's best and funniest women, this revamping adds a feminine touch to its proton packs.
Streaming on Amazon, iTunes, and Vudu.
So there's no need to feel bad if you can't handle the horror. One of these spooky but hilarious movies will put you in the Halloween mood without giving you nightmares.