13 Kylie Royal Peach Palette Alternatives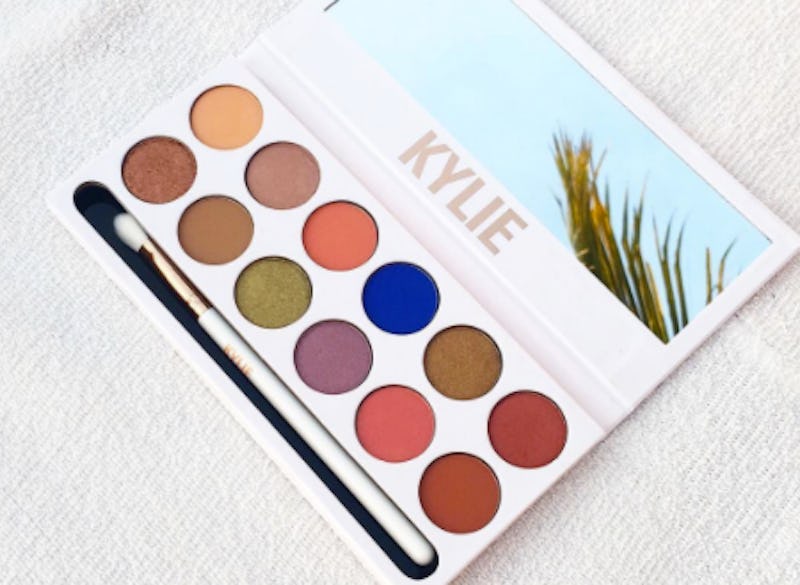 Peaches may not be in season currently, but as of late, they're taking over the beauty sphere. Considering the newest peachy keen product to hit shelves sold out almost instantly, it's time to face the reality that Kylie Cosmetics Royal Peach Palette alternatives may be your best bet for adding the new release to your collection.
Successfully shopping the Kylie Cosmetics site can seem nearly impossible when everyone and their mama is trying to get their hands on Kylie Jenner's products. Expanding her beauty empire with the 12 gorgeous Royal Peach Palette shades was obviously a good move since the initial Jan. 12 stock sold out in under 10 minutes. Featuring a to die for range of peachy nudes with pops of royal blue and golden green, the newest member of the Kylie Cosmetics empire is bound to have the same success during the second Royal Peach Palette restock on Jan. 19.
No need to worry yourself to death, however, if you weren't able to snag Jenner's palette. There's always a dupe to satisfy your craving for every popular beauty product worth buying. These 13 alternatives may not have the King Kylie touch, but they're just as scrumptious as the latest peachy eyeshadow palette to break the internet.
Sweet Peach Eyeshadow Palette, $62, Amazon
If there's any eyeshadow set worth pitting (pun intended) against Jenner's new beauty, it's the Too Faced Sweet Peach Palette, a gem with a similar color scheme. The collection may be missing the bright blue shade from the Royal Peach Palette, but the fact that it's infused with a juicy peach scent makes up for that absence.
Melange Eyeshadow Palette, $27, Zoevacosmetics
Zoeva's Melange Eyeshadow Palette captures the essence of Jenner's set with its focus on warm nudes. With the addition of a rich gold shade, this palette is definitely worthy of your lids.
Queen of Hearts Palette, $50, Colouredraine
This 12 shadow collection gives the Royal Peach Palette a run for its money. Only substituting the bold blue and moss green for rich plums and a bright orange, the Coloured Raine Queen of Hearts Palette has a similar theme.
Nocturnal Eyeshadow Box, $29, Amazon
If Jenner's single bold hue is what catches your eye, the deep blue within Urban Decay's Nocturnal Shadow Box may be right up your alley. The addition of a muted peach, metallic purple, and shimmery nudes makes this palette a reasonable alternative to Jenner's shades.
Nouveau Chic Palette, $17, Amazon
The gorgeous sage green and soft peachy nudes makes the NYX "Nouveau Chic" Avant Pop! Palette worth buying. At a much lower price point, there's no reason why you shouldn't cop this beauty if purchasing from Jenner's site proves to be difficult.
DreamWorks Trolls Palette, $29, Purcosmetics
The mix of metals and mattes within the DreamWorks Trolls Palette could stand to have a place in your beauty stash. Finding dupes for the rose and chestnut shades in Jenner's set are likely with this funky range of colors.
Swamp Queen Eye & Cheek Palette, $45, Amazon
Complete with highlight, contour, and blush shades, the Tarte Swamp Queen Eye & Cheek Palette is a do-it-all face product. It may be missing blue and green shades, but its copper, soft plum, and blush pink hues make it compatible with the Royal Peach Palette.
Laura Lee Palette, $45, BeautyBay
Shades like "1988", "Priss Pot", and "Smashlee" have Kylie Jenner written all over them. Keeping with the color scheme of Jenner's new release, the Violet Voss Laura Lee Palette has two dozen lust-worthy shades that are sure to please any shadow lover.
Special Occasion 39 Color Eyeshadow & Blush Palette, $15, Amazon
There are plenty of shades giving off major Royal Peach Palette vibes in BH Cosmetics' Special Occasion 39 Color set, and it's such a steal at only $10.
35B - 35 Color Glam Palette, $60, Amazon
Chances are it's the royal blue calling your name when it comes to Jenner's palette. If that's the case, Morphe's 35B Palette may be just what you need. While the Royal Peach Palette has a single bright pop of color, this baby is loaded with bold hues.
Color Icon Eyeshadow Collection in "Comfort Zone", $5, Wetnwildbeauty
Keeping things on the neutral side, Wet N Wild's "Comfort Zone" Color Icon Eyeshadow includes a moss green, glimmering cinnamon, and peachy copper worth swatching against Jenner's comparable shades.
Afterdark Palette, $49, Urbandecay
Although metallic finishes take over the Urban Decay Afterdark Palette, its still a great alternative to the Royal Peach Palette. You'll find some of Jenner's key shades in a sparkly version with this keeper.
Smashbox Cover Shot "Ablaze" Palette, $49, Amazon
The burnt orange and rosy shades are what gives the Royal Peach Palette its name, so they're the true stars of the show. Smashbox's "Ablaze" Cover Shot Palette totally gets that.
The newest member to join the Kylie Cosmetics family is a total looker, so if you're one of the lucky beauty lovers to have a smooth checkout, hats off to you. But don't sweat it if owning the Royal Peach Palette isn't in your near future. With so many beautiful alternatives, you can still partake in all the peach mania.
Images: kyliecosmetics/Instagram; Courtesy of Brands (13)