13 Movies & TV Shows Maisie Williams Is In Besides 'Game Of Thrones'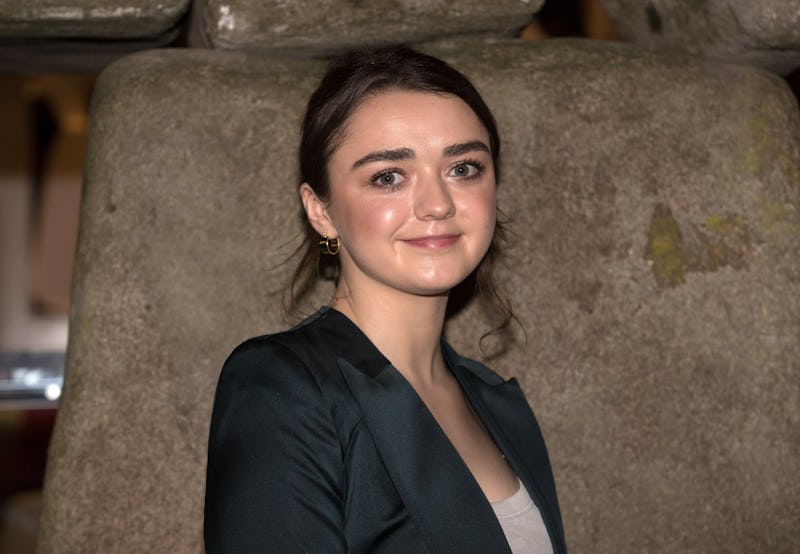 Matt Cardy/Getty Images Entertainment/Getty Images
Game Of Thrones may not return to HBO until 2019, but the cast is still out and about for fans to keep up with. In fact, most of the actors who populate Westeros have been quite busy of the years. The TV shows and movies that Maisie Williams has been in besides Game of Thrones cover a wide range of genres and prove that Arya Stark has been in demand since day one.
Game Of Thrones was Williams' first on-screen role, however the young actor quickly took on other projects. She has guest-starred on several TV shows, primarily in the UK, and more than a few films since being cast as Arya.
In fall of 2018, Williams will take to the stage in Lauren Gunderson's play I and You at the Hampstead Theatre. "I am one lucky girl to be working at Hampstead Theatre," Williams told The Evening Standard in an interview coinciding with the announcement. "Lauren Gunderson has such undeniable talent, I was drawn to her play because of her authentic ability to create adolescent characters that view the world in a way I could relate wholeheartedly with. I couldn't feel more honored to be part of this exciting UK premiere with the brilliant Edward Hall." Hall, the director, told the Evening Standard that while Maisie is in demand, he's been trying to get her on board for a while.
Though following Williams on social media usually provides enough of a fix for Thrones fans, particularly when it comes to her antics with her television sister Sophie Turner, here are some of the other places you can see her. There's always something new to discover if you really, truly miss seeing Arya on your screen that much.
1. The Secret Of Crickley Hall
Back in 2012, when Game Of Thrones was only getting started, Williams did a short stint on this television program. Ready Player One star Olivia Cooke was also in this show, a supernatural mystery set in a creepy old house.
2. Robot Chicken
Williams provided her voice to two episodes of the animated series.
3. Doctor Who
Notably, Williams played Ashildr on the long-running science fiction program. Her character was an immortal Viking, no big deal.
4. Mary Shelley
In the 2017 film that was just recently released in theaters in the United States, Williams played Isabel Baxter, friend of the titular character who may have inspired a character in Frankenstein.
5. Early Man
Even more recently, Maisie voiced a character in this animated film.
6. A Whole Lot Of Short Films
Titles include: The Olympic Ticket Scalper, Up On The Roof, Seafret: Oceans, Regardez, Stealing Silver, and Cordivae. She's clearly an in-demand actor for emerging filmmakers.
7. The Book Of Love
This film, which sounds truly charming, stars Williams and Jason Sudeikis as a mourning architect and a homeless teen that try to build an ocean raft together.
8. iBoy
This Netflix science fiction film involves smart phones and superpowers.
9. The Falling
In 2014 Maisie starred in this mystery, about a school stricken with an unexplainable fainting epidemic, with Florence Pugh — who went on to captivate audiences in Lady Macbeth.
10. Cyberbully
With Ella Purnell, future star of SweetBitter, Williams lead this Black Mirror-esque TV film.
11. Gold
Wiliams finally got to stretch some comedy muscles in this family fare.
12. Departures
Williams is joined by fellow YA favorites Nina Dobrev, Tyler Hoechlin, Peyton List, and Asa Butterfield for this upcoming film about airline employees.
13. The New Mutants
Finally, Williams is joining the Marvel universe — specifically, the X-Men universe — for The New Mutants. Hopefully that is more than enough to tide you over until Game of Thrones' return.