These Photos Reveal How NYC Celebrated Pride With Lots Of Protest, Too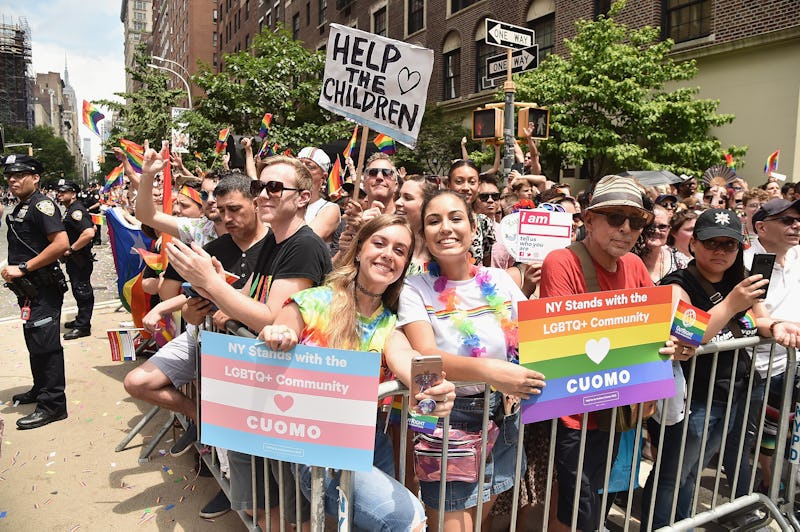 Theo Wargo/Getty Images Entertainment/Getty Images
People flooded the street of New York City on Sunday dressed in their boldest and brightest rainbow attire to march in the city's annual Gay Pride parade. But despite the day's festive spirit, Pride is more than just a celebration of LGBTQ identities — it's a protest, too. And photos from NYC Pride show the spirit of protest remains an integral part of today's Gay Pride events.
The roots of the annual Gay Pride parades that march their way through cities in states across America are, undoubtedly, heavily steeped in protests. Those that gathered for the country's first Gay Pride parades in 1970 came to protest discriminatory laws and social ideas that criminalized consensual homosexual acts and forced members of the LGBTQ community to hide their identity.
While Pride may have changed in more ways than one since the 1970s, the spirit of protest that birthed Pride was alive and well at this year's NYC Gay Pride parade. Amid the rainbow flags, vibrant costumes, and "Love Is Love" banners, a number of participants found ways to raise their voices in protest. While some protested Trump administration policies, others specifically targeted President Donald Trump, who for the second year in a row has refused to acknowledge June as LGBTQ Pride month.
Here's a sampling of how people protested at this year's New York City Pride parade: