13 Photos Of Donald Trump's Hair Through Thick & Thin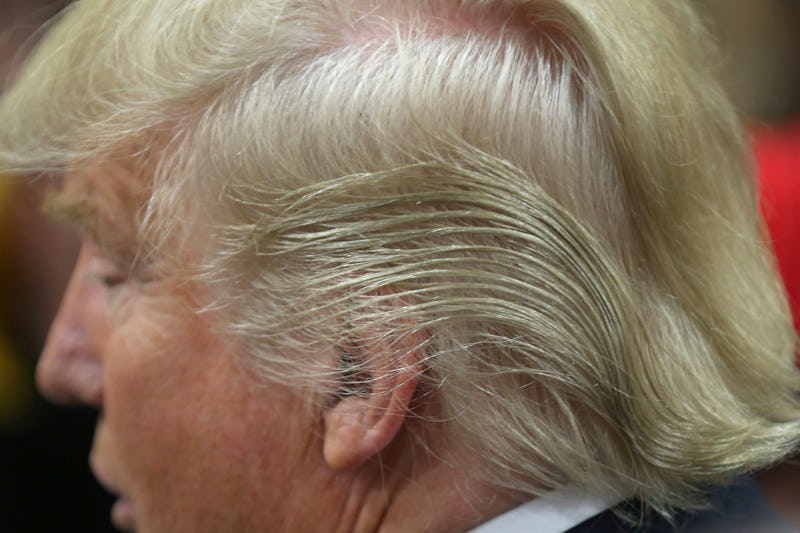 Christopher Furlong/Getty Images News/Getty Images
If you keep an eye on politics and the news, you may notice that the president's mane is a frequently broached subject. It's the kind of topic that has been covered in the New York Times, TIME magazine, Rolling Stone, New York Magazine, and other places. So, if you're ever been interested in a photo history of Donald Trump's hair, here's your chance to take it all in.
For what it's worth, the president also seems to be aware of the public's curiosity in his locks. In 2015, the New York Times reported on Trump's presidential campaign trail in South Carolina and noted that he asked a woman to pull his hair to prove it was real. He told his audience, "I don't wear a toupee — it's my hair." Three years later in February 2018, the president spoke at the Conservative Political Action Conference in Oxon Hill, Maryland, and gave the audience a generous view of the back of his head — specifically, Trump's thinning spot.
While speaking of his hair in Maryland, the New York Times reported, Trump appeared to have a vulnerable moment and told his audience, "Oh, I try like hell to hide that bald spot, folks. I work hard at it. It doesn't look bad. Hey, we are hanging in, we are hanging in, we are hanging in there. Right? Together, we are hanging in."
In January, People magazine wrote about Trump's White House doctor, Ronny Jackson, who said that Trump takes Propecia, a common pill for male baldness taken once a day to purportedly slow hair loss. So it won't be wrong to say that the president puts care into his hair. Here's a visual history into Trump's mane.