'13 Reasons Why' Actor Katherine Langford Has A New Netflix Series Inspired By King Arthur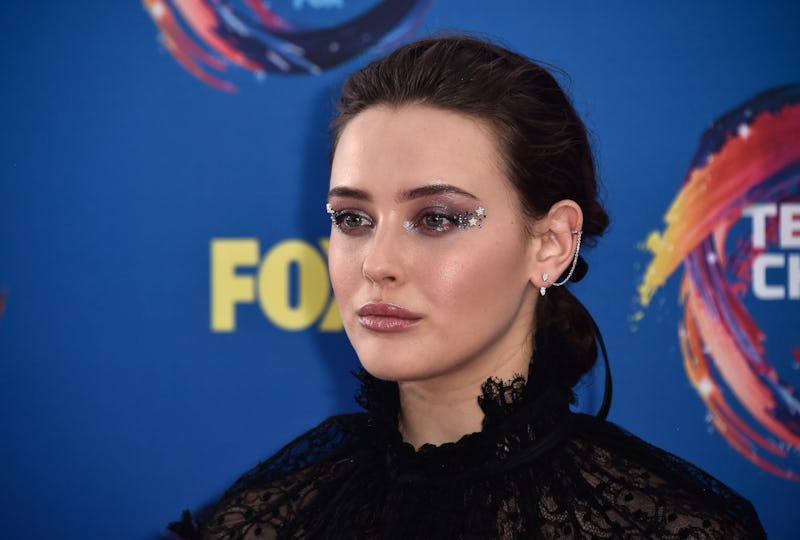 Frazer Harrison/Getty Images Entertainment/Getty Images
Don't cancel that Netflix subscription just yet! 13 Reasons Why actor Katherine Langford's new Netflix series has been announced, and it's a coming-of-age story inspired by the legend of Camelot. The series has an ominous title, Cursed, and was created by graphic novelist Frank Miller.
A press release from Netflix described the series as a new approach to the legend of King Arthur, "told through the eyes" of Langford's character, Nimue, better known as The Lady of The Lake:
It is a coming-of-age story whose themes include the obliteration of the natural world, religious terror, senseless war, and finding the courage to lead in the face of the impossible.
Netflix confirmed to Bustle on September 12 that the actor was cast as "a teenage heroine with a mysterious gift", one that will go on to become The Lady of The Lake. So perhaps Cursed is a prequel of sorts.
Though it's not based on any official source material as of yet, the industry publication noted that screenwriter Tom Wheeler, who will head up the writers' room, is also writing a companion novel that Miller will illustrate. They're meant to premiere at same time, and Variety announced that publisher Simon & Schuster will release the Cursed novel in Fall 2019.
The series could prove a fascinating examination of the Camelot legend from the Lady of The Lake's point of view. In literature and myth, Nimue provides King Arthur with the sword Excalibur, for instance. She may have had a relationship with Merlin as well.
Zetna Fuentes, an Emmy award-winning director, is attached to produce and direct at least two episodes. Cursed will be written by Wheeler, who is a Hollywood veteran, but most would recognize him as the guy who wrote Puss in Boots and created The Cape.
In an Instagram post on May 25, Langford announced she was leaving 13 Reasons Why. She wrote:
"Hannah...I love you...and I let you go" Those are the words I was able to say six months ago, and now can finally share with you as my journey on @13reasonswhy has officially come to an end...as most of you know, this was my first ever job and I am so grateful to have had the opportunity to tell Hannah's story so fully in season 1, and to be asked back for a season 2. Thankyou to @netflix@paramountpics@anoncontent , the incredible producers, creatives, cast and crew for making these last 2 years so special. And to all of you here - Thankyou for filling my life with love and light 🙏 This show will always be a special part of my life, and regardless of whether Hannah is there or not, I know that I will continue to strive to do work that is meaningful and has a positive impact - whether that be in film, music, or any other form of art. There is a lot coming up this next year, and I can't wait to share it with you 💖
And in her next role, it sounds like Langford will be portraying Nimue as complex and autonomous and full of agency while also exploring her fascinating backstory outside of the Important Mythical Men she influenced. It sounds like an interesting new world to explore.