This Parallel Between '13 Reasons Why' & Harvey Weinstein Is So Scary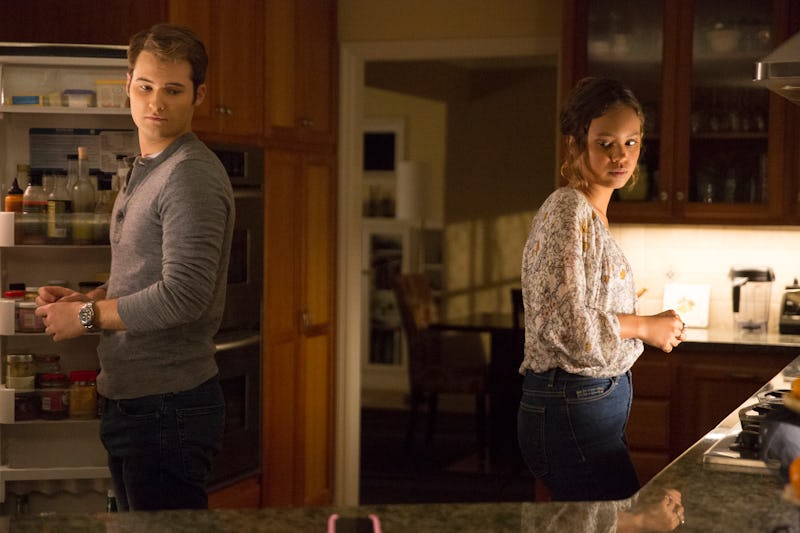 Netflix/Beth Dubber
In March 2017, a show depicting sexual assault and rape culture among high school students was released on Netflix and immediately, 13 Reasons Why became a phenomenon. Just seven months later, a totally unrelated exposé on former Hollywood executive Harvey Weinstein and the allegations against him was revealed to the public. The unprecedented domino effect of the piece has caused a national movement — women in Hollywood, politics, and beyond are coming forward with their stories and have dethroned toxic, powerful men. Now, 13 Reasons Why's executive producer Joy Gorman and actors reflect on the uncanny parallels between the show and real-life events, and how Weinstein could affect 13 RW's second season.
"We talk about this a lot, because we're almost finished with Season 2," Gorman says at Teen Vogue's LA Summit, with actors Alisha Boe and Justin Prentice by her side. In Season 1, Boe's character Jessica is raped by Prentice's school jock character Bryce (who also rapes Hannah, played by Katherine Langford). In Season 2, art may or may not imitate life depending on the outcome of Weinstein's allegations. "We're all rooting for Jessica to survive and looking for Bryce to get locked up," Gorman says.
Gorman has personal ties to the Weinstein situation, saying she was an assistant at his company Miramax in her early twenties. "I understood that scary systemic rape culture in Hollywood," Gorman says. Hollywood and the fictional Liberty High School may be worlds apart, but they're similar in the scariest way.
"Liberty High School, like every high school and every college campus, is capable of having that same kind of systemic rape culture. We have Bryce Walker, Hollywood had Harvey," Gorman says. Hannah's rape is what ultimately led her to suicide. If and how Jessica decides to come forward (beyond telling her family in Season 1) remains to be seen.
Gorman admits that she "wept" listening to the old audio of Weinstein forcing model Ambra Battilana Gutierrez into his hotel room and admitting to groping her. And like she says, Weinstein is Bryce Walker, and Bryce Walker is everywhere. "There's a patriarchy that Justin and I were talking about earlier where it's very, very hard to take the most powerful guy down," the EP says. Prentice explains why it was so important to nail the role. "I had a psychologist on speed dial," he says. "We wanted to make sure Bryce was relatable and recognizable in our own lives, which unfortunately, he is."
20-year-old Alisha Boe had her own, very significant personal experience while hearing about the allegations amidst playing Jessica. "I reached out to all the women in my life and asked them if they've ever been assaulted or raped or disrespected," the actor explains. "And it's unfortunate, but all of them said yes... family members, my best friends." Even though her character experiences the horror of rape, Boe's real-life findings are what really shook her. "I was just taken aback, I was so unaware and naive that this happens every single day and to people you love the most."
Still, Boe feels hopeful given the unbelievable ripple effect the Weinstein allegations have caused and the way people have responded. "It touched me on a deeper level because usually the community would slut-shame the person who was [coming forward]," the actor says. "But the way that I saw Hollywood react to all of the women... and did not question what they said, was mind-blowing to me. It made me realize we are moving forward as a society."
Gorman says she now fights to alter what a "cool guy" protagonist looks like on screen, (hopefully) taking power from untouchable characters like Bryce Walker (the Harveys) and giving it to ones like Clay (Dylan Minnette), the morally-sound underdog. Clay is powerless, lost, questioning everything, seeking answers. Devastated in Season 1, he says, "The way we treat each other and… look out for each other. It has to get better somehow." Being this kind of man doesn't make him "lame," according to Gorman. It makes him respectable, just, and heroic.
With an undisclosed premiere date, it's uncertain what will come of Bryce Walker. "The second season is about recovery... we're really going deep into how these characters are trying to get better," Boe says. Her co-star Prentice adds, "We're thrilled to be on a show that's on the frontline of this new society we're working to build together."
As with Season 1, Gorman ensures that the show's priority is to respect and properly reflect what real-life victims and survivors endure. "To honor the horrible experience that survivors have survived was crucial," she says, explaining how a majority of the writers and creative team are survivors who've experienced assault, depression, and after effects.
Later, Gorman makes audience members pledge that they will support survivors who come forward and make the world a safer place for them to tell their stories. Hopefully 13 Reason Why's second season will do just that.