13 Remarkable Hurricane Harvey Heroes That Will Inspire You To Give Back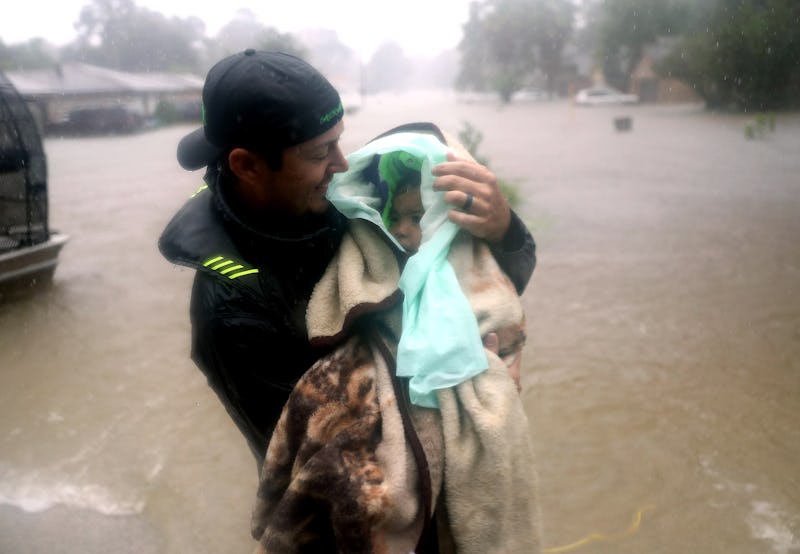 Joe Raedle/Getty Images News/Getty Images
Sometimes the bleakest times will bring out the brightest virtues in people. After Hurricane Harvey made landfall in Texas on Friday night and devolved into a tropical storm by Saturday, it was clear that the hurricane had hit Southeastern Texas in the most horrific way. Tens of thousands of locals are seeking immediate refuge, official reports confirm at least eight people are dead, rooftops have been torn from houses, and cars have been washed away. But not all hope is lost; inspiring heroes have emerged out of Harvey.
The havoc wrecked by Harvey is still being assessed by state officials and rescue teams but it is clear the magnitude of the hurricane was "unprecedented" and "beyond" anything the state had experienced before. In spite of being downgraded to a tropical storm, Harvey's torrential downpour is exacerbating flooding in different counties of Texas. Even though the death toll may rise and more rain has yet to come, locals have not lost their spirit of hope and purpose. Everyday men and women from within the state of Texas and other places nearby have united to help those stranded, displaced, and affected by Harvey with whatever they have. Here are some of the most uplifting examples.
1. People Giving Rides
There were frequent reports of locals using their very own cars and boats to help stranded people.
2. Furniture Gallery Offers Refuge
This furniture gallery opened its arms to those seeking shelter.
3. Louisiana Cajun Navy
Out-of-state heroes showed up, like the Louisiana Cajun Navy.
4. Local Pastor Checks Every Car
A selfless and truly inspiring pastor was seen checking different vehicles for anyone left inside.
5. Hero Carrying Children To Safety
Harris County sheriff's deputy was seen bravely carrying two young children away from rising floodwater.
6. Another Hero
Another man was seen carrying a young mother and her infant away from rising floodwater in Texas.
7. CNN Correspondent, Producer, And Boat Owner Save Lives
A volunteer named Austin Seth as well as CNN correspondent Ed Lavandera and producer Jason Morris saved the lives of an elderly couple and their puppy.
8. "Save Some Lives"
A group of locals gathered to head down to the more affected areas of Texas and help people.
9. Helping Animals, Too
The Texas police helped a herd of cattle move to higher ground away from the devastated area of Houston.
10. Rescued Pup
Even better news: the adorable dog is with its owner now.
11. Saving More Children
Locals put concerted effort into rescuing the elderly and young from the rising water brought by Harvey.
12. U.S. Coast Guard
The U.S. Coast Guard helped to safely remove locals from their rooftops.
13. Reporter Flags Sinking Truck Down
This powerful video of a reporter flagging down a rescue boat has gone viral on Twitter. In the video, a truck driver stuck inside his sinking vehicle is rescued by a sheriff on a boat. There's a heartmoving end to the video, which you should check out.
One thing is clear. Hurricane Harvey may have physically destroyed a significant deal of Southeastern Texas but it failed to put a dent into the courageous and generous spirit of the Lone Star state.