13 Trump Fake News Memes & Tweets That're Good For A Chuckle (Or Two)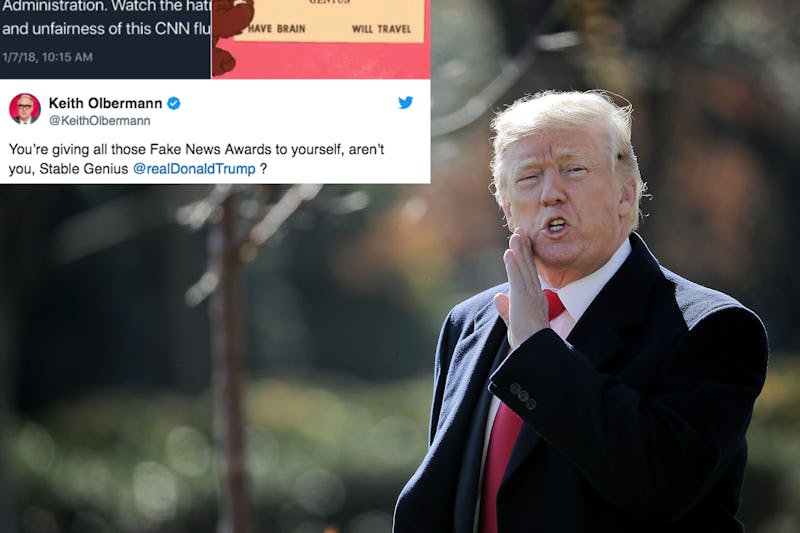 Chip Somodevilla/Getty Images News/Getty Images
Ten days after initially sharing the news that he would be hosting the "Fake News Awards," Donald Trump seemed to be fairly unprepared for the event. In fact, White House press secretary Sarah Huckabee Sanders downgraded the awards ceremony to a "potential event" when speaking to reporters on Tuesday. Trump has been invested in the idea of "fake news" since the early days of his presidential campaign, but it's Trump fake news memes that have become more popular than ever.
Many of Trump's supporters agree with him that news outlets — particularly those who lean left — spread false information. However, though the concept of fake news is a dangerous one, many of Trump's critics have found a way to make light of it through tweets and memes. Some Twitter users used the "Fake News Awards" ceremony as an opportunity to call out the president for spreading his own "fake news" when it benefited him, while others described the "Fake News Awards" themselves as fake news, given that it wasn't totally clear whether they were even happening.
Whether or not you agree with the development of fake news into an infamous meme, Twitter users have certainly come up with a number of ways to laugh about it, even in eerily dystopian circumstances. Let's take a look at the funniest memes and tweets they came up with in anticipation of the Fake News Awards.
Genius!
Journalist Keith Olbermann suggested Trump was actually planning to distribute all of the awards for fake news to himself.
Where's The Afterparty?
Some Twitter users, like writer Tony Posnanski, called out Trump's hypocrisy in hosting the "Fake News Awards" when he has often been the distributor of misleading information. Case in point: Kellyanne Conway once invented a terrorist attack at Bowling Green, and is probably never going to hear the end of it.
So Ready
Even Mark Hamill chimed in with some jokes.
Who's Time Is Up?
When Ivanka tweeted her admiration for Oprah Winfrey's speech at the Golden Globes, one Twitter user stepped in to question her sincerity.
We Should Have A Contest
Journalist Dave Itzkoff player on the fact that when Trump first announced his idea for the award ceremony, he wrote:
We should have a contest as to which of the Networks, plus CNN and not including Fox, is the most dishonest, corrupt and/or distorted in its political coverage of your favorite President (me). They are all bad. Winner to receive the FAKE NEWS TROPHY!
Which Is It?
The most obvious pun seemed to be the fact that Trump postponed the "Fake News Awards" and changed the date.
I-N-C-E-P-T-I-O-N
And people liked joking about how maybe it wasn't even happening after all.
Totally Deserved
While some media figures may be offended or concerned by Trump's choice to host such an award ceremony — if it indeed comes to pass — others believe they deserve the top prize.
FYI
Some people on Twitter suggested that we have all been giving far too much importance to these "Fake News Awards."
Guess It Could Come In Handy
For real, though.
Also Known As
Slate was there with an illustration to accompany its joke.
What's He Gonna Do?
Some used memorable moments from Trump's early days in office to predict just how the "Fake News Awards" were going to go.
A Different Kind Of Award
And editorial cartoonists inspired by Trump's attacks on the media illustrated how attacks on the press are actually a form of misinformation in and of themselves. This cartoon, which originally appeared in the business section of the Miami Herald, outlines what a newspaper of "not fake news" in the Trump era could look like.
Some of the memes and tweets above are simply amusing, while others serve as important critiques of the concept of "fake news." In either case, it's obvious that we can rely on Twitter users to have the best reactions to whatever the president decides to do.
Monica Hunter-Hart contributed to this report.