1,300 People Signed A Letter To Make Congress Do Something About Sexual Harassment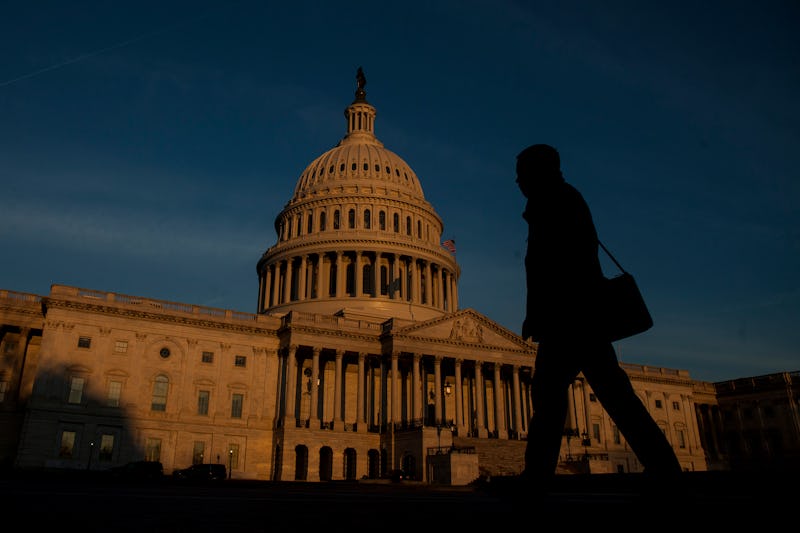 Zach Gibson/Getty Images News/Getty Images
Over 1,200 former congressional staffers have signed a letter to lawmakers demanding reforms to how Congress processes sexual harassment complaints on Capitol Hill. The staffers are not asking for lawmakers to pass legislation but, rather, to change the ways that Congress, as an employer, handles accusations of sexual harassment from its own employees.
"We believe that Congress's policies for preventing sexual harassment and adjudicating complaints of harassment are inadequate and need reform," the letter reads. "As former staff of the U.S. Congress, we urge you to take action to require mandatory sexual harassment training for all Members of Congress and Congressional staff, and reform the system for filing sexual harassment complaints in the Office of Compliance (OOC)."
The campaign was launched by Travis Moore, who worked as a congressional staffer to former Rep. Henry Waxman, and several other former staffers. Moore tells Bustle that he was inspired after hearing a story about a friend who, during her time as a staffer, was the subject of "inappropriate comments from her then-supervisor, who she also shared an office with."
"She took it to the chief-of-staff in her office, and instead of just swiftly dealing with the colleague, they questioned [the staffer's] motives," Moore tells Bustle. "They questioned the authenticity of her complaint, and the chief of staff ultimately said, 'Well, it's not an ideal situation, but it is what it is.'"
Moore adds that the episode "profoundly" affected his friend, and "continues to affect her."
Moore and his co-signers are requesting several specific changes to how Capitol Hill addresses sexual assault claims. Under current rules, staffers must both wait 90 days and participate in mandatory counseling and mediation before reporting any sexual harassment claims; in addition, there is no mandatory sexual harassment training for Capitol Hill employees. The staffers who signed Moore's letter both of these policies changed.
"Finally," the letter reads, "Congress should, every two years, survey Congressional staff in order to understand the rates of sexual harassment on Capitol Hill and determine the effectiveness of prevention and reporting programs."
Moore says that, in addition to the experiences of his former colleague, it was an allegation from Rep. Jackie Speier that helped inspire him to write the letter. In October, Speier said that when she was a hill staffer, a high-ranking colleague of hers sexually assaulted her. Speier told her story in a video, which she posted on Twitter as part of the #MeToo campaign.
"I sent [the video] to four friends who were all former staffers, all women, and said to them, 'Did you see the Jackie Speier video? Is this problem as bad as I think it might be, and if it is that bad, should we be doing something about it?'" Moore tells Bustle. "And the answer from all four women was swift and absolute: Yes, this is a very bad problem. Every staffer on the hill, every woman, has either dealt with this or knows someone who has dealt with this."
The evidence isn't merely anecdotal: In a February poll, one in six women who'd worked as congressional staffers said that they were personally victimized on Capitol Hill, while 40 percent said that they thought sexual harassment was a problem in Congress. And yet it's extremely risky for current staffers to speak out about their experiences, because doing so immediately jeopardizes not only their career but, just as importantly, the reputation of the congressperson they're working for.
"The current staff really don't have the ability to advocate for changes themselves, and that's because when you become a staffer in Congress, you surrender your identity," Moore tells Bustle. "You no longer are Travis Moore; you are representing the member of Congress you work for. And so everything that you say can be — and is — construed to be the opinion of that member of Congress."
Moore cites instances in which a politician has landed in hot water for something one of their subordinates did on social media. And indeed, there is a seemingly-endless list of such instances, and they often result in in staffers getting fired. Thankfully, those who no longer work on Capitol Hill face no such risks.
"We have an obligation as former staff," Moore says. "Knowing the context, knowing the problems and having the freedom to really speak up, we have an obligation to do something."