'Bachelor' Alumni Who Were Invited To Carly & Evans' Wedding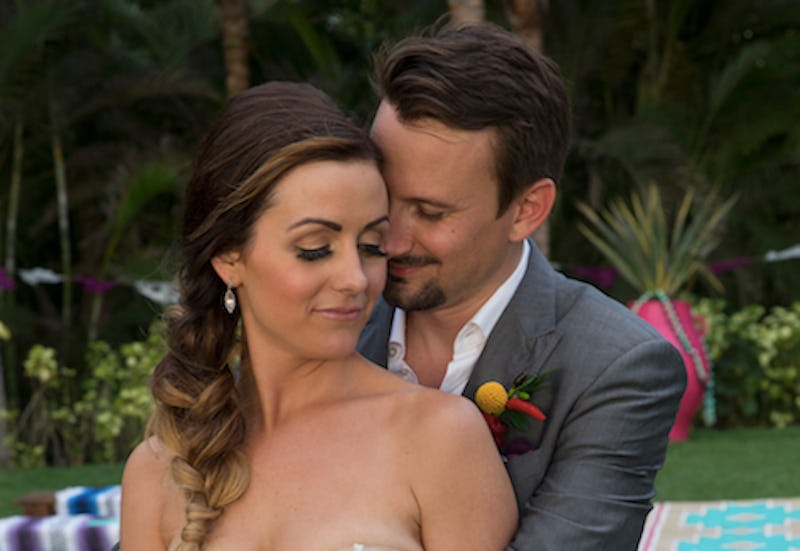 ABC/Paul Hebert
Aside from the marriage itself, one of the most exciting things about a Bachelor wedding is the presence of other cast members. It's so interesting to see who's friends with whom and which reality stars made the cut. And when it comes to Carly Waddell and Evan Bass' wedding there was no shortage of Bachelor alumni.
Usually when Bachelor Nation gets together there are photos on photos on photos, but there haven't been too many of the Cevan/Evanly/whatever their couple name is wedding so far. It's possible that they they were asked to keep the posting to a minimum since the wedding was filmed for an ABC special, but there were still some pretty obvious clues and actual confirmations about who was in attendance.
Between the two of them, Carly and Evan were on four different seasons of Bachelor shows, so it was definitely an eclectic mix of guests, which is always intriguing. There were some Bach alums in the wedding party, and there were even some Bachelor exes in Mexico for the nuptials — I wonder if they talked.
Fans are surely excited to watch the wedding play out on TV, but in the meantime, at least the fandom can prepare for who they will get to see on TV when Carly and Evan's wedding eventually airs.
1. & 2. Kaitlyn Bristowe & Shawn Booth
Kaitlyn and Carly both made it pretty far on Season 19 of The Bachelor and they even froze their eggs together, so it makes sense that Kaitlyn came through for the wedding. Obviously, Shawn was there, as well, according to People.
3. & 4. Nick Viall & Vanessa Grimaldi
Nick was on the Bachelor in Paradise season in which Carly and Evan met and got engaged. In fact, they originally said that Nick would be the ceremony officiant, but obviously the one and only Chris Harrison ended up doing the job. Of course, Nick's fiancée and the winner of his season was in attendance as well, according to People. Plus, Vanessa sat with Carly and Evan while Nick was on Dancing With the Stars, so it's not as if she didn't already know them. Now the big question is whether or not the couple mingled with Nick's Bachelorette ex Kaitlyn and his former rival Shawn.
5. & 6. Jade & Tanner Tolbert
As the queen and king of BiP, these two are essential to the guest list. Not only that, but they were both on Carly's first Bachelor in Paradise season, and Jade was also on the same Bachelor season that Carly was a part of. Carly was even a bridesmaid in their wedding, so Jade returned the favor as a bridesmaid this time around.
7. Wells Adams
Wells, Carly, and Evan all live in Nashville, so it's safe to assume that they hang out outside of filming reality TV shows. Wells also made a brief appearance toward the end of Carly and Evan's BiP season and he knows Evan from Season 12 of The Bachelorette, so he was the perfect person to serve as a groomsman.
8. Jared Haibon
Jared was there for both of Carly's BiP seasons and is a Bachelor in Paradise staple. Plus, he's an Ashton Kutcher doppelgänger, so why wouldn't he get an invite?
9. Ashley Iaconetti
Ashley cried on all three of Carly's Bachelor/In Paradise seasons so it's only fitting that she was there to shed some tears at her wedding. No official word on whether or not she cried at the ceremony, but People does report that she was a wedding guest.
10. & 11. Emily & Haley Ferguson
The twins were there to witness the start of the couple's love story last summer . Besides that, their presence elevates the entertainment level of any social situation. Evan even referred to the duo as "true national treasures," so it makes sense that People reports the twins attended the event.
12. Whitney Bischoff
Whitney and Carly were close on their season of The Bachelor and Carly went to Whitney's practice to freeze her eggs in Chicago. Both of those things obviously signal a friendship close enough to score a wedding invite. People reports that Whitney and her fiancé, Ricky Angel, went down to Mexico to celebrate.
13. Luke Pell
Even though Luke and Evan's interaction was barely shown during their season of The Bachelorette, Life & Style reports that Luke attended the wedding, so apparently they formed a close enough bond for Luke to be included in the nuptials. Then again, Luke does also live in Nashville, so maybe he hangs out with the couple there.
14. Juelia Kinney
Juelia was there when Carly was looking for love on The Bachelor and during her first Bachelor In Paradise season. After two seasons of looking for love together, Juelia stood by Carly's side as a bridesmaid.
Not only did Carly and Evan find love with each other thanks to the Bachelor franchise, but it's also clear that found a lot of loving friendships with cast mates from their seasons. Now the wait is on to see the Bachelor alums in action during the wedding special.