14 Feminist Sign Ideas For The People's Climate March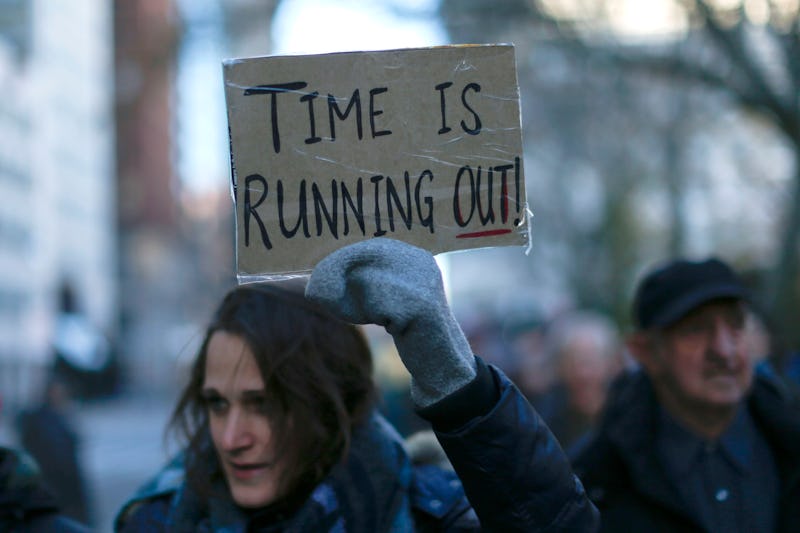 Kena Betancur/Getty Images News/Getty Images
In case you missed it, Earth has something of a climate problem — and I'm not (just) talking about the political variety. Climate change is real, and unless humans start taking drastic measures, it's not going away of its own accord. So, gather your poster board and ready your markers; it's time to start working on some feminist People's Climate March sign ideas in preparation for the next event protesting in support of saving our environment. On April 29, activists will march against Donald Trump's environmental policies People's Climate March, and no demonstration is complete without a few clever signs.
To be fair, it's not a new event; the very first People's Climate March took place on the eve of the United Nations (UN) Climate Summit in 2014, where heads of state from around the world gathered in New York City to address the rapidly-growing problem of climate change. The day before the summit, an estimated 400,000 people flooded the streets of the city, demanding action to prevent climate change from getting worse than it already is. Meanwhile, demonstrators in more than 150 countries participated in sister marches.
Fast forward three years, and the American president is a man who claims to have an "open mind" toward climate change, as opposed to acknowledging the severity of the problem. After the historic Women's March in January, activists announced the organization of a second People's Climate Change March. According to the People's Climate Movement website, the march is designed to resist Trump's agenda while also "pushing forward on our vision of a clean, safe world where the rights of all people are protected and expanded."
The march is just a few days away, so if you're attending, the time has come to plan your sign. Here are a few ideas.