Let me tell you about Jane the Virgin. The CW sitcom is loosely based on the Venezuelan telenovela Juana la Virgen. Jane the Virgin is one of those shows that is so much more than it's weird title. Yes, it's about a young woman named Jane Gloriana Villanueva (Gina Rodriguez) who is a virgin. When she was ten, Jane made an oath to her grandmother that she'd wait until marriage to lose her virginity. A few days before she's engaged to sweet detective, Michael Cordero Jr. (Brett Dier), she gets accidentally artificially inseminated with a stranger's sperm. The stranger is Rafael Solano (Justin Baldoni), recovered playboy and Miami hotelier.
If you've watched the show, you already know the rest. In traditional soap opera form, there are dozens of characters, storylines, and gasp-inducing plot twists. Jane seesaws between her feelings for Michael, and new feelings for her accidental baby-daddy. She discovers her birth father is international telenovela star, Rogelio de la Vega. There is murder, crime lords, family drama, love, hate, humor, and a splash of magical realism. This show has more feels than my heart can handle.
But at the root of it all, is the relationship between Jane, her mother, and her grandmother. More than anything, this is the first show that comes close to my experiences growing up in a bilingual household. But because of it's honest and dynamic characters, Jane the Virgin transcends personal experience, and becomes just a damn good show that everyone needs to watch. #TeamMichael #GinaRodriguezIsQueen
Here are some books for fans of the show. In the words of Jane the Virgin's omniscient narrator, "Let's get started."
Just like our Jane Villanueva, the protagonist of this novel is a virgin who writes romance.
For those who love the multigenerational family relationship between Jane, Xo, and Alba, try this classic novel about family in New York City after having to flee the Dominican Republic. Far more serious than Jane the Virgin, but well worth it.
A sexy contemporary romance with a smart and sassy heroine.
For #TeamRafael
Sometimes it's hard watching Jane's mother Xo make mistakes. This book is pitched as "Sex and the City for the Chicana babe looking for love in all the wrong places."
A romance writer and a cop. Too perfect for #TeamMichael.
Scams, murder, and South Florida. You'll think you're right at the Marbella.
For fans of Frontier Lust by Angelique Harper.
A collection of short stories that deal with the American Dream, straddling two cultures, and family.
Jane the Virgin isn't the first telenovela developed from a Latin audience. This one is for those interested in the way telenovelas go global.
Pedro Infante was a well loved actor and singer, with almost as many fans as Rogelio de la Vega. #RogelioMyBrogelio #VivaDeLaVega
If Jane, Lina, and their friends had their own sitcom, this is the book I'd picture.
Jane might not speak Spanish on the show, but she sure loves Salsa and Latin music.
Treasure by Rebekah Weatherspoon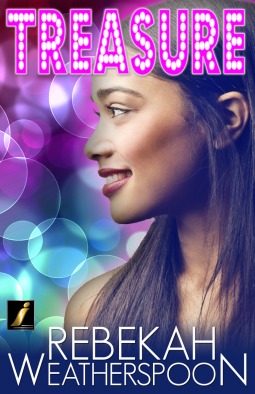 For those wishing Luisa and Rose get their HEA.
Diane Guerrero is best known for playing charming and quirky characters in Orange is the New Black and Jane the Virgin. But when she was fourteen, her parents were deported. Born in the U.S., she stays behind and relies on friends to take her in. In this memoir, she sheds light on the life of undocumented immigrants, and a broken immigration system.
Image: The CW; Giphy