15 Coachella Memes & Tweets That Feel Your Pain If You Aren't Going Either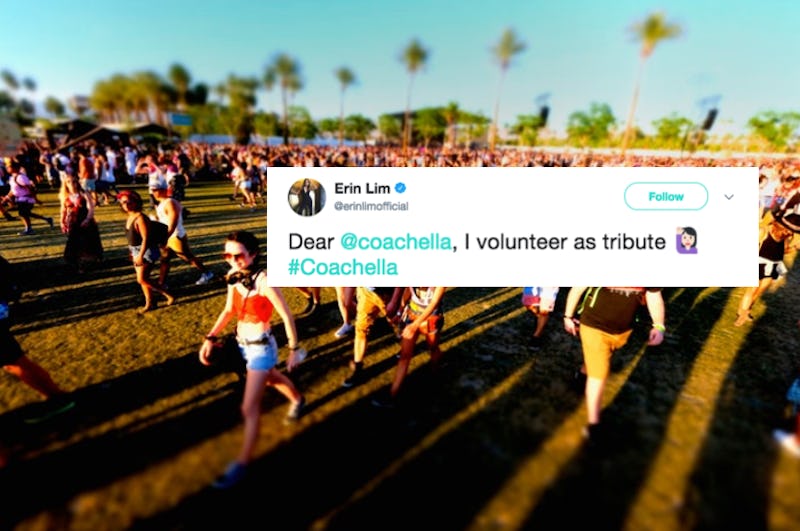 Frazer Harrison/Getty Images Entertainment/Getty Images
It's official: We finally know who's going to be performing at the world's most famous annual music festival. The lineup for Coachella 2018 was announced and the memes and tweets show people are already plotting how to get (and pay for) a coveted ticket. The event, which takes place over two weekends in April, always gets the country talking: It features the biggest names in music, is attended by A-list celebrities, and is regularly one of the most talked-about fashion events of the year. But Coachella buzz may reach a new level in 2018 because of its especially star-studded lineup — most notably, Beyoncé, The Weeknd, and Eminem are headlining.
Sure, the lineup is incredible. But the price tag is a rude awakening. One minute you're imagining grooving to "Sorry" alongside a bunch of people who are dressed like it's the Summer of Love, and the next you remember that the closest you'll get to Coachella is stalking celebrities' Snapchat stories. A pass to just one weekend of the event costs $429. And that's the relatively cheap option: VIP passes are $999.
What's more, ticket prices are only part of the coast of attending Coachella. As Time wrote in 2016, "Attendees this year should be prepared to spend hundreds, if not thousands, to attend the much-loved music event." The magazine estimated that attendees who are trying to be frugal could get by with spending $380 for a plane ticket to southern California (where the festival takes place), $50 on a shuttle from the airport, $99 for a camping pass, and $78 on food, drinks, and supplies. That, plus the entry passes, adds up to $1,006 — and that was last year. The entry prices increased in 2018.
If you're one of the lucky few who can afford all of that, tickets go on sale on Friday at 12 p.m. But if you're not, you aren't alone. Twitter is with you and expressed its collective pain on Tuesday night with a tormented round of GIFs and memes that will leave you with a feeling of solidarity. It's no epic performance from The War on Drugs, but it's something. So here are some of the best Coachella tweets from folks to whom you might actually be able to relate.
First, The Excitement
Before cold, cruel reality sinks in. At this point, you're just thinking about dancing in the glow of Beyoncé's aura. Queen Bey had been scheduled to perform at Coachella in 2017, but had to cancel after becoming pregnant (she gave birth to twins Rumi and Sir in June). She's back for real this year and the anticipation is high.
Then Checking Your Bank Account
Oh. Right.
The Smile Fades
That's why you've never gone to Coachella before, and why the festival will probably only ever be a part of your highest-reaching ambitions.
The Subsequent Sinking Feeling
Coming down.
But Then Briefly Living In Denial
But like, maybe? Surely there's some way to make this work?
Money-Earning Schemes: The Research
This is when Wikihow traffic skyrockets for "How to Afford Coachella."
Money-Earning Schemes: The Unlikely
Stranger things have happened.
Money-Earning Schemes: The Really, Really Unlikely
The only thing more ridiculously expensive than Coachella would be a $1,000 foot picture that funds a trip to Coachella.
Alternative Methods of Attending
It's funny until you remember that Jennifer Lawrence will probably be enjoying Coachella while you're at home.
Straight-Up Pain
At some point, denial is no longer possible.
The Mourning Stage
It's okay — you and your Coachella fantasies just had a rough split. It's normal.
Puns Take The Edge Off
Jokes are free!
Real Talk
This is the point at which you resolve not to pay attention to the Coachella hype next year. (Just like you resolved last year.)
A Great Plan B
You might not be able to afford to physically attend Coachella, but you can aim for the deep contentment and satisfaction felt by this dog. That, at least, is achievable.