15 Natural Hair Products You Can Buy On Amazon Now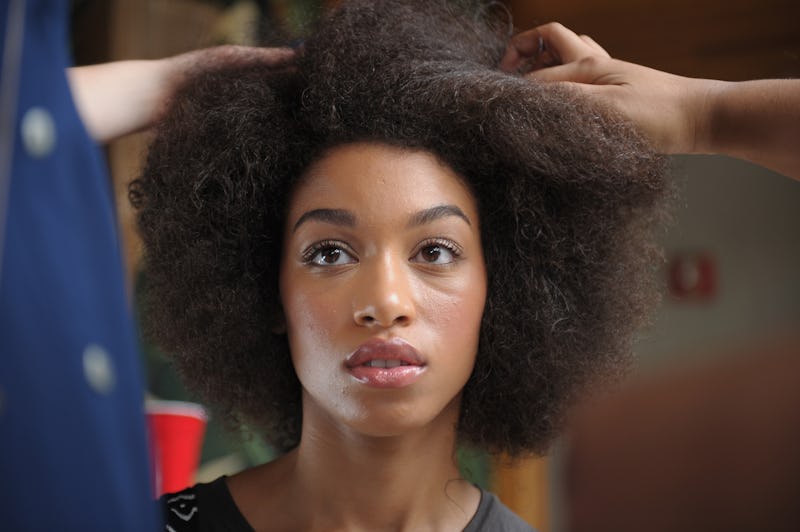 Michael Loccisano/Getty Images Entertainment/Getty Images
For black women, natural hair can be a source of pride and identity. Kinky, coily, and complex, a natural mane deserves the best of the best to get the most popping curl definition. Creating a personalized regimen featuring quality hair care products for women of color that actually work is no joke. With so many products marketed towards naturals, weeding out the good from the bad can take a bit of research.
Members of the natural hair club like myself have probably tried myriad conditioners, gels, and curling custards to achieve the best wash and go styles. Although the path to discovering what works well for your texture involves a ton of trial and error, feedback from fellow napturals always helps before you begin playing mixologist. Featuring a wide selection of products for natural hair and boatloads of customer reviews worth reading, Amazon can be a worthy beauty counter for curly Qs. It clearly goes down in the customer feedback section, because you'll find honest reviews on the effectiveness of a product and even tips highlighting how to get the most out of it.
Let your head full of natural magic be your crowning glory. These 17 products found on Amazon are just waiting to quench your curls.
1. As I Am Double Butter Rich Daily Moisturizer
Double Butter Rich Daily Moisturizer, $24, Amazon
Banish brittle, dry hair with this creamy moisturizer. Its blend of natural butters and organic oils works wonders to nourish curls.
Blueberry Bliss Reparative Leave-In Conditioner, $14, Amazon
A simple wash and go featuring Curls' moisturizing leave-in conditioner will blow your mind. It defines and softens curls like magic.
Moisture Shine Shampoo & Intensive Treatment Set, $15, Amazon
A sulfate-free duo that gently cleanses, deeply moisturizes, and strengthens your strands, this Creme of Nature Argan Oil Moisture Shine Shampoo & Intensive Conditioner Treatment Set can be found packaged together on Amazon for your convenience.
Monoi Repairing Hair Mask, $32, Amazon
Strengthen your hair as your grow it with the Carol's Daughter Monoi Repairing Hair Mask. It's a must-have for restoring fine or previously chemically-treated hair.
Styling Gel, $8, Amazon
Slick baby hair, edges, and fly-aways with the popular styling gel you've probably seen a gang of natural hair influencers feature in tutorials. It offers a strong-hold while conditioning with olive oil.
Blueberry Bliss Curl Control Paste, $12, Amazon
Use this organic blueberry extract and argan oil rich pomade to define and hold your curls. Use on wet hair for a soft hold or on dry strands for the ultimate staying power.
Avocado Moisturizing Hair Milk, $16, Amazon
Turn to Mielle Organics' Avocado Hair Milk to hydrate a mane screaming for moisture. Your key to soft, manageable coils lies within this award-winning formula.
Extra hold Edge Stay Gel, $10, Amazon
A blend of shea butter, cocoa butter, jojoba oil, and castor oil makes this strong-hold gel a recipe for nourishing hair and adding a healthy shine.
Coconut Water Penetrating Hair Treatment, $22, Amazon
This recipe of pure coconut water, aloe vera juice, and tropical butters performs miracles on all hair textures. Dehydrated strands will thank you.
Coconut Shea Cleansing CoWash, $12, Amazon
Remove residue and build-up between washes with EDEN BodyWorks' All Natural Cleansing CoWash. Continue to slay on by following it up a great moisturizer or leave-in conditioner.
Coily Custard, $15, Amazon
Go from a frizzy beehive to soft, defined curls minus the shrinkage with Miss Jessie's Coily Custard. This curl styler coats each strand with a major dose of moisture all while defining your natural texture.
Thermasmooth Smooth Guard Serum, $10, Amazon
There's certainly nothing wrong with straightening your hair every now and then. But when you do, be sure to protect it with a heat guard like Mizani's Thermasmooth Serum. A buffer to fight off heat styling damage is surely needed by all napturals.
Perfect 7-In-1 Leave-In Treatment, $8, Amazon
There's nothing Creme of Nature's Perfect 7 Miracle Treatment can't do. Control frizz, prevent split-ends, add shine, condition, and much more with this do-it-all, vitamin-rich treatment.
Grow Strong Strengthening Treatment, $18, Amazon
Weak, fragile, and heat-damaged hair could use a boost from the Cantu Shea Butter Grow Strong Strengthening Treatment. Working it from the roots to the tips of your hair moisturizes, protects, and promotes healthy hair growth.
Amazon's natural hair care offerings are way to juicy to pass up. Reach your curly hair goals by giving this virtual beauty counter a browse asap.
Images: Courtesy Brands