The Most Glorious Beauty Products Launching In October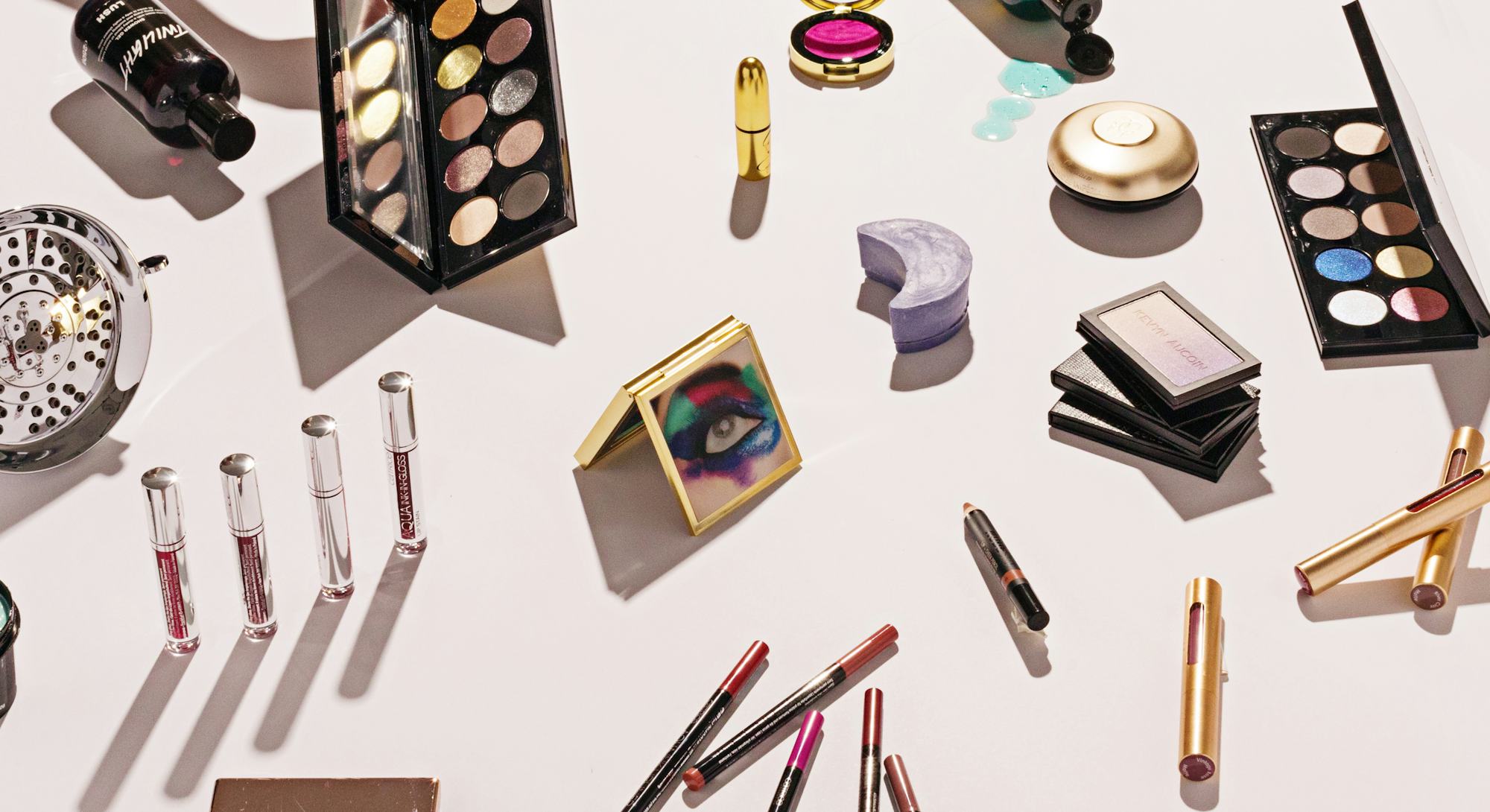 Ashley Batz/Bustle
Bustle and Coveteur are working together to bring you the best mix of the season's fashion and beauty releases, shopping tips, and service stories in ways that are both inspirational, and attainable. Check The Fall Style Edit channel weekly to see what we're up to.
Ah, October. For me, it's the month that manifests itself as Lady Gaga's "Edge of Glory:" Me, in front of a mirror, aggressively applying beauty products that my face will no longer sweat off immediately, stomping ankle boots to the beat, executing a Whirling Dervish performance as my winter scarf soars around me. Temperatures drop, color palettes change, and suddenly, it's like I'm home again. I've got nothing against the summer, but deep fall beauty is just better — and these October 2017 beauty launches prove it.
Vast and varied in type and function, this month's launches range from one of the most exclusive and covetable palette collections on the market, a cleansing cushion from a brand you'll be surprised to see included, a $455 face cream that Kim Kardashian swears by, and yes, an armpit mask. It's not a cohesive list, necessarily, but it will satisfy your beauty desires in nearly every department. In other words, you're on the edge of beauty glory, baby, and you're hanging on a moment of truth.
RMS Beauty Wild With Desire Lipstick Collection
RMS Beauty Wild With Desire Lipstick Collection, $28 each, available Oct. 24 at RMS Beauty
RMS Beauty is responsible for making one of my favorite highlighters of all time, and this lipstick collection might force me to push some others out of my roster. Wild With Desire comes in 10 shades, all of them richly saturated and contained in a chic silver tube. The formula is oil-based, making it perfect for the drying winter months. Firestarter (shown above) might just be my go-to red.
Pat McGrath Unlimited Edition Mothership Palettes
Pat McGrath Mothership Palettes, $125, available at Sephora on Oct. 4, available on Pat McGraths now
The day we shot the image for this story, two out of three Pat McGrath Mothership Palettes arrived to the Bustle offices. After we finished, I had to send them back immediately. This is pretty atypical for editors receiving beauty samples — but a perfect example of the high-demand and exclusivity that has come to define Pat McGrath's brand. These products aren't just hard to get in terms of both quantity available and price point — they're damn near impossible.
The Mothership palettes come in versions I, II, and III — otherwise known as Subliminal, Sublime, and Subversive. The shades in each palette tell a totally different color story, and each of them are of the highest quality and pigmentation. The packaging is equally as gorgeous — yes, the $125 price tag might cause you to lose your breath, but so will the looks you can create with the product.
CATRICE Cosmetics Aqua Ink-In-Gloss Lip Stain & Liner
CATRICE Cosmetics Aqua Ink-In-Gloss Lip Stain & Liner, $6 and $5 each, available Oct. 4 at Ulta
Think of the CATRICE Aqua-Ink-In liners as markers for your lips — they are water-based formulas with ball point applicators, and the formula really lasts. The lip stains are equally as impressive — great color payoff with the on-trend finish of a stain. They're also really comfortable to wear, and come at a great price point — what's not to love?
R+Co Relative Paradise Fragrance Spray
R+Co Relative Paradise Fragrance Spray, $20, R + Co
R+Co's hair products are amazing, so its no surprise that their entrance into the world of fragrance would be too. With notes of Sicilian lemon, tangerine, green tea, eucalyptus, tree moss, and amber, this lightweight scent is perfect for those days that you want to smell good AF, but you don't necesarilly want to bust out the big guns.
Kevyn Aucoin The Neo-Trio Palette
Kevyn Aucoin The Neo-Trio Palette, $58, available in October on Sephora
Kevyn Aucoin's highlighters are next level, and this palette offers three of his best-selling shades in one package. Neo-Limelight, Neo-Setting Powder, and Neo-Bronzer come together to create endless possibilities for color, light, and radiance on your skin. Bonus: All the individual shades are magnetic, making them fun to play with on a totally different level.
LAVANILA Health Underarm Detox Mask
LAVANILA Health Underam Detox Mask, $26, Oct. 15 at Sephora
Perhaps it's because face masks have reached critical mass in my beauty cabinet, or perhaps it's because I will literally put a mask on any part of my body for which a mask is made. Either way, I am very into the LAVANILA Health Underarm Detox Mask, a brush-on formula that "detoxes" the underarm from aluminum, bacteria, and toxins, making it a perfect product for those trying to transition from chemical deodorants to natural. For those who want to lighten up darkened underarm skin, the product also promises to lighten. The scientific efficacy of the product is uncertain, but it feels amazing — in other words, do it because you deserve it.
MAC x Rossy de Palma
MAC x Rossy de Palma Collection, $20-$42, available in October on MAC Cosmetics
It may not be MAC's buzziest collection in the states, but it's already one of my favorite MAC x celeb collabs ever. Inspired by Spanish actress Rossy de Palma, a notable figure in Spanish art and cinema, the collection is reminiscent of the components of a Picasso painting, and the packaging is next-level badass: Chic gold and black branding, as well as holographic moving images of de Palma's features. The colors in the collection are a combination of bold reds, intense fuschia's, and wild purples — perfect for creating the kind of face you'll want to wear on your biggest, weirdest night out.
Kleenex Daily Cleansing Cushions
Kleenex Daily Cleansing Cushions, $7, available in October at KleenexFacialCleansing.com
They may not be the most glamorous item on this list, but the Kleenex Daily Cleansing Cushions are not to be overlooked. They come dry and pre-loaded with a gentle foaming cleanser, and the cushion itself has both a soft and exfoliating side. After an intense nighttime skin care routine, I use these in the morning as a gentle, cleansing refresher — it's just enough to wake up my face and soothe my skin before the day begins.
LUSH Christmas Collection
LUSH Christmas Collection, prices vary, available in October at Lush
No, this isn't a holiday roundup, but LUSH's holiday collection goes live in October, so you'll want to pay attention before all of these adorable products fly off the shelves completely. Don't get too worried though, the collection boasts an impressive 100 products, more than enough to score some LUSH goodness for everyone on your shopping list.
T3 Source Shower Head
T3 Source Shower Head, $150, available in October at T3Micro
Launching in October, this very fancy shower head promises to improve the appearance and health of your skin by filtering out the harsher components in your water, including chlorine, hydrogen sulfide, iron oxide, dirt, and sediment. If that wasn't enough, it also has seven massage settings. Even if you think your water is fine, you may as well indulge and turn your shower in to your own personal spa.
Guerlain Orchidee Imperiale Rich Cream
Guerlain Orchidee Imperiale Rich Cream, $455, available in October at Neiman Marcus
This is the fanciest, most expensive face cream I've ever tried, and despite the fact that this cream is leading a more luxurious lifestyle than I am (do you think it vacations in the Maldives?) I have to admit that it's pretty great. The formula combines to unique orchids to combat dry, dull, and uneven skin. Perhaps that's why Kim Kardashian calls the cream her "fave face cream in the world" — something tells me she might be joining it in the Maldives.
GrandeLIPS Plumping Liquid Lipstick
Grande Cosmetics Hydra-Plump Liquid Lipstick, $25, Grande Cosmetics
A lipstick that both mattifies and plumps might sound like a tall order (especially when many of my favorite mattes seem to actually shrink my lips) but GrandeLIPS seems to have figured it out. The formula offers natural volume and hydration, and the shade I tried didn't have to be reapplied until the afternoon. The shade range is pretty classic (you won't find any neon pinks or blues), but it's worth grabbing a few colors for the days you want to keep things simple.
Kiehl's Creme de Corps Nourishing Dry Body Oil
Kiehls Creme de Corps Nourishing Dry Body Oil, $34, available October 1 at Kiehls
The Kiehls Creme de Corps is one of its most iconic and recognizable products, and now the brand is expanding the line: Starting Oct. 1, a Creme de Corps Smoothing Oil-to-Foam Body Cleanser and Creme de Corps Dry Body Oil will be available in Kiehl's stores. The dry oil is the standout, infused with squalene and grapeseed oil. Dry winter post-shaving legs, you may have just met your match.
Nudestix Sunset Strip Palette
Nudestix Sunset Strip Palette, $59, Ulta
This limited edition package has basically everything you need for fall: Three Magnetic Luminous Eye Color pencils in Copper Foil, Rustique, and Girl; Intense Matte Lip+Cheek Pencils in Vintage and Fringe, and a Cream Lip+Cheek Pencil in Blush. The kit also comes with a sharpener to leave you free of dull moments, and it all comes in a matte black tin with a mirror. In other words, just put one of these bad boys in your fall bag and go.
Deva Curl Miracle Workers Kits
DevaCurl Miracle Worker Kits, $48, Deva Curl
DevaCurl salons have the curly hair market on lockdown, and their new home kits are designed for a variety of textures: wavy, curly, and super curly. The kits include a specific shampoo and conditioner for a chosen hair type; Buildup Buster, the first hair care product to use micellar water to cleanse the scalp of residue; Melt Into Moisture, the brand's ultra conditioning mask, and Deep Sea Repair, the seaweed strengthener that helps curls repair from heat or chemical treatment
LORAC Mega PRO 4 Holiday Palette
LORAC Mega Pro Palette 4, $59, available in October at Ulta
There's nothing quite like a massive eyeshadow palette, and the LORAC Mega Pro Palette 4 a whopping 32 diverse and beautiful shades, all of which are formulated to work both wet or dry. This palette contains both matte neutrals and high-shine metallics, making it super easy to justify bringing it along in your kit, wherever you need to go.
Yes, October is a glorious time of years for beauty lovers. Hurry up and cop the launches that speak to you most — before you know it, it will be November and you'll have a whole new list (and maybe even another Gaga song) to consider.