Off-The-Grid Spots Perfect For A Bachelorette Party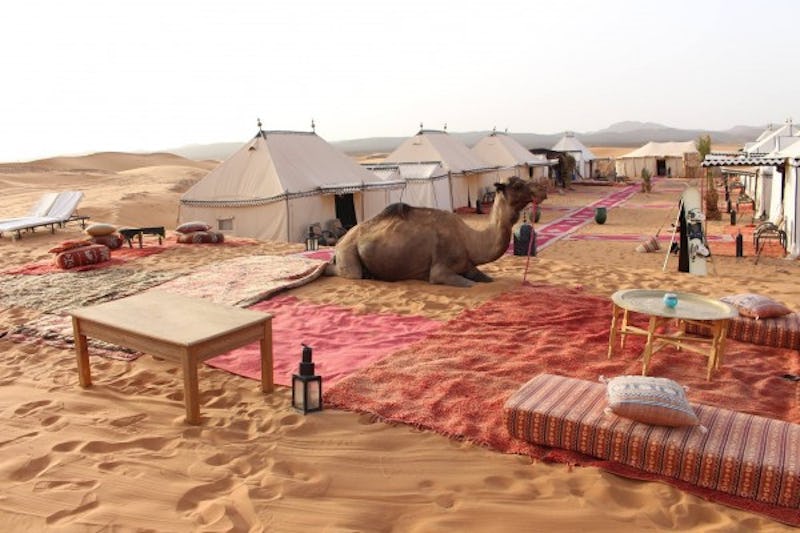 Courtsey of The Venue Report
If dancing it up at a club or taking a week-long trip to Cape Cod doesn't sound like your type of bachelorette party, then you're in luck! The Venue Report released a list of brilliant off-the-grid bachelorette party spots if you and your bridesmaids truly want to unplug. Are you in charge of planning a bachelorette party for the bride-to-be? Take her and the rest of the bridesmaids on a crazy off-the-grid adventure that will have the bride feeling recharged and ready for wedding craziness.
If you aren't familiar with The Venue Report and you're an avid travel junkie, then you may want to start following them stat. Not only is it an easy way to find venues for all of your event needs — such as weddings or corporate conferences — but it's also a great travel resource for all of the places you've been craving to go to but have yet to book. On top of that, they have a myriad of stories with all types of topics under the sun that have to do with venues and destinations, including weddings, food and beverage, trending topics, and of course, bachelorette parties.
So grab your maid-of-honor and start planning, because your off-the-grid getaway for the perfect bachelorette party is as easy as scroll-and-click!
Amangiri: Canyon Point, Utah
Take in the beautiful views of Canyon Point with a "hike up to Horseshoe bend, explore the natural archways of Zion National Park, and discover the rich cultural heritage of the Navajo," according to The Venue Report.
Nimmo Bay Wilderness Resort: Port McNeill, British Columbia, Canada
Looking to get out of the country, but not looking for a long journey? This resort is the perfect getaway near home. "Besides being nestled amongst a rainforest and glaciers alike, you and your best gal pals can try stand up paddle boarding past waterfalls, host beachside champagne-filled picnics, and have a bonfire while floating over a lake," according to The Venue Report.
The Palmwood: Kilauea, Hawaii
A party at Kilauea is a "no phones" type of escape — so ditch the tech! "The Palmwood is a 6 room guesthouse on a mission to restore life to simpler times — food is bought only in-season and local, furniture is artisan made, and the best view is the 360° forest surrounding the property," according to The Venue Report.
Camp Wandawega: Elkhorn, Wisconsin
Ever wanted to go camping in a cabin, minus all of the scary Friday the 13th nonsense? This camp will fulfill all of your Parent Trap or Camp Rock dreams! "Taking a scene straight from the movie, you'll partake in lakeside activities, camping, bonfires, and and two story treehouse cabin. It's a step back in time in the best kind of way," according to The Venue Report.
Singita Faru Faru Lodge: Serengeti, Singida Region, Tanzania
Another "no-tech" zone — but only because the access to cell service and wi-fi is scarce. "This luxury lodge has all the creature comforts of a resort but don't fret, it's sits right in the middle of the Serengeti surrounded only by plains," according to The Venue Report. "Your lady crew will have the safari adventure of a lifetime all while still being able to retire to your plush suite."
Dreamy Tropical Treehouse: Fern Forest, Hawaii
Ever dream of hanging with your besties in a magical treehouse? Cute all of those Magic Tree House books you used to read, because you're about to go on your own treehouse adventure! According to The Venue Report, live inside the jungle with your gals and be "welcomed to this abode with shades of gold, a swinging outdoor bed, floor-to-ceiling windows all while being completely surrounded by jungle."
Hideout: Bali, Indonesia
Looking for a far-off getaway that requires a group of journey-crazy gals? Take a trip to Bali to the Hideout where you will be "surrounded by jungle, filled with hammocks and all the tiki vibes," according to The Venue Report.
Playa Viva: Guerrero, Mexico
Another amazing treehouse adventure, but this time add the beach! Head to Playa Viva not only for the views, but for the incredibly sustainable getaway experience! According to The Venue Report, you can out on a variety of food from their "vegetarian, vegan and organic menus."
Yellowstone Under Canvas: Yellowstone, Montana
If you're desiring a simple bachelorette getaway where you and the glass can just slow down, Under Canvas is "your go-to if your squad is looking to slow down, roast some s'mores, and stargaze," according to The Venue Report. Don't worry, it's got some serious glamping game — no tent or sleeping bag necessary.
Maderas Village: Rivas, Nicaragua
According to The Venue Report, Maderas Village is the perfect nature getaway that allows your guests to fully recharge and feel ready for that wedding! Oh, and you can go surfing. Total score.
Desert Luxury Camp: Merzouga, Morocco
According to The Venue Report, arrive in style on a "camel to your white canvas tents, lit by lanterns, and surrounded only by sand dunes." This luxury camp getaway will make you and your besties feel like queens as you dine on truly authentic Morocco food and gaze upon numerous stars.
The Wakaya Club, Wakaya Island
Do getaways to treehouses and deserts sound a little too rough for you? Than this resort is perfect for your glamorous lifestyle! According to The Venue Report, this Fijian island "is completely surrounded by protected coral reef (hello, best snorkeling ever) and that famed dreamy aqua water."
Sal Salis Ningaloo Reef: Coral Bay, Western Australia
Perfect for the sea-loving bride-to-be, this beautiful Australian safari getaway is only a few strides away from the Ningaloo Reef. Explore the marine and ocean wildlife free of any distractions from the outside world. "With so much to see on land and in water, you can bet on a TV and wifi free zone to enjoy with your bests by your side," according to The Venue Report.
Remota: Patagonia, Chile
Are you in the gals crossing your fingers that a magical trip to space would somehow become a thing while planning out the perfect bachelorette shindig? If NASA doesn't create anything for you soon, don't panic, because this trip to Patagonia will satisfy your space cravings. "The crater like lakes, massive glaciers, and jagged mountains will transport you straight to another planet," according to The Venue Report. Hoping for the full experience? Don't worry, this is another no wi-fi or television zone.
Amankora: Jakar, Bumthang, Bhutan
This location is the absolute perfect yogi retreat! Pack your yoga mats and your favorite yoga outfit and head to Bhutan, the last surviving Himalayan Buddhist kingdom. "A luxury oasis for those seeking spiritual pilgrimage and peace, this special spot is a once-in-a-lifetime experience," according to The Venue Report.