What A Government Shutdown Actually Looks Like, In 15 Eerie Photos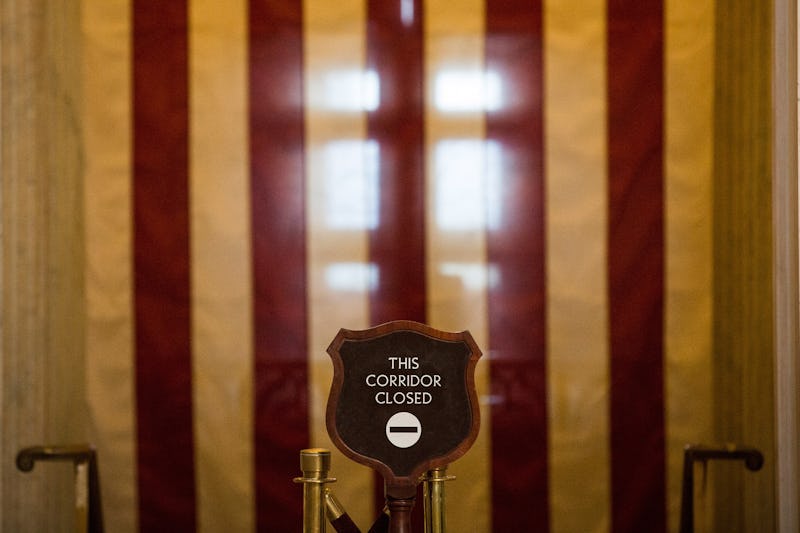 Andrew Burton/Getty Images News/Getty Images
With a Friday deadline looming, Republicans are hoping to avoid a government shutdown by approving a stopgap funding measure that would see the federal government funded until Jan. 19. Senior members of the GOP were reportedly scrambling to shore up support for the measure before the House approved the stop-gap funding bill in a vote held Thursday evening. Republicans still need to see the legislation pass through the Senate before government funding runs out Friday to avoid a potential shutdown. But what does a government shutdown look like? Unfortunately, we've been here before.
With members of both parties expressing frustration over various aspects of the legislation it remained unclear Thursday if Republicans in the Senate would actually have the votes needed to pass the stop-gap funding bill. While Democrats initially moved to tack on an extension of the Deferred Action for Childhood Arrivals (DACA) program to the stop-gap bill, some Republicans were unhappy the measure's failure to boost Defense Department funding, the New York Times has reported.
If Congress isn't able to come to an agreement and pass some kind of funding measure, be it temporary or otherwise, government agencies will be forced to close as more than 800,000 federal workers are furloughed and processing for passport, visa, and gun permits grinds to a halt.
But this wouldn't be the first time Congress has been unable to avoid a government shutdown. In fact, the United States has weathered 18 government shutdowns since 1976, according to data from the Congressional Research Service.
Here are 15 photos that show what a government shutdown can actually look like:
1. National Parks Close
In October of 2013, the federal government came to a grinding halt for 17 days after Congress failed to pass a budget for the fiscal year beginning October 1. As part of that shutdown National Parks across the United States were closed as many federal workers were forced to a take temporary, unpaid leave of absence until a budget could be passed.
2. But It Isn't Just Sights In D.C. That Are Affected
The government shutdown in 2013 closed all sights managed by the National Park Service, including the Statue of Liberty in New York. However, a deal between federal and state officials saw the popular monument reopened Oct. 13 despite the shutdown after New York agreed to pay $61,600 a day for National Park Service personnel needed to keep the Statue of Liberty open.
3. Time Essentially Comes To A Stop
It was only when an interim appropriations bill was passed and signed on October 17 that life became business as usual once again at the Capitol. Following the shutdown, a specialist was brought in to wind and correct the time on the historic Ohio Clock (known also as the Senate Clock), which stands outside the Senate Chamber in the Capitol. The historic timepiece had been stopped at 12:14 when staff normally tasked with winding it were sent home by the shutdown.
4. Once Crowded Spaces Become Eerily Empty
Popular — and traditionally crowded — tourist destinations like the Lincoln Memorial in Washington, D.C. were completely closed off to the public during the government shutdown in October of 2013 as Congress squabbled over passing a new budget.
5. As Tourists Are Forced To Seek Out Different Views
Tourists looking to see national parks and monuments during the federal shutdown were often forced to settle for peering from afar. For tourists attempting to visit Mount Rushmore National Memorial in Keystone, South Dakota, on Oct. 1, 2013, however, the view from the road leading up to the memorial wasn't half bad.
6. Bring On The All-Nighters
A Congressional staffer was seen bringing dozens of pizzas into the U.S. Capitol 15 days into the 2013 government shutdown. But this wasn't what I'd call a pizza party. Rather, members of the House and Senate were working to hammer out an interim deal that would end the shutdown and keep the country from defaulting.
7. A Disappointment For Visitors
Veterans visiting the World War II Memorial in Washington, D.C. on Oct. 1, 2013, arrived to find the memorial closed to all visitors due to the government shutdown. According to Getty, the World War II Memorial was re-opened temporarily on the first day of the government shutdown to veterans that had travelled to Washington on an Honor Flight specifically to see the memorial.
8. Tea Partiers Rallied In Protest
Military veterans, Tea Partiers, and Republicans gathered on day 13 of the government shutdown to protest the continued closure of national memorials like the World War II Memorial as a result of the shutdown.
Although the rally's main demand was ending the shutdown and reopening national memorials and it was attended by Republican Sen. Ted Cruz, a key legislator behind Republican's push for a shutdown. Republicans had hoped to use the threat of a shutdown to cut funding to the Affordable Care Act. Some protesters such as this big rig called for then-President Barack Obama's arrest.
9. Yet There Was Bipartisan Frustration Too
At a separate rally held in D.C. on Oct. 9, 2013, protesters urged both parties in Congress to come together over a deal that would end the shutdown and see federal employees back at work.
10. And Washington Wasn't Alone In Feeling The Shutdown
But protests weren't just seen in Washington, D.C. during the government shutdown of 2013. In Islamorada, Florida, those whose livelihoods were dependent on access to federal land like fishing guide captain Steve Friedman organized a floating demonstration Oct. 9, 2013, to protest the closure of Everglades National Park. According to Getty, the shutdown caused Friedman and others like him to loose out on business the longer Everglades National Park remained closed.
11. Some Services Can't Be Cut
But not every federal employee or resource can be cut during a federal shutdown. Helicopter pilots employed in San Diego, California, to patrol the U.S.-Mexico border through the U.S. Office of Air and Marine (OAM) were temporarily saved from being put on forced leave due to the essential nature of their work.
12. Hundreds Of Thousands Of People Were Out Of Work
The government shutdown in 2013 didn't just close national monuments and parks. It left hundreds of thousands of civil servants out of work, and subsequently out of pay. Although most workers were promised back pay once a budget was finally passed, such back pay doesn't help pay the bills due during the weeks-long shutdown.
13. Mediation Was Tough
Then-President Obama appeared especially exasperated when he spoke during a press conference held on the eighth day of the shutdown. Obama urged House Republicans to stop attempting to use the budget and shutdown as bargaining chips in their attempts to defund the Affordable Care Act.
14. Capital Hill Was Significantly Less Busy
During the government shutdown in 2013, the U.S. Capitol subway system normally bustling with reporters, Congressional staffers, and members of Congress fell eerily quiet and empty as business on Capitol Hill ground to a halt.
15. But Eventually Work & The Government Resumed
In 2013, Congress finally managed to pass a bipartisan bill to raise the debt ceiling after a 17-day federal government shutdown. As national parks reopened and federal employees across the country got back to work on Oct. 17, 2013, there was hope Congress would do whatever possible to avoid a government shutdown in the future.
The House voted 231-188 Thursday to temporarily extend government funding until Jan. 19. The Senate is expected to vote on the measure sometime either late Thursday night or early Friday.