15 Instagram Captions That Will Work With Any National Pepperoni Pizza Day Pic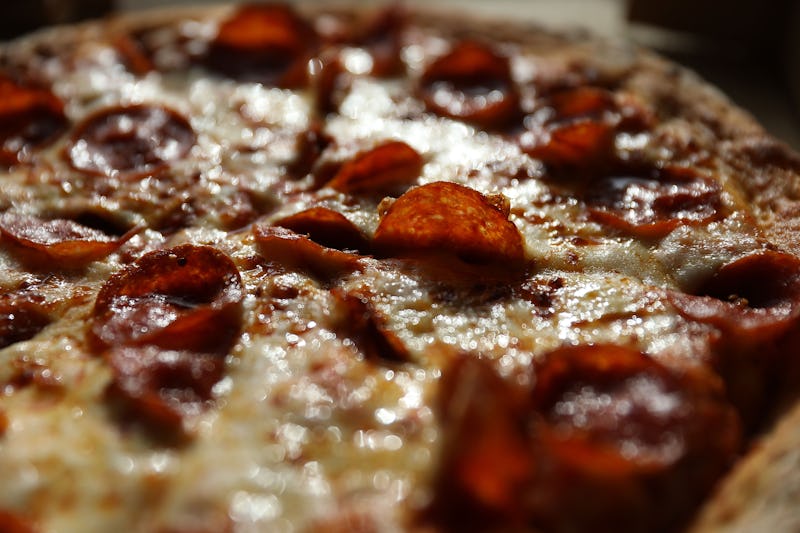 Joe Raedle/Getty Images News/Getty Images
Guys, let's be real: we all bow down to pizza. Because no matter your dietary restriction, there's a pizza for you. Cheese can be vegan, crust can be gluten free, toppings need only be vegetables but on the contrary, can totally be a meat lovers delight. While we celebrate this beloved pie in all its forms regularly, a specific topping gets its close up on Sept. 20. National Pepperoni Pizza Day will have its day in the sun (or oven) on Sept. 20. Naturally, you'll want to get a slice, snap a picture and take a bite out of these pizza Instagram captions for National Pepperoni Pizza Day 2018.
Perhaps you have your own words to use when it comes to addressing pizza. There could be a heartfelt love letter you wish to divulge to one particular triangular delight. I get it — a glistening slice of pizza, with cups of pepperoni perched atop, that hold shallow puddles of that glorious grease, can inspire poetry. But before you brainstorm stanza after stanza, sift through the words that have already been spoken on the topic of pizza. That way, you can save your breath for when you need to catch it between all the slices you'll be devouring on National Pepperoni Pizza Day.
"There's no better feeling in the world than a warm pizza box on your lap." - Kevin James
"Pizza makes me think that anything is possible." - Henry Rollins
"Ideas are like pizza dough, made to be tossed around." - Anna Quindlen
"I love pizza. I want to marry it, but it would just be to eat her family at the wedding." - Mike Birbiglia
"You can do irrefutably impossible things with the right amount of planning and support from intelligent and hardworking people and pizza." - Scott M. Gimple
"I think what women think is sexy is what is sexy. Girls eating pizza are massively sexy." - Charli XCX
"I've had dates at the nicest restaurants, but when you leave, you're starving, and the best part of the date is having a slice of pizza and a couple of drinks on the way home. I think it's important to be able to roll with the punches and enjoy every minute of it." - Meghan Markle
"It doesn't even matter if I don't win a self-gold - after every meet, I have pizza. Pepperoni pizza." - Simone Biles
"I always treat myself to one meal on Sundays when I can have whatever I want. Usually it's pizza, which is my favorite indulgence." - Beyonce
"Any pizza can be a personal one if you cry while you eat it." - Aparna Nancherla
"If you give me fro-yo without mangoes, you're dead to me. If you say that Hawaiian pizza is gross, we're done." - Chloe Kim
"The closest thing I use to beauty products is the grease on the pizza from John's Pizzeria." - Mark Feuerstein
"Pizza was made for television in so many ways: it is easy to heat up, easy to divide and easy to eat in a group. It is easy to enjoy, easy to digest and easy-going. It is so Italian!" - Yotam Ottolenghi
"Anyone who says that money cannot buy happiness has clearly never spent their money on pizza." - Andrew W.K.
"The world is an intense and overwhelming place and we create things like pizza so that being in the world can feel a little less harsh." - Andrew W.K.