15 Plus Size Brides On What They Wish They Would Have Known Before Going Wedding Dress Shopping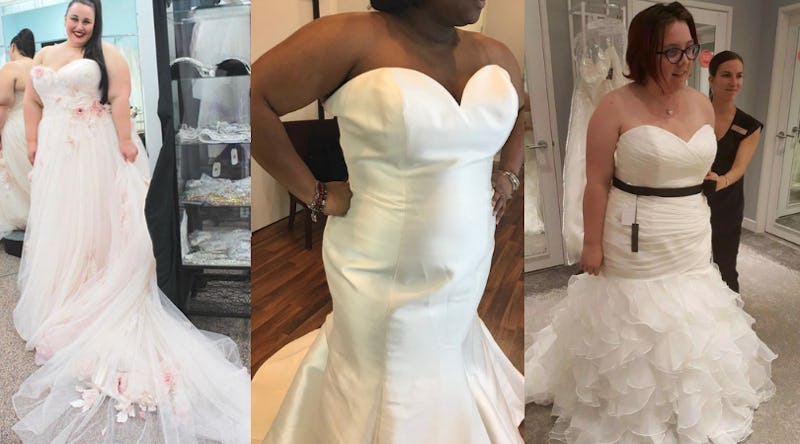 Wedding dress shopping is an odd thing. It serves a practical purpose, yes, but it's also often an event in and of itself. You're expected to bring an entourage, drink champagne, and burst into tears when you find "the one." But if you're a plus size bride looking for a wedding dress, the spectacle of it all can be anything but fun. First, there's the issue of wedding dress sizing to consider. For a lot of bridal dresses, a size 20 is more like a street size 16, and so on. This sizing discrepancy is, unsurprisingly, not prominently advertised by most bridal stores, meaning that even if a store has samples in your usual size, there's a good change they won't actually fit. But even if a store does have options that fit (there are more stores than ever that do, though still not enough of them), that doesn't necessarily guarantee that the experience will be comfortable.
Some consultants can inadvertently body shame you while trying to find the best dress. Others will struggle to make too-tight samples fit with uncomfortable clips and fabric. And then, on top of all of that, there's the fact that if you're the only plus size person in your bridal party or family, there may not be many people who understand what you're going through even a little bit. The process of finding a dress can still be an event, sure, but that doesn't mean it's fun.
A major part of the problem with plus size wedding dress shopping, though has to do with the fact that there simply aren't as many wedding planning resources for plus size brides as there are for straight size brides. But as isolating as the experience of dress shopping as a plus size person can feel, every bride should know that they are not the only person who has been through the process. And there are ways to make it positive, even if it doesn't feel like it at first. Below, 15 people who've survived the experience of plus size wedding dress shopping share their tips for feeling confident, staying body positive, and of course, finding the dress.