15 Powerful Photos Of People Resisting Trump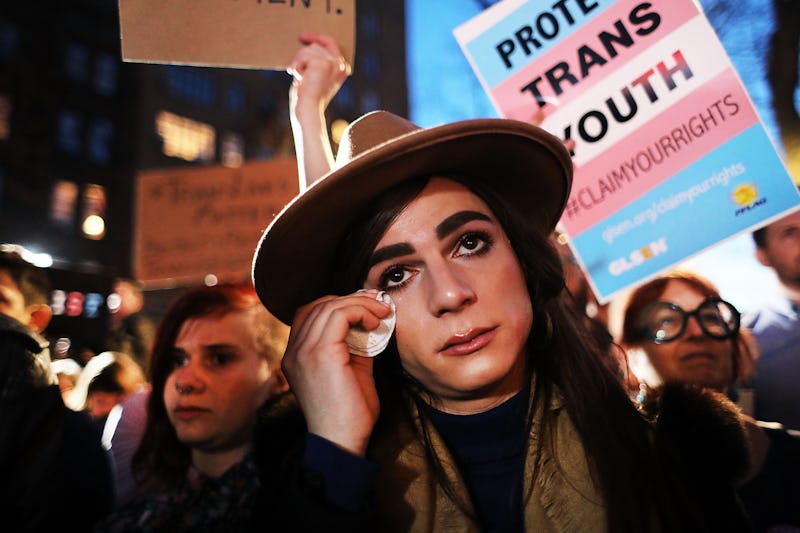 Spencer Platt/Getty Images News/Getty Images
Since the advent of Donald Trump's presidency, resistance movements have played an increasingly prominent role in American politics. Some of these resistance movements are pointedly anti-Trump while others are protesting a variety of policies for which Trump has advocated. Photos of people resisting Trump and his policies serve as a powerful reminder how profoundly Trump's presidency has seemingly threatened so many aspects of diverse Americans' rights, but also of the bravery and tenacity of the people taking a stand to make their voices heard and resist Trump.
Resistance movements and protests against Trump's policies have addressed a variety of issues and often follow Trump's issuance of a new executive order. For example, large-scale protests across the United States occurred after Trump signed an Executive Order on Jan. 27 that banned refugees as well as immigrants from seven Muslim-majority countries from entering the United States. Pro-immigration resistance movements have also arisen to protest Trump's repeated promise to build a wall between the United States and Mexico to deter illegal immigration.
Of course, even before Trump signed any laws, many resistance movements and marches took place as a result of Trump's historic actions and attitudes toward select groups of people, especially women and people of color. For example, Black Lives Matter has organized many resistance activities against Trump and his administration. Furthermore, women around the United States (and world) have seemingly collectively joined forces to resist Trump, including through holding a record-breaking worldwide women's march on Jan. 21.
These are just a few of the many issues which have prompted people to take action to resist Trump and his policies. The powerful photos below demonstrate the breadth and depth of resistance in which men and women have engaged prior to and throughout Trump's month-and-a-half-long presidency.
1. Trans Rights
A protester appears to get emotional during a march advocating for the rights of transexual youth. On Feb. 22 the Trump administration rescinded Obama administration guidance that requested that public schools allow transgender students to use the bathroom of their choice.
2. Nasty Woman
A woman uses Trump's phrase meant to demean Hillary Clinton as a powerful message of resistance against him.
3. Be Nice
A young girl encourages the President, who is not necessarily known for his agreeableness, to be kind.
4. The World Is Watching
At an anti-Trump rally, a woman warns that the world is watching Trump's actions, as his decisions profoundly affect global affairs in addition to impacting the everyday lives of Americans.
5. Humans Are Not Illegal
Seemingly responding to Trump's executive order to restrict immigration from several predominately-Muslim countries, this woman sends a powerful message reminding Trump of the human aspect of migration.
6. The Face Of Resilience
Hoisted up amidst American flags at a protest against Trump's anti-immigration policies, this man's expression aptly captures the profound physical and emotional impact Trump's policies have had on immigrant communities.
7. Black Lives Matter
Delivering his message outside of Trump Tower on a blustery day, this Black Lives Matter activist epitomizes the power of resistance.
8. American Nightmare
Standing in front of the Washington Monument, this woman expresses her thoughts on day two of Trump's presidency.
9. Love Trumps Hate
This woman uses an oft-cited resistance slogan to share her sentiments about the President and his policies.
10. Biting Back
Responding to the egregious way in which the President has said he "grabs" women, this woman sends the President a not-so-subtle warning.
11. Disapproval
A man holds up a sign reflecting the President's incredibly low approval rating, showing that only a minority of Americans support him.
12. A Veteran's Words
A veteran bravely stands up at what appears to be a Trump rally, requesting that Trump stop anti-Muslim hate speech.
13. Refugees Welcome
Standing outside the Trump International Hotel in Washington, D.C., a protester makes it known that he believes refugees should be welcome in the United States, something which lies counter to Trump's Executive Order that temporarily suspends the U.S. refugee program.
14. Stand Up To Racism
A group of people protest outside of Trump's Washington, D.C. hotel, seemingly rallying against the apparent discrimination in Trump's Executive Order on immigration, which initially halted immigration from seven Muslim-majority countries (the revised order now stops immigration from six Muslim-majority countries).
15. The Women Are Watching
While not inherently anti-Trump, the Women's March on Washington and its sister marches throughout the world served as a poignant reminder to the President that women (and their allies) everywhere are watching him and that their rights must be respected.
Overall, these photos serve as reminder of the importance and power of resistance in the many forms it takes. As the Trump presidency moves forward, you can be sure that many "resisters" will be there to continue to hold the President and his administration accountable.