15 Questions To Ask Your Date Before You Meet Up In Person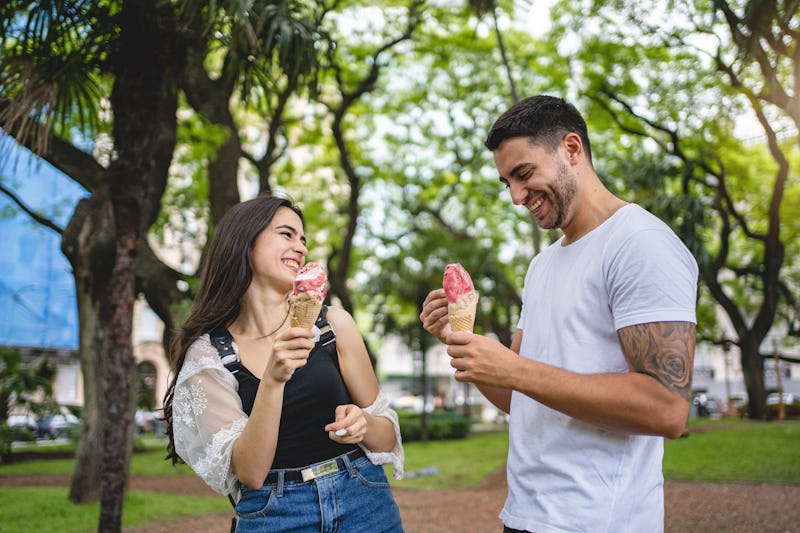 FluxFactory/E+/Getty Images
Sooner rather than later, you may have to decide whether the person you've been talking to online will be worth meeting in person. While states are beginning to reopen after getting their coronavirus cases under control, even going on a socially distant date can feel a bit risky. Besides, just because you connected with someone online, it doesn't always mean that you'll click in person. And no one really wants to risk their health for a bad date. So, what can you do to determine who you should or shouldn't go out with post-quarantine? According to experts, asking your date the right questions before you meet up can help you figure out if the person you're talking to is worth the risk.
"Clinically speaking, I hope people will become more thoughtful and discerning about date choices during and after quarantine," psychotherapist Brittany Bouffard, LCSW, tells Bustle. "I hear from so many clients about dating woes that often would be helped by being more choosy from the start. Quarantine is the perfect excuse to screen someone with a phone or video call before you spend time and energy on a date."
Trust your gut, and do what feels right. Since we're still amid a pandemic, take caution and have an open and honest conversation with your potential date. "This is a time to set your standards high, and date from a place of self-love," relationship coach Tia Evagelou tells Bustle, "This isn't a time to people please or settle. Allow yourself to be picky and focus on quality, not quantity."
If you feel a connection with someone and you're ready to go out, but you still have some concerns, here are 15 questions you can ask before you meet up in person for the first time, according to experts.