"Reasons Trump Hangs Up" Tweets Are All Too Real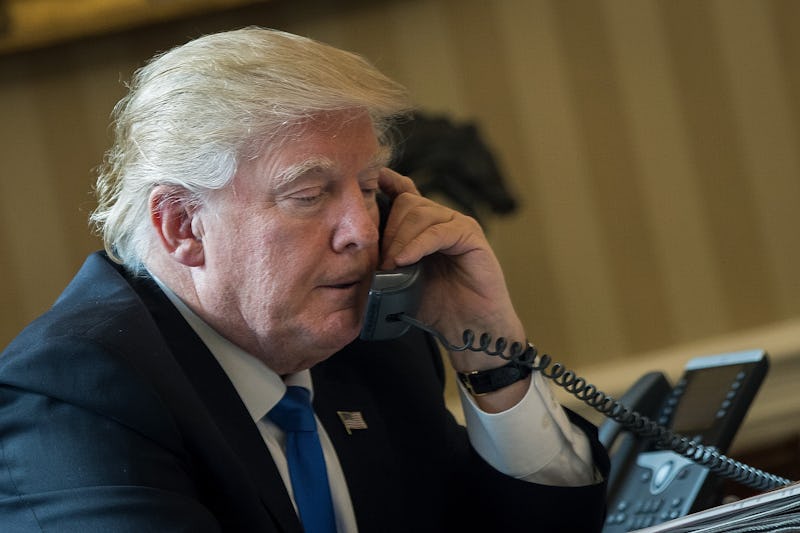 Drew Angerer/Getty Images News/Getty Images
On Wednesday The Washington Post published an exposé on President Donald Trump's phone etiquette — and it's not that surprising. It seems he talks on the phone very similarly to the way he campaigns or tweets — brusquely, you might say. The only problem here is that he's not talking with just anyone these days. Other world leaders expect him to finish a conversation, but with Australia's Prime Minister Malcolm Turnbull, he reportedly cut what was supposed to be an hour-long convo short after 25 minutes. Not good! These 15 "Reasons Trump Hangs Up tweets" might give you an idea of how American foreign policy will look under the new president.
That's not the only troubling part. Trump allegedly told Turnbull that he had spoken with others that day, including Russian President Vladimir Putin, and that the Aussie call "was the worst call by far." He also threatened to get rid of a refugee deal with the down-under allies, calling it "dumb" in a post on Twitter on Wednesday evening. However, during a Thursday press briefing, Turnbull reassured the public that the relationship between America and Australia continues to be strong and refused to comment on the details of the conversation.
And this is not an isolated incident. It turns out that in his conversation with the Mexican President Enrique Peña Nieto he may have jokingly threatened to send U.S. troops down south to stop the "bad hombres." Even if it's just a joke, that suggestion is terrifying. Mexico denies that anything negative was said on their call, and Turnbull has tried to paint a glossier picture of his exchange too. These #ReasonsTrumpHangsUp tweets might be all too indicative of our future foreign policy.