15 'Riverdale' Musical Numbers, Ranked From Least To Most Sexy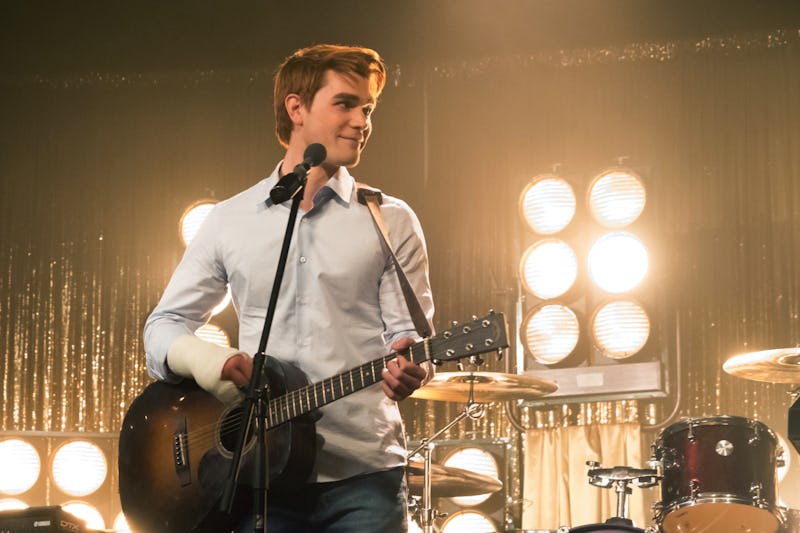 Katie Yu/The CW
At this point, Archie Andrews is shirtless on Riverdale more often than not, and the other characters have certainly had their fair share of racy scenes, too. For some reason, the town's teens especially love to take their clothes off while they're singing — who could forget Betty's "Mad World" strip tease? The musical moments on Riverdale are always memorable, yes, but they're also almost always sexy — or at least trying to be.
Of course, not every performance on the show is designed to be sexy. Take, for example, Cheryl's funeral performance of "You'll Never Walk Alone" from Carousel, or the gang's mostly wholesome rendition of "Do Me A Favour" from Carrie. But with a cast so naturally sexy, it's kind of hard to avoid.
And while fingers crossed Riverdale High will stage Little Shop Of Horrors, Cabaret, or another classic down the line, it doesn't take a major production (or even audition) for these talented teens to put on a show. Between the Vixens, Josie and the Pussycats, and Archie's big stage dreams, the creative juices are flowing. Below, look back at some of the standout musical moments — ranked from least to most sexy, because hey, someone had to do it!
15. "Bittersweet Symphony"
Of course Veronica chose to throw an homage to Cruel Intentions into her confirmation ceremony. Why is anyone surprised? It does lean more innocent than dark, though, so this lands at the top of the list.
14. "Dream Warriors"
Letting your freak flag fly is always sexy. Congratulations to the dorks of the Midnight Club for making the list!
13. "Do Me A Favor" from Carrie
As far as the Carrie performances go, this one is a solid "meh."
12. "Union Of The Snake"
The lack of pussycat loyalty and Jughead's social justice protest really put a damper on the sexiness potential here, sorry V.
11. "Kids in America"
It's been so long, it's hard to recall why everyone is shooting daggers at Veronica and Archie as they show off all their 'shipworthy chemistry onstage.
10. "I've Got You"
Remember Valerie? She and Archie actually sounded so great together. RIP...Valarchie?
9. "In" from Carrie
There's a lot to unpack here. Archie rehearsing musical theatre while doing shirtless push-ups? Get you a man who can do both! Kevin milking the heck out of his one sung line? Extremely sexy, vocally or otherwise. Then it ends with the entire cast doing their best choreo homage to Bill T. Jones' Spring Awakening (which we all know is the sexiest musical). Even Archie chirping "God it's rough staying tough" isn't enough to knock us back into a less sexy reality.
8. "I Feel Love"
It's all about the extremely extra cat tails, to be honest.
7. "Candy Girl (Sugar Sugar)"
Back in Season 1, this really set the tone for the type of musical performances that were ahead for the show.
6. "I'll Try"
Listen, the smedium shirt look doesn't really work with a button down, but a boy and a guitar are almost always swoonworthy.
5. "Jailhouse Rock"
Cheerleaders, sweaty juvi boys, and Elvis is a sexy combination that only Riverdale could have made work.
4. "Out Tonight"
On one hand, Josie and Veronica are doing this very sexy song in front of their parents. You should also definitely watch this rehearsal video full of choices. On the other hand, the scene was intercut with the girls beating up Nick St. Clair?! That's how you mix social justice with music on Riverdale, y'all.
3. "Milkshake"
It's almost surprising that Josie and the Pussycats are doing a "modern" song in this Season 2 number... and then you remember Kelis released this 15 years ago. Woof.
2. "Mad World"
It wouldn't be a sexy Riverdale musical moment if it wasn't at least a little bit uncomfortable. Your mom is there, Betty. Why?
1. "Anything Goes"
"Making showtunes unnecessarily sexy" is a Riverdale-exclusive subgenre, and "Anything Goes" is its finest example. Please also watch "Another Hundred People" from Company, a Josie "soundcheck" number released only on the internet.
That said, "Anything Goes" did not need to be more sexy, and yet, Riverdale found a way. It always does, and as the series continues to top itself with every musical interlude, one can only imagine what they'll cook up next.