15 Warmest Beanies To Protect Your Head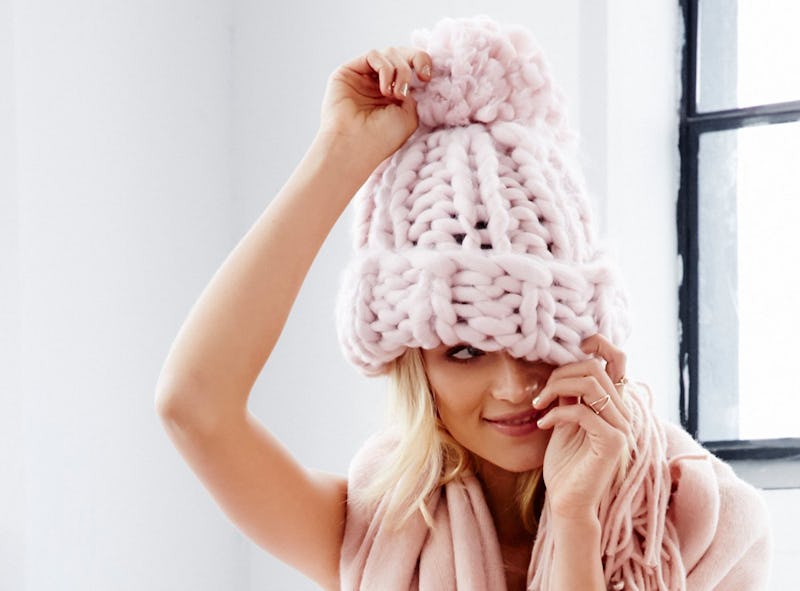 Free People
While I might live in LA, that certainly does not mean we don't celebrate the traditions of winter. Namely, we still like to shop for the warmest beanies despite the temperatures typically staying within the 50s through 60s during the day. A friend of mine, a Southern California native, recently just told me that anything below 72 degrees calls for breaking out every article of winter clothing he might have. OK, so he's probably exaggerating just a touch, but everyone can relate to staying warm and cozy when it's cold, right?
Whatever your definition of cold weather is, it's no secret that having the warmest clothes will make you happier in the winter months. You've got your winter parka, your thermal, waffle-fabric leggings, and that oversized, chunky knit sweater. What more could you ask for when it comes to staying warm when the wind chill kicks in?
Enter the perfect beanie. Complement your winter get-up with something that will keep your head just as warm as the rest of your body. Luckily the fashion industry is creating beanies that not only keep you as warm as can be, but also remain cute and stylish, because you and I both know that style can be easily compromised when it comes to staying warm. Find some of the warmest, cutest beanies to get for when the temperatures drop, no matter where you are.
1. Ski-Ready
Powder Town Beanie in Grecian Blue, $39, Patagonia
With this hat, you'll be shredding the slopes in no time knowing that this tightly knit beanie will dry fast, too.
2. Graphic Wool
Pendleton Pom Pom Beanie in Echo Peaks Black, $49, Nordstrom
Coming from a company that's known for their wools and flannels, you know that this beanie is going to keep you warm for hours.
3. For Your Headphones
Rebecca Minkoff Garter Stitch Headphone Beanie in Ruby, $38, Shopbop
Keep your ears warm while also entertaining yourself with this beanie, which has pockets to hold your earbuds during the winter.
4. Lined
Prana Women's Francesca Beanie in Gravel, $28, Amazon
This all-wool and lined beanie will most definitely keep your head warm, blocking out the cold chill of winter.
5. Chunky Knit
Bobbi Chunky Pom Beanie in Blush, $58, Free People
Who doesn't love a good chunky knit to keep you warm when it's cold outside? This baby pink, or should I say rose quartz, beanie will cure your winter blues any day.
6. Earflaps
Kate Spade New York Earflap Beanie, $68, Nordstrom
Nothing like a nice wool beanie with earflaps to guarantee that your ears will remain warm whenever you're outside.
7. Simple Slouch
SmartWool Women's Crestone Slouch Beanie, $38, Smart Wool
A simple beanie made of wool is all you need to keep you warm these days.
8. Bright Contrast
Tommy Hilfiger Knitted Beanie with Detachable Pom, $68, Asos
This fuzzy hat will keep you warm but also make you stand out when the weather causes a white out!
9. Furry Pom
Michael Kors Pom-Pom Wool Beanie, $58, Spring
As if you couldn't get enough of the pom poms.
10. Classic
Norse Projects Beanie, $75, Need Supply
Keep it simple with this ribbed-knit wool beanie knowing you couldn't be warmer with anything else.
11. Plaid
Buffalo Cuff Knit Hat, $20, Woolrich
This is another company that's dedicated to creating knits and wool pieces that are guaranteed to keep you warm throughout the entire season.
12. Boyfriend's Beanie
Upstate Stock Melange Ragg Wool Beanie, $32, Bespoke Post
Maintain your cool girl style by borrowing this one from the boys.
13. Cashmere
Cashmere Knit Beanie in Off White, $2, Uniqlo
Cashmere knit beanie? Yes, please!
14. Cable Knit
Turtle Fur Mika Beanie in Red, $28, REI
Made with wool yarn and lined with fleece, this beanie is guaranteed to keep you warm when you're spending your time outdoors.
15. Striped Beanie
Brooks Brothers Merino Wool Stripe Hat, $23, Brooks Brothers
Take your winter gear to the preppy side with this striped wool beanie.