Whole Foods Is Having A Major Sale On All Your Favorite Thanksgiving Foods RN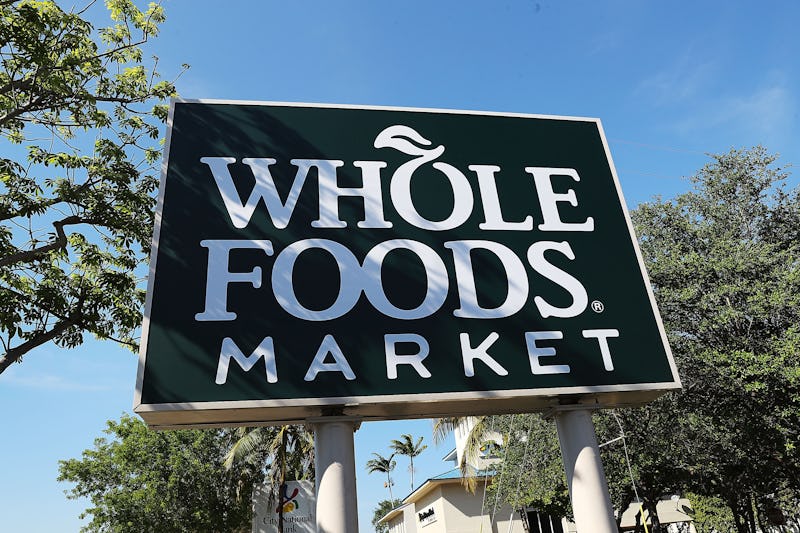 Joe Raedle/Getty Images News/Getty Images
Thanksgiving is surely one of the most expensive holiday dinners to host. And when you've got a crew of a dozen people coming over to your home ready to go fully savage on all matters of the tum, you've got to properly prepare yourself. This is why Amazon's food price cut for Whole Foods orders is something to be thankful for this year: You'll be able to stock up on Whole Foods groceries and feed your friends and families, without having to cash in your entire paycheck (and then some, TBH). This is all thanks to Amazon's recent acquisition of Whole Foods, and their dedication to make getting healthy and organic food at Whole Foods just a bit more accessible. Plus, they said in a press release on Wednesday that they plan on keeping price cuts permanent, meaning that they're not just a fleeting holiday treat — they want Whole Foods to be more affordable and more in-line with other grocers prices. (#HellYeah)
And to be perfectly honest with you, as someone who has shopped at bodegas for Thanksgiving ingredients and used things from cans that are loaded with preservatives, I'm looking forward to being able to look my dinner guests in the eye this year. Yep, that's organic. Yep, it's from Whole Foods. Nope, I'm not (entirely) broke because of it. Here are a few things that you have to look forward to buying (somewhat) cheaply this Thanksgiving (and forever!) at Whole Foods, though keep in mind, price cuts are averaged, as they change from city to city:
1. Organic Turkey
Saving on the main event is so clutch. Now you'll only pay $3.49 per pound, and if you're an Amazon Prime member, you can buy them at $2.99 a pound.
2. Chobani Yogurt
Have it for breakfast on Thanksgiving morning to tide you over until the big feast, or, make a yogurt-based dip to go along with your crudité platter!
3. Avocados
Now millennials can buy houses because avocados have received a 40 percent price cut.
4. Kale
Beyonce says: eat your kale. You've gotta get some greens on the Thanksgiving table. If for nothing but show. Kale is now 14 percent cheaper.
5. Organic Butter
You're going to need a lot of butter, so thank goodness it's discounted. From the turkey, to the baking, you're going to go through a lot of it. Good thing it's down 15 percent.
6. Organic Large Brown Eggs
Get farm fresh eggs at a seven percent discount.
7. Organic Gala Apples
At a 33 percent price cut, you can eat two apples a day and keep the doctor double away. I think that's how it works? Or, just make a few apple pies to take advantage of this awesome price cut.
8. Almond Butter
Almond butter is an expensive spread, so you'll be happy to know that it's down 13 percent.
Other price cuts include:
9. 365 Everyday Value Canned Pumpkin
Now you have no excuse not to make a pumpkin pie.
10. Organic Broccoli
Roast with garlic, dress with chili flakes, and you've got yourself an adult side dish.
11. Organic Russet Potatoes
What's Thanksgiving without mashed potatoes? Mash them with that discounted organic butter, too.
12. Organic Sweet Potatoes
Make all the candied yams your heart desires. Just don't forget the jet-puffed marshmallows, because let's be real, that's the best part.
13. Organic Rice
You can never have enough rice. Use it in a side dish or save it to mix with leftovers the next day. Turkey and rice soup anybody?
14. Organic Beans
Just stock up on these, you can never have enough and they've got an impressive shelf life.
15. Organic Chicken and Vegetable Broths
Use this to get your gravy started, to marinate your veggies or to make a delicious soup. Broth makes everything taste better and you'll find tons of ways to use it.