Honor Galentine's Day With These 16 Netflix Movies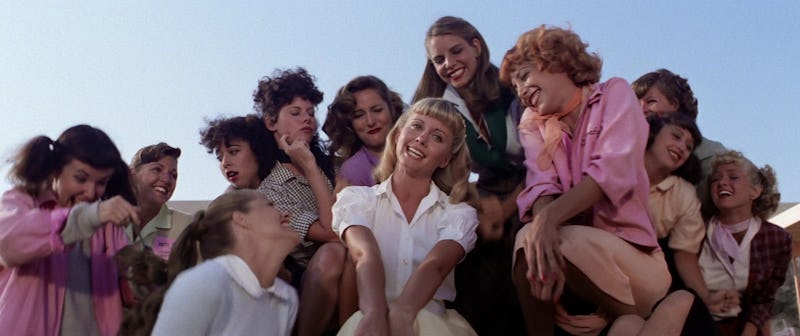 Paramount Pictures
The credit is all due to Leslie Knope and Parks And Recreation. The world didn't know how much it had needed a Galentine's Day until the holiday was invented on the NBC sitcom. Per Leslie's instruction, the day before Valentine's Day is reserved for celebration of female friends and female friendships. The honoring of those relationships can take any form you like. Brunch, shopping, or volunteering together all make great Galentine's plans. Or you could chuck the idea of leaving the house entirely and have your pals over for one big lady-friendly movie night. Fortunately, Netflix has 16 perfect for Galentine's Day movies available to stream right now.
I love that Galentine's Day falls around Valentine's Day, because it's tempting to put more care and work into your romantic relationships than you do your friendships. Girlfriends serve as a vital support system, whether you're happily married, dating, or completely single. If you want those friendships to remain happy and fulfilling, look at Galentine's Day as a reminder to keep on nurturing them. And watching these fun and empowering movies together is an easy way to show the women who make your world go 'round how much you cherish them.
1. Bridget Jones's Diary
Before Mark Darcy turns up, it's Bridget's loyal and foul-mouthed friends who like her "very much, just as she is."
2. The Parent Trap
The Lindsay Lohan remake is terrific, but it doesn't have the wholesome period charm of the original Parent Trap, which stars Haley Mills as the long-lost sisters who join forces to mend their family.
3. Grease
Assemble your pink ladies for Twinkies, wine, and a sock hop singalong.
4. 10 Things I Hate About You
10 Things challenges the princess/shrew dichotomy by featuring two very different sisters who ultimately have each other's back. Because whether you're a Kat or a Bianca, you're still worthy and still capable of being a badass feminist.
5. Miss Representation
If you don't mind adding a little righteous anger to your Galentine's Day, watch this documentary about the limited way that women and girls are portrayed in the majority of mainstream media.
6. Amelie
You and your girlfriends deserve a little magic. So lose yourselves in Paris with Audrey Tatou's charming and off-beat protagonist.
7. Heathers
High school cliques can be murder. If you in the mood for something more sardonic than sincere, try this subversive '80s teen comedy about the nasty side of female friendship.
8. The Cheetah Girls
I really believe that women who grew up watching The Cheetah Girls are better than the previous generation at holding each other up. Solidarity, not competition.
9. Working Girl
As long as there's still a wage gap, this comedy about an ambitious corporate employee will never get old. You know what also never gets old? Shirtless, young Harrison Ford.
10. Practical Magic
An essential viewing experience for any coven.
11. Last Holiday
Last Holiday is basically "Treat Yo Self: The Movie." Queen Latifah is contagiously joyful as a terminally ill woman who makes the absolute most of her remaining time.
12. Hannah Montana: The Movie
Because how long has it been since you did the "Hoedown Throwdown"?
13. Adventures In Babysitting
Adventures In Babysitting is pretty progressive for its time. A girl gets dumped, and instead of spending the whole movie trying to get the guy back, uses her smarts and loyal babysitting charges to bring down a crime ring. Much better than spending Friday night with some lame guy.
14. Girls Just Want To Have Fun
Sarah Jessica Parker and Helen Hunt are headstrong gal pals in this underrated '80s gem about a teen dance contest. Come for the leotards, stay for the female empowerment.
15. A Royal Night Out
Loving The Crown? Then you simply must watch this lovely little historic comedy about Princesses Margaret and Elizabeth leaving the palace to celebrate the end of World War II among their own people.
16. Frances Ha
When you live away from your relatives, your friends are your family. Greta Gerwig stars as an aspiring dancer who drifts apart from her bestie because of money issues.
Galentine's Day celebrations are good for your friendships and good for the soul. Enjoy your special day.