16 Sexy & Romantic Holiday Movies To Bring The Heat This Season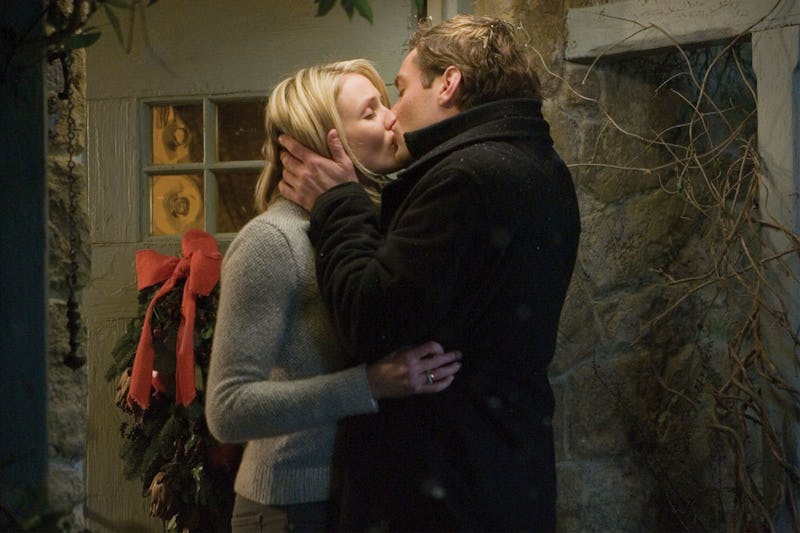 Columbia Pictures
The holidays are coming up fast, and for many people, this time of year goes hand in hand with fun-filled activities. Putting up Christmas lights, making snowmen, attending holiday parties — you name it, it's all happening. But between all the excitement, make sure that you leave room for some romantic holiday movie watching, too. It's the season to light up the fireplace, snuggle with your significant other, and watch all the holiday movies you can to get into the December spirit. Since the weather is colder, you have every excuse to throw a "hot cocoa, movie and chill" night with bae. It seems only fitting to mix a little naughty with the nice this season by checking out one of the sexy, romantic holiday movies below.
Only a handful of films have dared to mix together Christmas time and romance time and done it successfully. Most holiday movies tend to fall under the genres of family, comedy, or action. On this list, though, you'll find movies that go from completely raunchy to utterly romantic. These movies all bring the heat, and they'll make for a sweet snuggle sesh with your loved one this December. So use this opportunity to grab someone you adore (or hey, are just crushing on), put on a movie, and get things really going.
1. The Holiday
Ok, this one isn't overly sexy and hot, but it is romantic. The Holiday is a feel good film you can't not love, and you can check it out on Amazon.
2. Eyes Wide Shut
Every single scene in this movie, apart from the weird mansion party, featues a Christmas tree and holiday lights. This movie focuses on a couple (Tom Cruise and Nicole Kidman) who are members of an underground sex club. While the both of them are active members, Cruise's character becomes jealous of his wife's lover. Watch it on Netflix.
3. Happy Christmas
This movie featuring Anna Kendrick is about a young, self-destructive woman who is trying to find who she really is during the holiday season and make a fresh start. Watch on Netflix.
4. The Best Man Holiday
The emotions, the dance moves and the overload of love in The Best Man Holiday make it such a sexy movie to watch. Catch it on Amazon.
5. Reindeer Games
It's such a cliche movie, but the sex scene with Ben Affleck and Charlize Theron set to the song "Let It Snow" will forever change how you think about the Christmas tune. Watch it on Amazon.
6. It's A Wonderful Life
If you're into old school charm and sexiness, this movie is for you. The romance between James Stewart and Donna Reed is so sweet. The film is available on Amazon.
7. Die Hard
Nitty, gritty and not so pretty, Die Hard is the action packed film that will have you snuggling under the covers with your beau. Watch it on Amazon.
8. Friday After Next
Looking for something both hilarious and sexy? Friday After Next is that movie. Yes, it's not the typical hot and steamy movie, but it's full of fun times that you're bound to enjoy. Watch it on Amazon.
9. Love Actually
Five words that will get you: "To me, you are perfect." Watch Love Actually on Amazon.
10. Kiss Kiss, Bang Bang
It's not technically a Christmas movie, but the sexy Santa costume worn by Michelle Monaghan is certainly something. Watch it on Amazon.
11. The Last Holiday
One reason to watch: LL Cool J. The fact that Queen Latifah got to kiss him is beyond lucky. Watch it on Amazon.
12. Just Friends
Just Friends is a great conversation starter to have with your boo about all the past relationships and awkward friendships you each had before each other. Watch it on Amazon.
13. Serendipity
It's a love at first sight type of romance — that is completely adorable. Plus, it totally brings out the butterflies we all get when finding a new love. Watch it on HBO Go.
14. Office Christmas Party
Yes, it's another comedy, but the chemistry between Jason Bateman and Olivia Munn is straight up sexy and steamy. Watch it on Amazon.
15. National Lampoon's Christmas Vacation
The swimming pool scene has all the raunchiness and steaminess you and you S.O. will need. Watch on Amazon.
16. Bad Santa
Starring Billy Bob Thornton and Lauren Graham, Bad Santa is plenty hot. Watch it here on Netflix.
Who says that Christmas movies aren't supposed to get this hot? Go ahead, watch and enjoy the holiday heat.